Ohana & Co hosted its 8th Success for Progress luncheon cohosted with Susan Rockefeller and Kara Ross.
The Ohana & Co luncheon gathers Entrepreneurs, philanthropists and Company's leaders who share their story and how they find meaningful ways of giving back. The focus of the event is to ignite conversation on how to best use our success to give back and bring other forwards.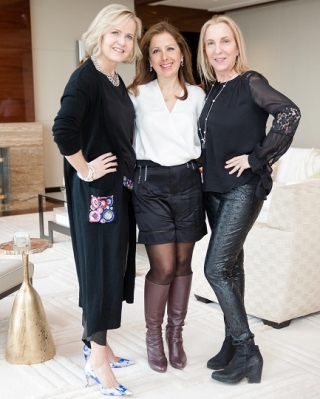 Kara Ross, Karine Ohana, Sue Rockefeller host success for progress luncheon in NY
Honored this year was
Sheila Marcelo
, founder of
Care.com
, listed company devoted to
Care of elder people, children and pets.
Sheila started by mentioning our childhood legendary heroes "
Wonder Women
",
Charlies Angels
".. and reminded that today , she finds the super heroes are around us everywhere. Her personal story coming from Philippine and going study to
Harvard school
as a very young mother in charge of her older parents, made her realise there was an urgent need for personal care services that you could hardly find at that time on yellow pages. She decided to create
Care.com
and
remained faithful to this mission despite very attractive carriers offers from the industry.
As a young mother who spent time outside of home building the company, She is proud today to have completed this mission and is grateful to her two children who understood her devotion to
Care.com
and are today proud of her.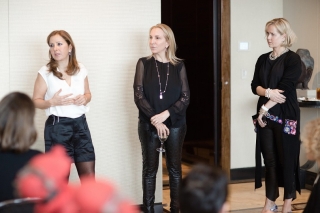 Karine Ohana,Sue Rockefeller et Kara Ross
Kara Ross
shared her mission on
Unleashed
. The brand celebrates and supports female artisans and entrepreneurs around the world by providing access to capital and market. While sharing their stories through medias
CONNECTING THREADS
is a serie of short films each directed by
Oscar winner caliber female director.
The fim is about young girls in the foster care system who are learning to crochet and who also get mentoring for directing their lives.
After India, next will be Detroit and Jordan.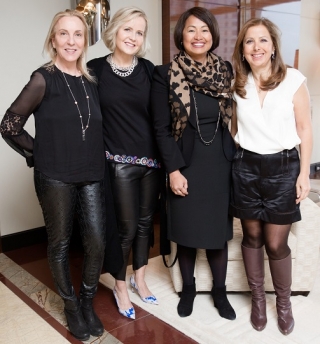 Sue Rockefeller,Kara Ross,Sheila Marcello et Karine Ohana
Susan Rockefeller
spoke of
Musing.com
that she has created
to coach entrepreneurs who seek for sustainable guidance and advisory.
She said "
We need to reimagine a world where business and environmental needs can coexist and that is what I strive to do through Musing by highlighting the businesses and their leaders that are setting a standart for the future we imagine
".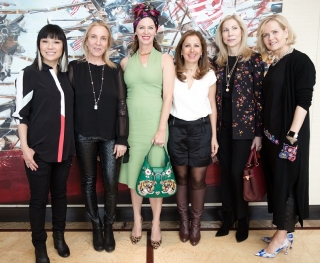 Mimi So, Susan Rockefeller, Leslie Zemeckis, Karine Ohana, Darcy Rigas, Kara Ross
Among the speakers who participated to the conversation,
Suzie Wang
of
100 % Pure and Jennifer Bandier
about wellbeing and believing in bringing
innovative products and services
in the consumer goods ( beauty and lifestyle).
Francine Lefrack
( Same Sky), the
Artist Krista Kim
who recently collaborated with
Lanvin
,
Francine Lefrak, Trish Mc Evoy,Darcy Rigas of Asprey
,
Kelly Mc Carthy
in charge of development and innovation at LVMH,
Mimi So , Flont, Jodie Fox of Shoes of Prey, Edward Bess, Julian Farell, Kusmi tea, Hale Bob, Tarte
were also represented.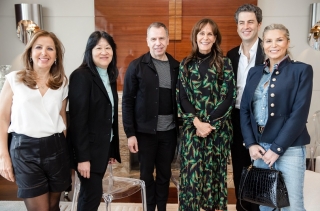 Jennifer Bandier,Kelly McCarthy,Karine Ohana,Daniel Silberman,Ariel Ohana, Trish Mc Evoy Mimi So at 8th Annual Success for Progress : Luncheon
Ohana was also pleased to distribute
Fragonard Bags
that where created in India by
Fragonard
to support
San Jose Puran Girls orphan school. Karine Ohana
added she was pleased to offer a moment of inspiration, positive thoughts as she finds we also have to highlight the many good signs of
brotherhood and humanity
in our chaotic world of today. Giving back and caring is the only answer.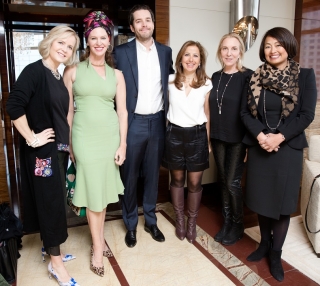 Kara Ross, Leslie Zemeckis, Daniel Silberman, Karine Ohana, Susan Rockefeller, Sheila Marcello
Avril 2018
By La rédaction