Play it cool at Riad Monceau in Marrakech
In the labyrinthine streets of the vibrant city of Marrakech, right on the edge of the famous Jemaa El Fna square, lies a hidden gem, the 5-star boutique hotel Riad Monceau, a sanctuary of elegance and captivating beauty, blending Moroccan heritage with the soul-stirring allure of jazz. Within the ancient walls of the Riad, a sensory journey unfolds, transporting the guests to a realm where the art of jazz, tantalizing delights of Moroccan cuisine and the kaleidoscope of Moroccan culture coalesce into a glam chic hub of modern times.
A Jazz-Fuelled Oasis of Luxury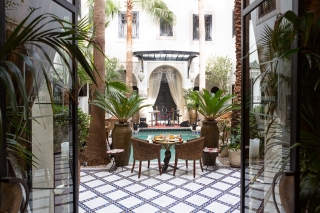 Bistro Arabe -
As soon as you enter the
Riad Monceau
, the allure of jazz permeates every corner, evoking a sense of nostalgia and enchantment. It even has a
Hollywood-like feel
to it, in a sophisticated sense of cool. When owner, Marc Antoine came to Marrakech in the early 2000s he immediately was captivated by the city's mystery and vibrant culture and decided to acquire the traditional Moroccan dwelling on the oldest road in the Medina. And for the next years he dedicated himself to restoring and refurbishing the property, preserving its
traditional features while adding contemporary amenities and luxurious touches
. Marc's passion for jazz is evident throughout the Riad, from the carefully curated jazz tunes that fill the air to the
nightly live performances and impromptu jam sessions
where local talents and renown international artists grace the stage and bring the riad to life with an electrifying energy. Whether you're a jazz aficionado or simply appreciate the soothing melodies, prepare to immerse yourself in a full sensory experience, maybe not the right match when you're looking for ultimate tranquility, but if you're open to it, it will stay with you long after you have left.
Immersing in Moroccan Splendor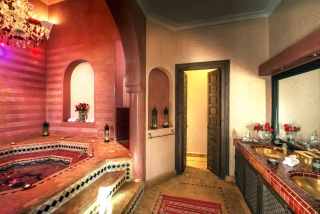 Bathroom Pacha Suite Riad Monceau - © Riad Monceau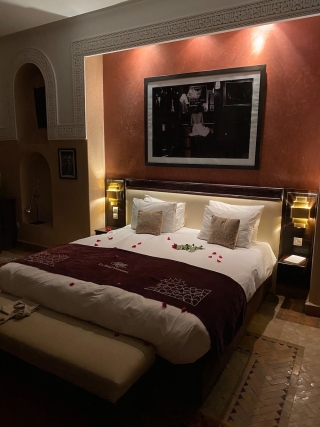 Suite - © Luxe-Magazine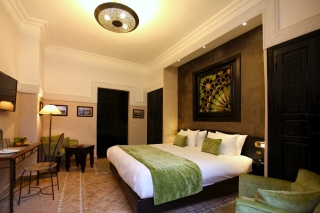 Sinbad suite with private patio - © Riad Monceau
Once passed the impressive facade, designed in homage to the
Ben Youssef Madrasa
, you are captivated by the sense of mystery and exotic charm that reigns here. Via the main lobby, you arrive at a central open-air courtyard where the eye is immediately drawn to the sparkling pool surrounded by waving palms, mosaic fountains and pretty tables, the perfect place to cool down after a long day of exploring the city, or simply to lounge and enjoy the warm Moroccan climate.
Only 10 luxury suites
, partly arranged around the central courtyard, some with a whirlpool,
XXL mosaic baths or a private patio
, ensure an intimate experience for the Riad guests. Each suite is unique, sometimes decorated with arty photographs by the owner and his daughter, both accomplished photographers, exuding the essence of Moroccan style, blending traditional elements with modern comforts. From intricately carved wooden furnishings to vibrant mosaic tiles in the bathrooms, every detail
reflects the rich heritage of Moroccan craftsmanship
. The rooms are well-appointed and comfortable, modern amenities such as soft beds, air-conditioning, high-speed internet, and en-suite bathrooms seamlessly complement the authentic Moroccan ambiance, providing a peaceful setting for a restful night's sleep.
Oriental Spa Bliss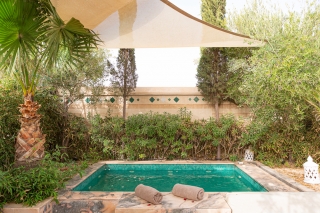 Rooftop Spa - © Riad Monceau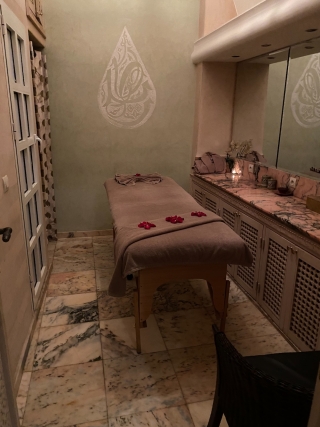 Spa Cabin in pink Agadir Marble - © Luxe-Magazine
Whether seeking respite from the lively Medina or simply desiring a moment of self-care, the
Spa at Riad Monceau
promises an
oasis of tranquillity
, an escape where you can replenish your spirit and emerge renewed. The Spa boasts two luxuriously appointed cabins in rose marble from Agadir, a rejuvenating hammam and a rooftop terrace with a jacuzzi and a lavish sunbed. Within these tranquil walls, where the air is filled with the aroma of exotic essential oils, a team of skilled therapists awaits, ready to transport you to a world of bliss and inner harmony. Drawing inspiration from
ancient Moroccan rituals
, their expertise will guide through a range of tailored treatments that cater to your specific needs and desires, from soothing massages that melt away tension to invigorating scrubs that leave your skin radiant, every experience is designed to restore your inner harmony. To enhance the pampering the spa
exclusively uses the extensive range of "Le Sens de Marrakech" products
. Infused with the finest natural ingredients, such as Moroccan argan oil and other indigenous botanicals, these products nourish and revitalize your skin, leaving it with a luminous and youthful glow. One of the highlights of the spa is the serene terrace, a sanctuary above the bustling streets of Marrakech. Here, you can escape from the outside world, submerge yourself in the bubbling waters of the jacuzzi, while soaking up the warm Moroccan sun and relishing the breathtaking panoramic views of the city.
Bistro Arabe: where Mediterranean Flavors meet Moroccan Inspiration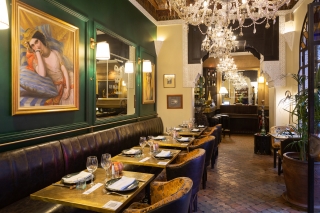 Bistro Arabe - © Riad Monceau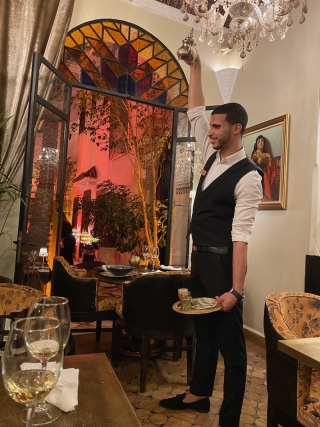 Tea Time - © Luxe-Magazine
M'slala Sea Bream - © Riad Monceau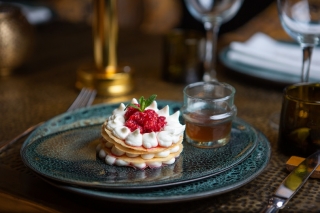 Sweet Temptation - © Riad Monceau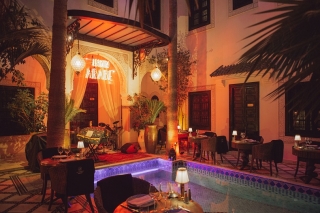 Romantic dining at Le Bistro Arabe - © Riad Monceau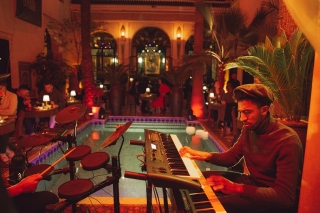 Cool jazz on a breezy night - © Riad Monceau
Having explored the labyrinthine streets of the Medina, haggled at bustling souks, and marvelled at the architectural wonders, your senses are primed for a gastronomic journey, orchestrated by
two talented chefs, Abdel Alaoui (La Pergola) and Myriam Ettahri (Le Bistro Arabe)
. On the ground floor you'll find the
Bistro Arabe, a world of Orientalist elegance
, where the enchanting atmosphere beckons you to make a difficult choice: the art-deco salon with its gleaming copper tables and dark leather banquettes, or the romantically cool patio adorned with towering palm trees and a glistening pool, front row to the stage where live music is played every night. But in the realm of culinary indulgence where Chef Myriam Ettahri truly shines, she unveils a menu designed to explore the full spectrum of
Moroccan-Mediterranean cuisine
. Here, there are no starters or main courses in the traditional sense of the word, but a choice of plates or bowls that can be shared like a mezze. Your taste buds will be tantalized with the
citrus and chilli charmoula-infused gambas
, offering a delightful twist on the classic pilpil, chicken samosas with candied lemon and olives or monkfish with a tfaya of caramelised onions in white buter saffran sauce with julienned green apple. But be sure to save some space for a sweet adventure with the delicate combination of the
raspberry and rose water cheesecake on a bed of lekkas
, or the unusual tomato-mozzarella revisited dessert: the Mathisa Mâasla (caramelised tomato compote), fresh local cheese and basil crumble, each bite is a
harmonious balance of textures and tastes
. In Riad Monceau alcohol is allowed which adds an extra layer of indulgence and flexibility, allowing you to pair your meal with a carefully curated selection of Morocco's finest wines or sip on expertly crafted signature cocktails prepared by the talented bartenders from the esteemed rooftop restaurant La Pergola.
La Pergola: Rooftop Rapsody for the Senses
Cool vibes at La Pergola - © Luxe-Magazine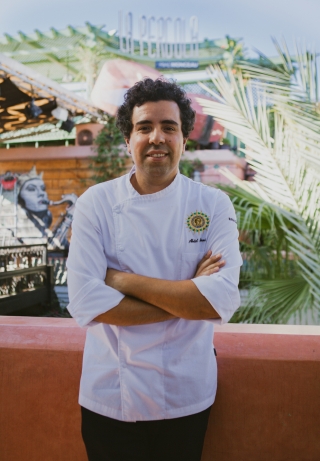 Celebrity Chef Abdel Alaoui - © Riad Monceau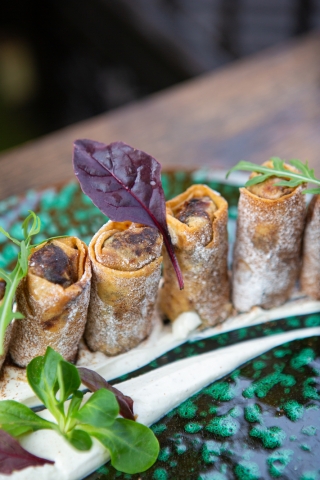 Moroccan dishes revisited - © Riad Monceau
Octop-Oussama - © Riad Monceau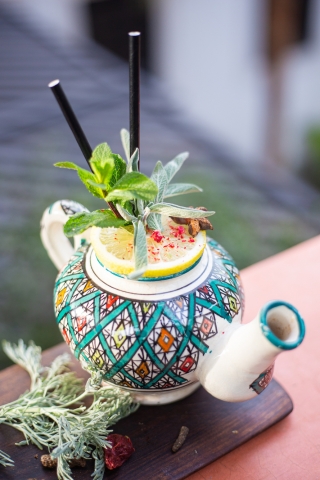 Imaginative Cocktails - © Riad Monceau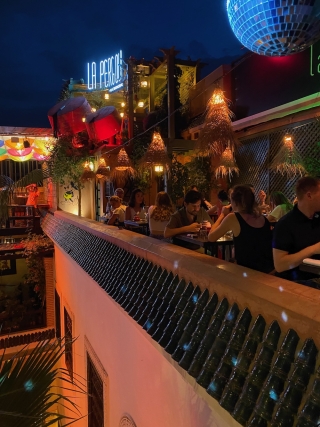 La Pergola Rooftop - © Luxe-Magazine
With its striking red metal tarbouches and prime location atop the palm tree-filled patio of Riad Monceau,
La Pergola was Marrakech's premier rooftop hotspot
, seamlessly blending elements of a trendy lounge bar, a delectable epicurean restaurant, and a vibrant jazz club, and has become an essential destination for food enthusiasts and jazz aficionados alike. Under the
visionary guidance of Chef Abdel Alaoui,
La Pergola's brand-new menu to mark the
20th anniversary of Riad Monceau
, is a reflection of the venue itself—eclectic and versatile. With his engaging personality,
Abdel Alaoui
, celebrity Chef, television personality and culinary ambassador, has gained international recognition for his innovative approach to Moroccan cuisine, where he never hesitates to mix all influences to bring out the best in carefully chosen products to revisit traditional dishes. For La Pergola, he masterfully
reimagined Moroccan street food
, taking it from the bustling streets to the chic the rooftop terrace of the Riad. Abdel Alaoui unleashed means signature dishes that playfully link the 2 shores of the Mediterranean; like
Fish & Bakchich; John Dory filets, wrapped in delicious Casablanca beer breadcrumbs, served with maâkouda fries and yogurt sauce with fresh herbs
or the veggie Rif Fifi chickpea Burger accompanied by salad, mechouia, avocado and dill cream. Also on the menu Aziza, a dish of Guyoza of steamed then grilled veal kefta and the
Octop-Oussama, roasted octopus from Essaouira bay, beetroot humus with argan oil and homemade date ketchup
, a pure delight. Conclude your gastronomic adventure on a sweet note with desserts like the
Tata Limoun, when tiramisu meets lemon pie
, a lemon curd with candied lemon, broken gazelle horns, pistachio nougatine, verbena syrup and lemon whipped cream like meringue or the Chou-Kran, the chef's version of Sfenj, the traditional fritters from the backstreets of Marrakech, transformed into chocolate dip churros with a hint of cinnamon. But at La Pergola the pleasures of the palate extend beyond the dining experience, the bar serves an impressive
selection of imaginative cocktails
, expertly crafted with Moroccan flair and international influences. Opt for a
Morocco Mule
, (Mahia, ginger, cactus syrup, orange blossom, lime, cucumber and soda) or a refreshing
Berber Mojito
(Mahia, iced mint tea, lime, fresh mint and sprite) and allow the live jazz melodies to serenade you from the courtyard and let the music carry you away to a world where time stands still.

Spice up your culinary skills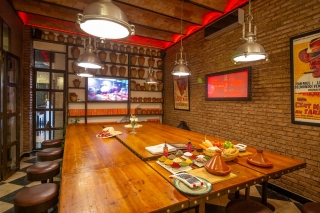 MarrakChef Cooking Course - © Riad Monceau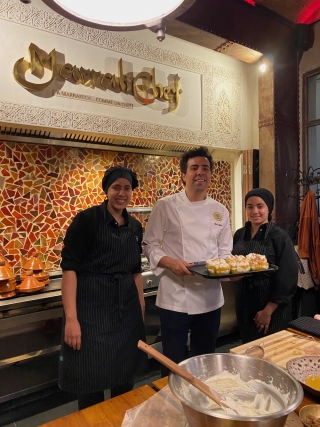 Cooking with Abdel Alaoui - © Luxe-Magazine
But the Riad is more than just a beautiful place to stay and dine, it offers an array of activities and experiences that celebrate the essence of Moroccan culture.
One of the most sought-after experiences is the MarrakChef cooking class
, where you can learn to master authentic Moroccan dishes infused with exotic spices and flavors, but with a modern twist. The class is led by Wijdan and Houda, two local chefs who share their knowledge and expertise, teaching you the techniques and ingredients that make Moroccan cuisine so unique. Tagines are ubiquitous and learning the art of Berber cooking with the cone-shaped earthenware pots is a great souvenir to take home.
The class concludes with a delicious meal, where the participants can savour the flavours of their own creations.
For those who want to explore the city, Riad Monceau can also arrange guided tours to shop for traditional Moroccan craft and souvenirs or visit the historic landmarks, such as the Koutoubia Mosque,
Ben Youssef Madrasa
, the Bahia Palace, Maison de la Photographie, the
Yves Saint Laurent Museum
, the
Jardin Secret
and Jardin Majorelle, or an excursion to the majestic snow-capped Atlas Mountains.
Riad Monceau
transcends the realm of a mere hotel, offering an immersive experience where the
timeless melodies of jazz intertwine with the captivating allure of Moroccan culture
. So, allow yourself to be captivated by the opulent ambiance of the Riad, its culinary delights, and soulful rhythms of live jazz, and let it become a treasured chapter in your journey.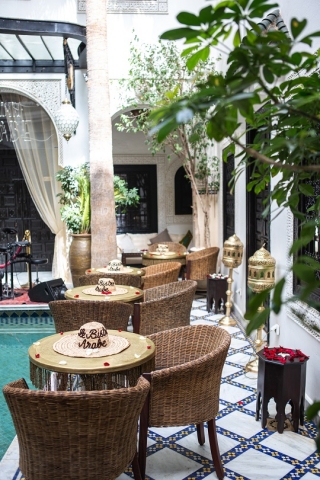 Bistot Arabe Riad Monceau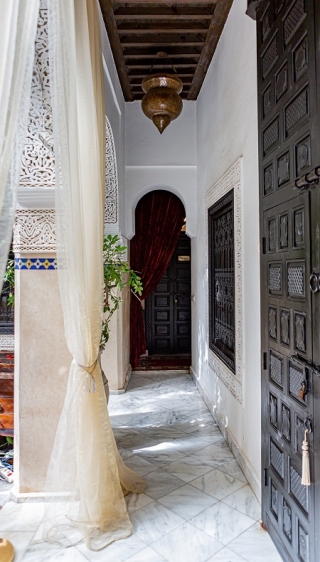 Eternal Morocco - © Riad Monceau
Mai 2023
By Marjolaine LOVES