Amanfayun
In the spirit of a traditional Chinese village, the Amanfayun is the perfect place to discover some stony path leading to treeshaded courtyards, picturesque restaurants and peaceful homes. Into a 14 hectares domain, registered on the UNESCO world heritage, close to Hangzhou, the hotel is surrounded by Tea and bamboo plantations where Magnolias and Osmanthus are perfuming the air. Only 20 minutes away from city center, the Amanfayun is close to old Buddhist temples, botanical gardens, pagodas and Hangzhou famous shopping streets.
Accommodations: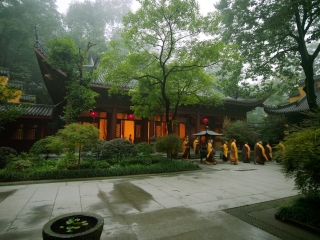 The Amanfayun offers its guests 47 rooms and suites.
-
"Room and suites village"
offers king-size beds and spacious bathrooms.
-
"Deluxe Suites"
: these 12 suites are converted into duplex where rooms and bathrooms are located on the first floor. Some of them even have their own massage room.
-
"Village Villas"
: The four villas are offering their guests a duplex configuration with massage rooms.
- "
The Amanfayun Villa"
: With its 290m², the Amanfayun Villa is made of two rooms with king-size beds and a bathroom. Established on two floors, the villa offers an indoor yard, a reading space, a massage room and a spacious living room.
Restaurants: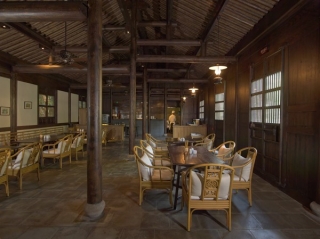 All along the Fayun Pathway, the village main's street, there are several restaurants. To access them, you simply have to take the stone bridge over the swimming-pool. Restaurants are offering both international and classical meals.
- The Bar
: perfect for a drink or an informal diner.
- The Steam House
: offering an homemade gastronomy where you can savor some quenelles and noodles in a warm atmosphere.
- The Hangzhou House
: famous for its local aromatic gastronomy, the Hangzhou House invites us to savor some traditional meals as braised pork and fried shrimps with some tea flavors.
- The Vegetarian House
: Really close from
Lingyin temple
, the Vegetarian House offers a zen inspired menu with varied and innovative meals.
- The Tea House
: the perfect place to discover the best regional teas' selection with some homemade traditional meals different everyday.
Spa: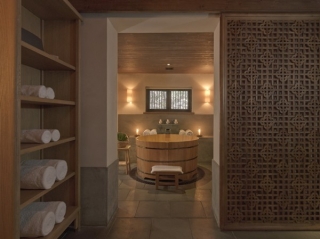 The Aman Spa
, haven of peace is made of five areas and a 20 metres indoor heated swimming-pool. Surrounded by bamboos and magnolias groves, these 5 zones are offering: a reflexology room, a fitness center with gym, some yoga and pilates lessons...
Activities: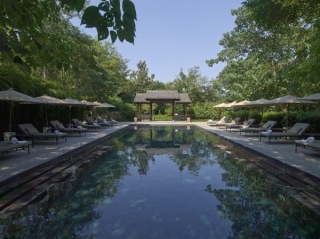 From Amanfayun, it's possible to go by feet and discover
7 Buddhist temples
, at the heart of a landscape surrounded by historical bridges, pagodas, islands and gardens.
Not far away from it, you have to visit Hangzhou. You will discover a dynamic city, as modern as traditional. Famous for its tea and silk, the city still is today a paradise for shopping.
China is well known for its numerous festivals and celebrations, Hangzhou got its own:
The West Lake Fair, The West Lake Lotus Festival, The West Lake Osmanthus Festival, The Qiantang Tide Watching Festival
...
Janvier 2021
You will also like