Borgo Egnazia
Located at the heart of Puglia in Italy and few steps away from the Adriatic Sea, Borgo Egnazia and its spectacular architectural setting is a paradise for relaxation at the heart of a magic historical region knowing how to be modern too. Beaches, vineyards, golf courses and olive-tree fields are welcoming you for unforgettable holidays with your family.
Accommodations: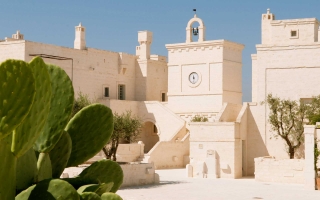 Inspired by traditional Puglia villages, the architect and designer
Pino Brescia
created three spaces made of rooms, suites and villas, all uniques and sophisticated.
The Corte
: 63 sophisticated rooms
- The Corte Bella (33-37m²)
- The Corte Splendida (42-46m²)
- The Corte Magnifica (60-75m²)
- Egnazia Suite (125m²)
Il Borgo
: 92 traditional rooms
- Borgo Splendida (42m²)
- Borgo Magnifica (55m²)
- Casetta Bella (60m²)
- Casetta Splendida (90m²)
The Ville
: 28 warm villas of 250m² with private swimming-pool for each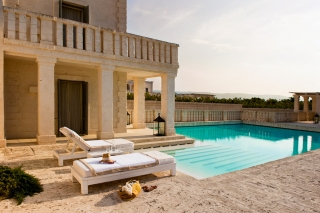 - Villa Giardino
- Villa Giardino Mediterraneo
- Villa Giardino Pugliese
- Villa Splendida
- Villa Magnifica
Last but not least, the
Villa Padronale
of 500m², exclusively available on demand.
Restaurants: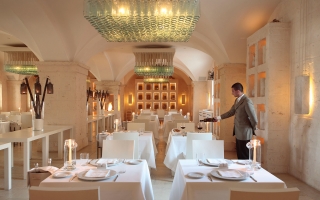 A traditional and Mediterranean gastronomy is waiting for you into the 5 restaurants and 3 bars of Borgo Egnazia
- Restaurant
Due Camini
: Sophisticated atmosphere highlighting the local products.
- The
Frasca
: Perfect place for families to savor some barbecue outdoor and regional gastronomy.
-
Trattoria Mia Cucina
: Its opened-kitchen let you keep an eye on the meals preparation. Homemade pizzas baked in the wood fire should please everyone.
-
Beach Bar Cala Masciola
: Located on the private beach, you will savor some light salads, barbecue, pastas on demand and seasonal fishes your feet in the water.
-
Da Puccetta
: The kids restaurant in a colorful setting.
-
Bar Del Portico
: Perfect lounge for aperitif and wine list discovery.
-
Bar Capanno
: The Swimming-pool bar
-
Bar L'Angoletto
next to the Family Pool
Spa: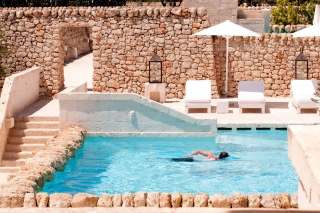 The Vair Spa
was created by specialists to offer an experimental and surprising service. Each treatment is made in the
South of Italy
tradition: from the music atmosphere to the decoration passing through the products.
Activities: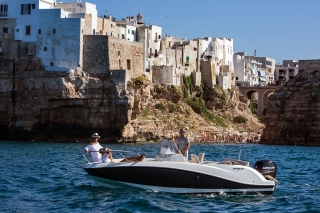 Elected
"Best Family Hotel" by the British journal Tatler,
Borgo Egnazia offers a lot of activities for young and old.
- Visit of the region and local treasures
- 3 outdoor swimming-pools and 1 indoor
- 2 private beaches
- 3 Tennis grounds
- Kitchen, swimming, ceramic classes
-
Club Golf San Domenico
and its 18 holes
- Discovery of the region's stars restaurants
- Thousand years old olive-trees fields,
Souabe d'Andira Castle, Frederic II hunting pavilion
...
Février 2016
You will also like