Crosby Street Hotel
Located on a quiet cobbled street in the heart of the vibrant SoHo, the Crosby Street Hotel perfectly reflects the spirit of the neighborhood. Behind the red brick walls, the modern and sometimes quirky interior designed by Kit Kemp makes one of the finest address of the area.
Accommodation: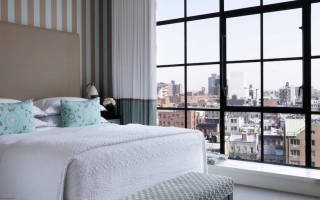 The bedrooms and suites of the hotel all feature a floor-to-ceiling warehouse style window, a flat screen TV, a WiFi connection and an iPod station.
The Meadow Suite
leads onto a vast private terrace garden planted with American native plants.
The other suites are equipped with one or two bedrooms
The Crosby Suites
are located on the 9th, 10th and 11th floors and offer a spectacular living room as well as a unique view on the city.
Restaurant: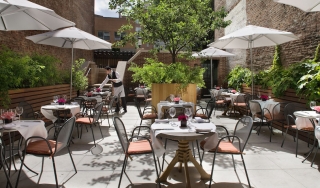 The Crosby Bar and Terrace
is a very trendy place in the neighborhood.
The lunch and diner menu features a broad choice of dishes raging from the curried lobster salad to the informal pizza.
Breakfast, brunch and afternoon tea is also served there.
At night, come and enjoy one of the many signature cocktails of the house.
Every Sunday is the occasion to celebrate cinema by organizing a diner followed by a movie or a cocktail followed by a movie, depending on the option that you chose.
Activities: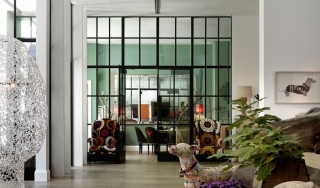 The Crosby Hotel's gym is complimentary to all guest of the hotel and is opened 24 hours a day featuring state of the art installation.
But, the mane activity is yet to go and discover the unique neighborhood of SoHo, where not so long ago, rock singers and pop artists use to live.
Shops, bars, cafes, restaurants, galleries…you won't have time to see it all.
Février 2019
You will also like