3 trendy restaurants for an explosion of flavours
Mexican, French or Japanese gastronomy, don't forget to book a table in one (or all) of these trendy restaurants in Paris. Some gourmet "places-to-be" at the heart of the Marais, Saint-Germain-des-Près and Batignolles famous neighborhoods.
Blueberry, colorful sushis at the heart of Saint-Germain-des-Près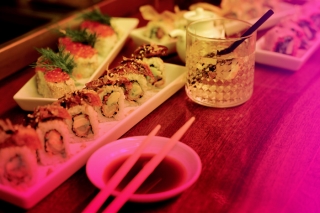 At the heart of
Saint-Germain-des-Près
neighborhood, this contemporary
maki bar
by the
Vaconsin
sisters, is named after the «
My Blueberry nights
» movie by Hong Kong movie-maker
Wong Kar-Wai.
We love the
California Rolls bar
where the Chefs are creating their small masterpieces, tribute to the Japanese immigration on the
USA West Coast
that turned classical makis and sushis into colorful and delicious
California Rolls
. We also love the design between noble and raw material,
pop neon lights, colorful light bulbs
, lounge benches and private tables. Here, you share several delicious and original plates full of colorful and tasty sushis. Our favorite ones ? The «
Gondola
», delicious heart of lettuce leaves full of tomatoes and
sea bass ceviche
, the «
Rue du Sabot Geisha
», amazing
rice crepes with truffle cream
and really
fresh tuna slices
, the «
Little Miss Yuzu
» California Rolls with yuzu lime and
raspberries
, the «
Rackham le rouge
» ones with truffle and really crunchy
prawns tempura
and the «
Unagiiii
» with grilled unagi, prawns tempura, avocado,
flying fish's eggs
, smoked bonito and cucumber. As for the desserts, you will love the
black sesame tiramisu
, the
blueberry pie
(of course) and the light dessert with fresh red berries,
coconut whipped cream
and agar jelly. A « place-to-be » in
Paris
for friends, lovers and families !
Chilam : Real tacos in Paris !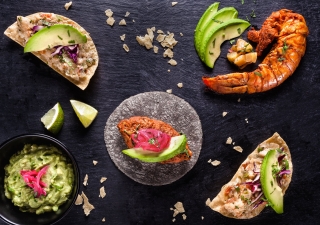 If you really want to taste genuine
Mexican tacos
at the heart of
Paris
, go straight to
Chilam
, an amazing
taquería
, close to famous falafel food stalls from
rue des Rosiers
(
Marais
neighborhood). This colorful and small place, located in lovely
rue des Ecouffes
, is masterfully held by
Lucia
and
Juan
, introducing you to the best of Mexican gastronomy in a «
street food » gourmet version
. To eat-in or take-out, an explosion of flavours is waiting for you, including Chilam's signature dish, the «
al Pastor » spiny lobster
, divinely melting and marinated (
Axiote
spices, chipotle, tequila), served with
roasted pineapple
. You can also fall in love with the homemade
burritos
, the cheesy
quesadillas
with chorizo or the large portion of homemade
guacamole
with homemade tortillas chips. As for the tacos, you can taste with your eyes closed these little marvels garnished with
super-melting pulled pork
, perfectly seasoned and marinated during 24 hours or, tacos garnished with marinated chicken,
simmered duck
, tuna slices or…
shark
! If you want some sugar, you will try the
corn cake with its Dulce de Leche
and, why not, the homemade drink : fresh water tasting like
bissap
juice. Great news, a new
Chilam
is welcoming you in the brand new
Ground Control
giant
Food Hall
.
Brutus : For Crepes lovers...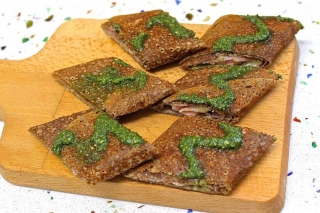 Because
crepes
are really good but crepes restaurants sometimes a little bit too touristic and old-fashioned, you have to book a table at
Brutus Paris
, the new really modern and trendy place, at the heart of dynamic
Rue des Dames
(75017). In command of this success, three young Parisian men with
Breton
and
Normandy
origins, in love with good
gluten-free buckwheat crepes
and
artisanal ciders
. You will start the experience with a bottle, a cocktail or draft glass of cider, among a great and high-quality selection, more or less alcoholic, bitter, sweet, fruity and tangy, with apple, pear, ginger or even chestnut flavours according to your tastes. As a starter, the buckwheat crepes are available in «
tapas
» versions served on wooden plates between «
croque-monsieur
» with pesto/emmental/ham,
samossas
with vegetables, chicken or raclette cheese and delicious homemade
sardine's rillettes
. For the main course, the buckwheat crepes are really generous, tender and original. You will fall in love with the
Babette
with smoked duck breast/pear/Fourme d'Ambert cheese/nuts, the
Annette
with truffle ham/mushrooms/beaufort cheese or the
Paulette
with Tajine-chicken/eggplant/slivered almonds. Of course, you will end with a sweet crepe, delicious creations made of chestnut cream, baked hot apples, vanilla ice cream, speculoos but also salted butter caramel. Enjoy !
Février 2018
By La rédaction