Zolotas, the inescapable Greek jewelry brand
Since his childhood, Georges Papalexis has been surrounded by the magical beauty of the famous Greek jewelry brand Zolotas, created 120 years ago. Renown for its expertise, this Greek house creates pieces in precious gold, with an artistic and Hellenic flair, reviving jewels of mythical Ancient Greece. Ancestral techniques, known since ancient times, are used here, notably the chrysotechnie. In 2009, Georges Papalexis took on the position of artistic director, after having obtained various jewelry design qualifications in Paris. Today, on the threshold of the XXI century, his challenge for the brand remains to blend innovative creativity and respect for its unique DNA. Interview with Katya Pellegrino.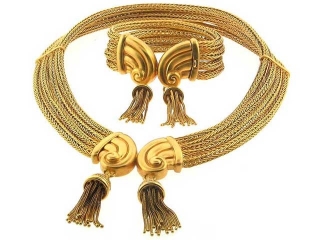 The story of Zolotas
Zolotas
is the product of the ambition and talent of a young man :
Efthymios Zolotas
, who after his apprenticeship in
Paris
, decided to create a prestigious jewelry house in
Athens
in 1895. The success was instant. In 1904, he married
Konstantina Zolotas
, a pious and intelligent young woman. From this union, their only child
Zenophon Zolotas
was born, a brilliant student with high ambitions, who would finally become
Greece's Prime Minister
in 1990. Parallel to his political job,
Zenophon Zolotas
continued to demonstrate his love and fascination for jewelry, which was instilled by his father. He took for mission to internationally promote the art of
goldsmithing as part of the Greek spirit.
His wife,
Kallirhoe
, became his muse and he created unique pieces of jewelry for her, becoming well-known all around the world. It was his initiative that started unique collaborations with famous designers and the house of
Zolotas.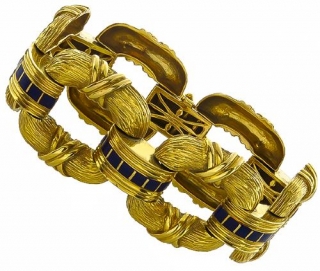 Where does this love for jewelry come from ?
Born in
Athens
, I grew up in this universe thanks to my mother who worked as a sales director for
Rue St Honoré
in the 60's. It's therefore that I have great affinity for the Zolotas family whom I've known since childhood. I was also fortunate to travel a lot with my mother (
Abu Dhabi, Japan, Kuwait ...
), because she was involved in the international development of the brand which, in the 80s / 90s, was internationally distributed. Then, I studied management, obtained a gemologist degree, learned to make technical drawings and did an MBA at
Sup de Luxe in 2007.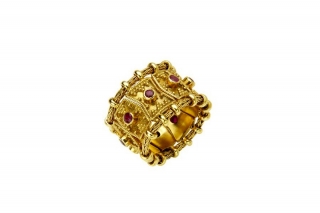 What did you get from this MBA at Sup de Luxe ?
I started with a project for my thesis. Being already professionally active, I had a clear goal and specific questions about the development of the
Zolotas
brand. At
Sup de Luxe
, I had the opportunity to meet professionals in the branch who could provide me with the answers. It was an exciting, rewarding and very formative year.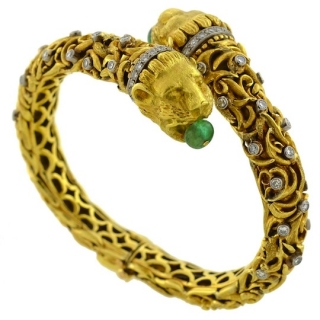 How do you define the Zolotas style ?
An iconic brand for 120 years, a tribute to
ancient Greece
, incorporating Hellenic codes, drawing its thematic inspiration from
Greek archaeological museums
. It is the Renaissance of the gold jewel in
chrysotechnie
: the art of working the gold with three emblematic skills : weaving with threads, granulation and hammering … the stone is only used to enhance the work of the material and serves as ornament.
How do you see the development of Zolotas ?
This traditional house is marked by its 120-year history. Its modernity dates back to the 1960s, when it decided to collaborate with the
Greek Archaeological Museums
. The pieces of jewelry with forms like the
Mycenae
lions or the Vergina sun, seduced many iconic personalities like
Aristotle Onassis, the Kennedy couple, Romy Schneider, Elizabeth Taylor and Maria Callas
to name a few. All these legendary models have contributed to the brand's international exposure. To continue these successful collaborations the house worked with great personalities like
Paloma Picasso
, bringing a new era to Zolotas jewelry,
Nisa Chevènement
, as well as the prestigious
New York
collaboration with
Ronald McNamer.
He became the soul of the house of
Zolotas
with his jewelry drawing its inspiration from architecture, based on the characteristics of the three main orders of ancient Greece :
Doric, Ionic
and
Corinthian.
What is your clientele ?
A high-end clientele,
aristocrat
and
bourgeois
. 'La Parisienne' of course, but also Americans love this kind of jewelry with the
allure of a modern diva.
The
Japanese
, the clientele of the
United Arab Emirates
. We recently opened a boutique
Rue de Miromesnil
, reflecting our values and heritage, with a
"Jewelry bar"
, where we present our capsule collections.
Janvier 2018
By Katya PELLEGRINO
You will also like