Marcella, the gastronomic Italian that will cheer you
Because we must comfort ourselves as much as we can, one of the things a true Parisian opts for is eating good Italian food to beat the winter blues. And it is in the 17th district, to the restaurant Marcella where he goes !
A barn downstairs, a cocooning space on the top floor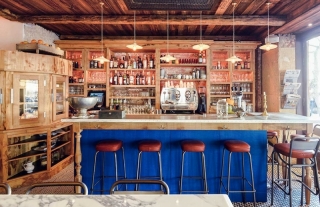 Going to Marcella, is in the first place because of its design by
Michael Malapert.
Le
Colonel Moutarde
is him. And so is
Le Nemours
. The bar of the
Hotel Jules & Jim
, him again ! In short, a sure bet if you want a
countryside and chic hostel atmosphere
breaking a little with the industrial and vintage trends. On the ground floor, a large marble dining table, a bar in old solid oak, freestone walls... all of this creating a comforting
family cottage atmosphere
. Upstairs, a cozy setting with benches and cocooning in front of the
fireplace
, large velvet armchairs, a library almost collapsing under the weight of all sorts of knickknacks, upholstered chairs and sofas covered with soft plaids, emphasized by a pretty
terrace
covered in greenery. In short, you feel good here, almost like home !
Colorful dishes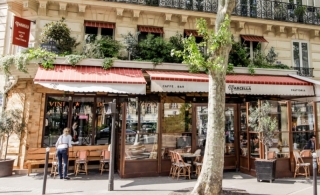 Not a culinary revolution, but a nice festival of
transalpine flavors
, based on fresh produce straight from small local producers:
Burrata al tartufo,Burrata affumicata
,
Bresaola, Speck del Tirolo,Pecorino, Parmigiano Reggiano ...
the menu sings ! So let yourself be tempted by a selection of
Antipasti
like the inescapable Vitello Tonnato or the creamy Burrata with
truffles from Puglia.
We also enjoy the delicious
Roman style pizzas
, the Fettucce Polpette,
pasta with meatballs
magically reconciling you with life, or the
Maccheroni gratin with truffle cream
. Among the Chef's specialties are the
Osso Buco
Milanese veal style or the "Tagliata de Boeuf". And all these delicious dishes come at a more than reasonable price, ranging from
25 to 30 euros
. For people who like a lie-in and have XXL appetites, the
brunch
at
Marcella
is an absolute must.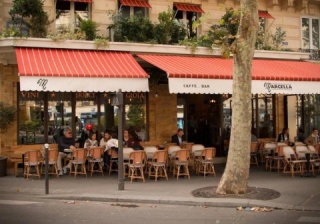 Janvier 2018