Your trip to Louvre Abu Dhabi's inauguration day
Thanks to "La Fugue", our favorite travel agency dedicated to musical and cultural trips, participate to the inauguration of the museum everybody talks about, the "Sandy Louvre" in Abu Dhabi.
A trip worthy of the Emirates' extravagance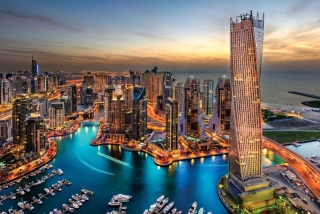 Your trip starts in
Dubai
, where you will visit the
Bûrj Khalifa
, highest tower in the world, enjoying breathtaking views over
Dubai
, before slaloming on the famous indoor ski slope located at the heart of
Mall of the Emirates
. Go far away from tourists and stroll around
Alserkal Avenue
, a street full of Contemporary Art galleries and young designers. Finally, before going to the
Louvre Abu Dhabi
, take some pictures of the
Dubai Opera
with its architecture as majestic as uncommon, inspired by
Arabian Gulf
traditional sailing boats.
The inauguration of the "Sandy Louvre"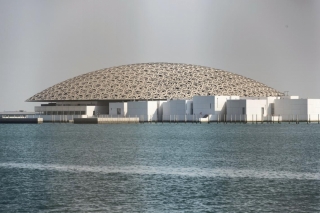 Go straight to
Abu Dhabi,
industrial, political and cultural center, to visit the impressing
Sheikh Zayed mosque
(biggest marble structure ever built by men) as well as private collections with a member of the royal family. The climax of your trip is of course the inauguration of
Louvre Abu Dhabi museum
, a modern and aquatic building by
Jean Nouvel
(under the creative direction of
Christophe Berthonneau
). For the occasion, "
Vive Reflexion
", a unique show, will be introduced to you. As for the paintings exposed, your eyes will be caught by masterpieces from
Van Gogh, Matisse, Picasso
,
Miro
and
Mondrian
, no less !
Detour through Liwa oasis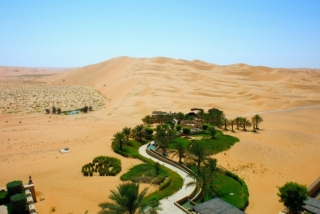 Disconnect and explore this lost oasis full of
date palm trees
, dominated by huge sandy dunes reaching until 300 meters. Unchanged since the 50's, it has been a major stop on the
caravans road
with its colorful sand (pink, orange, gold) and miraculously lush vegetation. A four stars hotel is opened there and, few kilometers away, on the other side of the
Saudi border
, you can find the
Shaybah
gas facility that cannot be reached from any other border road.
Octobre 2017
By La rédaction