Prohibition spirit at The Beaumont Hotel
This 5 stars hotel based in London has been a central topic in 2014, during its grand opening, thanks to its wonderful setting referring to the Prohibition era. A comeback to the 20's, a fake story and a comfort worthy of a Palace makes it our favorite London address of the moment.
Jimmy Beaumont's cave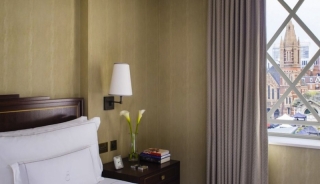 It's hard to imagine that, behind this majestic facade at the heart of
Mayfair
, two steps away from
Selfridges
, a garage with its fuel pumps, parking spaces and car washers for rich clients was standing here, before the hotel's construction. Now, calm is the king around this hanging garden welcoming the strollers. At the back of the garden, the hotel welcomes you in its great white building with straight lines and
five floors
. On the ground floor, some great picture windows and a tambour door. But also some cosy rooms between
European Art Deco
and American design from the end of the 20's. The hotel seems to be here for at least one century. However, it only has been opened since
September 29th 2014
. And the host's ghost wanders in the air. His name :
Jimmy Beaumont
, a fictional character created by the hotel's owners, who would have fled
Prohibition
to find refuge in
London
in the 30's, offering Gin and Cocktails to rich and exiles American.
The Colony Grill Room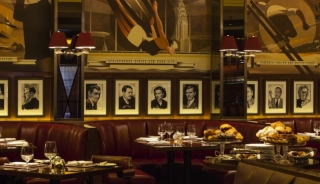 Whether you're staying at the
Beaumont
or not, you have to book a table at the hotel's restaurant. Here, you will love the drawings by
John Mattos
, representing
Clark Gable, Josephine Baker
and
Gertrude Stein
for example. In the plate, great news, only
fresh ingredients, homemade
dishes and "
comfort food
". You will be able to taste classics from English gastronomy such as
New York cocktail shrimp
, tartar steak, veal liver with bacon and grilled halibut with
Newburg
dressing. No mentioning the amazing desserts between
Vanilla cheesecake
and on-demand
Sundaes
. In short, "the-place-to-be".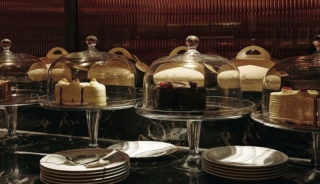 Septembre 2017
By La rédaction