Carbondale, an Haute Couture Architecture office
When the American architect Eric Carlson decides to open his Architecture office in Paris, on prestigious Place des Victoires, he has no idea that he will create the design of legendary Louis Vuitton flagship on Champs-Elysées. A creation awarded by "The most beautiful metal construction" in 2006. Focus on Carbondale studio most beautiful works.
Louis Vuitton building in Seoul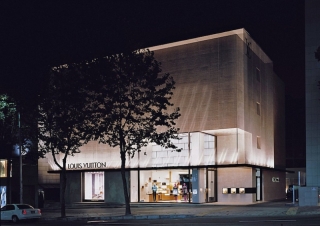 At the heart of
South Korea
capital-city, on prestigious
Chungdam Dong street
considered as Haute Couture center in
Seoul, Carbondale
created the first Korean
Louis Vuitton
flagship. The idea ? To Reproduce the design of a Signature Louis Vuitton's
traveling case
. To recreate the texture and design of the famous "
Checkerboard
" print, a double facade, in window-dressing, was set up. Its first layer is made of cream and brown tiles made of
glass mosaic
while the second one is adorned with a
stainless steel mesh
, creating the illusion of a shining and vibrating veil. This project received the 2001 prize for "
Out Standing Design
" and the 2013 prize of "
Best International Project
" for its lighting.
New York Longchamp flagship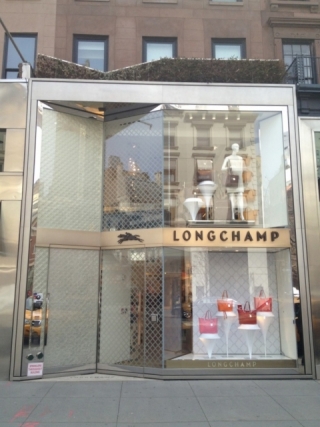 We love this embossed flagship, really different from traditional buildings located on prestigious
Madison Avenue
. Its folded structure on two floors was inspired by "
Folding
" Signature bag by
Longchamp
French leatherwork House. In fact, to reduce the lateral compression effect of the space, walls have been covered with a succession of folded plans, made of different material and textures as
embossed leather, printed lacquer, engraved glass, Aniegre wood
as well as a choice of textile corresponding to the type of product exposed. To pay tribute to Longchamp Parisian roots, the flagship recreate the
Eiffel Tower
upward movement with its elevator and, the shop windows evoke the banks of the
Seine
's booksellers.
São Paulo Piselli Restaurant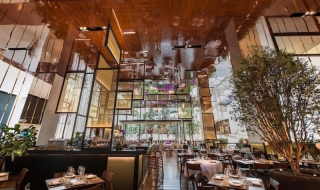 At the heart of open-air "
Iguatemi
" mall in
São Paulo
,
Piselli
is a trendy restaurant also known as "
the garden in the garden
". This classy place integrated within a
vegetable oasis
bathed in natural light and ventilation, is the first "
without walls
" restaurant in
Brazil
. Its structure is only made of vertical golden and polished brass's blades, about six feet high and looking like shiny gold thread. Here, clients love to book a table on the
terrace
with its giant beige leather couch (7 meters). Because of the extreme sun, the terrace is covered with a
Pinho de Riga
ceiling.
D&G Venice flagship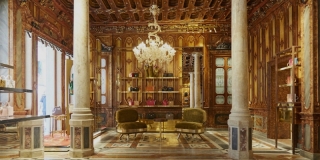 This is the studio latest creation, a
Dolce & Gabbana
flagship, at the heart of
Calle Larga XII Marzo
, close to
Saint Mark's Square
. Unlike
Milan
's flagships, capital-city of Fashion, the
Venice
store isn't modern nor refined and, it respects the historical and original architecture of
Palazzo Torres
, a former bank where it is located.
Juin 2017
By La rédaction