The most astounding restaurants in the world
At the foot of a waterfall, at the heart of Indian Ocean, inside a monster's giant skeleton or in a Kenyan's cave, where will you have diner to get off the beaten track ?
"Labassin Waterfall" in the Philippines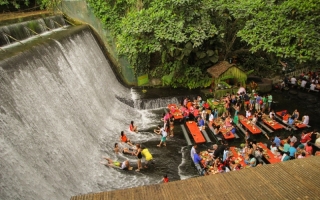 What about having lunch at the foot of a waterfall, in a green setting at the heart of the nature ? The
Labassin Waterfall
restaurant offers you this unusual experience inside
Villa Escudero,
at
San Pablo
in the
Philippines
. Seat with your family or friends around big tables made of bamboos and, taste the best of local gastronomy. For the most courageous, they can swim or stretch their legs in the waterfall clear water, perfect to cool down as
Philippines
weather is really hot and humid. The waterfall serves as natural air conditioning for the restaurant ! If you are lucky, you will enjoy a local concert or traditional dance show.
Ali Barbour's Cave in Kenya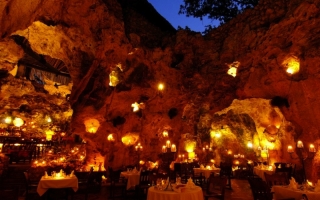 At
Ukunda
city, in
Kenya
, a
180 000 years old
cave is hidden, turned into a restaurant by
George and Jackie Barbour
. Here, you enjoy diner in an open-pit natural cave (only restrooms and kitchen are not original) and, you savor
crabs, mango shrimps, Indian oysters
, beef carpaccio, feta and spinach falafels,
lobster
with garlic butter and flambéed bananas. A must try !
H.R. Giger Bar in Switzerland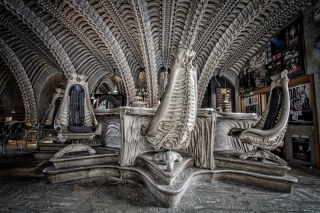 In the small mediaeval city of
Gruyères
, in
Switzerland
, the designer, plastician, graphic artist and illustrator
Hans Ruedi Giger
, father of Cinema's most legendary creature,
Alien
, imagined a strange bar, part of the museum dedicated to his universe (really dark) and to
Ridley Scott
movie. If the youngest might be frightened by this setting looking like a giant skeleton, adults and science-fiction lovers will be fascinated by this unique design between demons, fossils, bones, skulls, vertebra chairs and goth details. Sensitive people, be careful !
The Rock in Zanzibar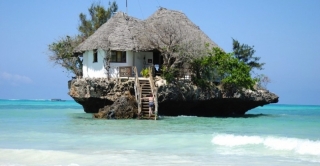 A lovely spot, perfect for couples ! In fact, this restaurant nestled and perched on a rock, looking like Robinson lodge at the heart of
Indian Ocean
, invites you to savor delicious seafood before going back to the beach (by swim, by foot or by boat depending on the tide). At the menu, local fishing and breathtaking view !
Mai 2017
By La rédaction