Apple Park, new Silicon Valley UFO
April 2017, a new giant structure looking like a spaceship is settling in California, at the heart of Silicon Valley. Its name, the Apple Park, the new headquarters of the Apple-brand, a place dreamed of by Steve Jobs to ensure the brand supremacy worldwide.
Work and leisure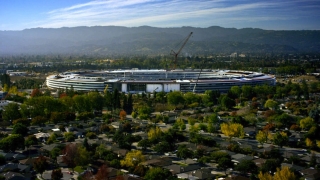 If you don't have the opportunity to go to
Silicon Valley
to discover
Apple
new headquarters or better, to work there, just know that this new building looking like a spaceship (
260.000m2
) is one hundred times the size of a soccer playground in order to welcome until
12 000 employees
, no less ! Ten minutes away from the current headquarters of
Cupertino in California
, this new head office was being carried out by
Steve Jobs
in 2011, few months before he passed away. Now,
Norman Foster
's architecture studio is mandated to make
Apple Park
the most beautiful and friendly offices in the world (every finishing touches will be scrutinized), where everybody would dream to work at and, that architecture students would visit as a model.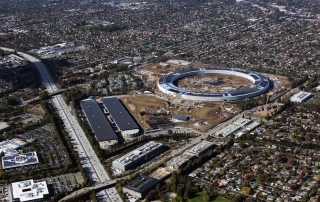 Apple
also announced that the building will be the biggest
solar plant
in the world thanks to its solar roofing system and, that it will enjoy a
natural ventilation
, without heater or air conditioning, nine months in twelve months. Here, the employees will be able to boost their productivity and creativity thanks to custom-made facilities dedicated to leisure and focussing. It will feature a
Steve Jobs auditorium
, a majestic
park with grasslands
on several hectares, a giant
orchard
with thousands of fruit trees, kilometers of paths for footing or biking, a research center, an XXL
fitness center
, two aerial parkings, a great basin, an
Apple Store
as well as a coffee shop opened the public. Cost of this project,
5 billions of dollars
.
Avril 2017
By La rédaction