5 amazing Cocktails Bar
From Palace bar to "Speakeasy" passing by prohibition spirit and Peruvian setting, here is a selection of five Cocktails bars to drink original creations with friends in settings between vintage and contemporary.
Botanist bar by Shangri-La Paris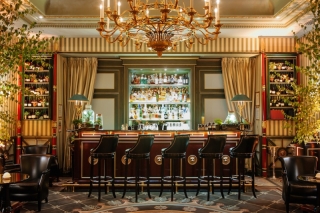 Here, the Bartender in Chief
Arnaud Thirel
wanted to pay tribute to Prince
Roland Bonaparte
, former owner of the private mansion where the current Palace was built. Roland also was the creator of the largest private
herbarium
in the world with more than 2 500 00 species. At the
Botanist bar
, you can choose between 15 delicious homemade cocktails, but also between 23 prestigious Gins, rare and forgotten alcohols as
Absinth, Chartreuse and Génépi
. You will love the
"Zacao"
(Zacapa rum, Vermouth, cocoa and Sichuan pepper syrup), the
"Bumble Bee"
(Cognac, lavender honey, lemon, Tonka bean, crunchy wafer) as well as the
"Cyrus"
(Vodka with dark lemon from
Iran
and Jean de Lillet).
The Vintage New York Lifestyle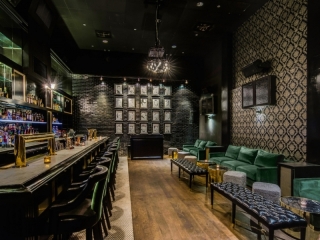 This temple of sophistication and vintage, as elegant as Rock'n'Roll, takes place on four floors including one dedicated to
Champagne
. At the heart of the very trendy
East Village
neighborhood, you can comfortably sit on mellow armchairs and benches, admiring the pictures of famous rockers and jazzmen in a setting straight out of prohibition, also offering some
Pop Art
and
Art Deco
touches. The cocktails, really well presented, are going from "
Banana Boat
" (Bourbon, banana crisp, coriander syrup, pepper, pineapple, lemon) to "
Rosalie
" (Agave alcohol, tequila, thyme liquor, watermelon syrup) passing by "
Randolphs Tango
" (Agave alcohol, chamomile syrup, grapefruit, pineapple, lemon, pink pepper).
The Experimental Cocktail Club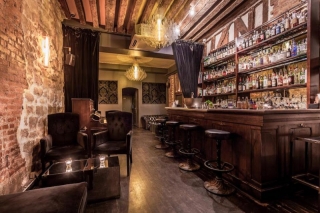 This Cocktail bar hidden in
Montorgueil
neighborhood has become a genuine reference in
Paris
, furnishing the mini-bars of the most trendy hotels as the
Grand Pigalle
. We love its filtered lights, exposed stones, chandeliers hanging from the ceiling, old
New York
bar atmosphere and really original creations that you can find in a beautiful book. Our favorite ones are the
"Tommy's Margarita Especial"
(tequila, green lemon, organic agave honey with bourbon vanilla, cloves) and the
"Bee's Kiss"
(Jamaican rum, cream, organic floral honey, Indonesian pepper).
Columbus Cocktail Bar in Faro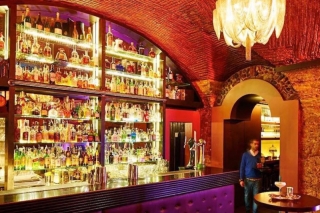 Go straight to
Portugal
where you will need more than one night to discover the numerous cocktails from the
Columbus
. The cocktail list has no end between local blends with sunny fruits, homemade cocktails with rare alcohols and plants, "
Cosmopolitan
", "
Daiquiri
" and other classics perfectly blended, exotic cocktails presented in empty pineapples, hot cocktails (
grog, mulled wine, Irish Coffee
...), free-alcohol cocktails and sexy cocktails as "
Orgasm
" and "
Pornstar Martini
". You will drink them in a design setting with exposed stones, enjoying the beautiful
terrace
under the arcades giving sight on
Faro's Marina
.
Pisco Bar from 1K Paris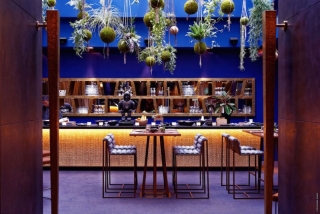 This hotel from
Marais
neighborhood is dedicated to
Peru
. His midnight blue
Pisco bar
offers numerous specialties as "
Pisco Passion
" (Pisco, fresh lemon juice, fresh passion fruit juice, sugar, egg white). For information, the
Pisco
is a really old ancestral drink made of fermented grape musts.
Février 2017
By La rédaction