Invictus Yacht 370 GT : "Folie à deux"
With its single cabin and 11,4 meters in length, this small yacht by Invictus is the perfect boat for lovers who want to enjoy nice sea trips in duet.
Welcome on board !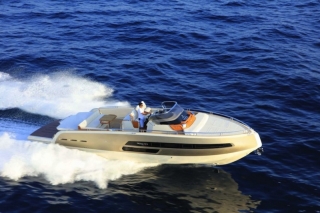 Italian from
Invictus
are more famous for their speedboats designed by
Christian Grande
than for their yachts. Fair enough, the manufacturer still introduces its
370GT
, a small yacht of 11,4 meters in length and 3,5 meters wide, perfect for couples who want to enjoy a sunny and intimate sea trip and swim in the crystal clear waters across the shores of
Saint-Tropez, Marbella, Monaco and Dubai
coasts...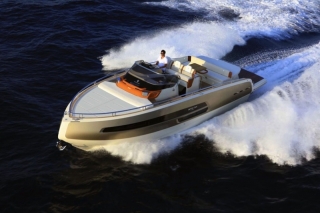 Its sporty look with dynamic lines, mainly made of
fiberglass
, gives it a cruise speed of
26 knots
and maximal speed of
43 knots
. We love the cozy lateral and retractable terrace (perfect for space gain) where basking in the sun, a cocktail in one hand, a book in the other. The boat also features a submersible bath platform for an easy access to the Ocean.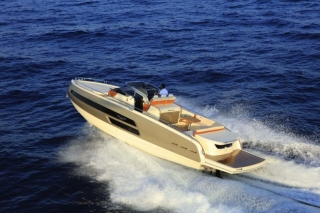 The boat's front is made of a deck mainly covered by a great sunbathe. Just behind, there's the steering console protected by a windscreen and equipped with three armchairs. The afterdeck hosts an
outdoor kitchen
and an
open-air living room
with table and L-shape coach, perfect for chilling. Inside, couples enjoy one cabin with bathroom and toilet as well as a living-room with television and fridge. Even if it's made for couples, this luxurious outboard still can welcome until
12 persons
. Price :
319 000€
.
Janvier 2017
By La rédaction