7 amazing Christmas logs
Chocolate, vanilla, exotic fruits and unique combination of savors, the greatest Chefs and Palaces are competing in imagination for you to enjoy delicious and beautiful Christmas logs with your beloved.
The yule log of Plaza Athénée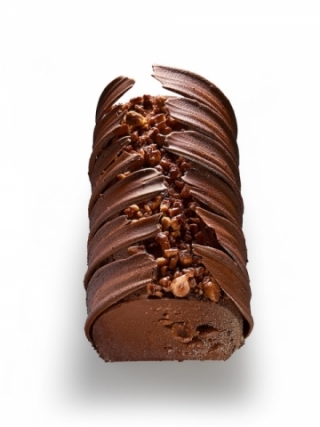 Angelo Musa,
a winner of MOF price, the new pastry Chef of the
Plaza Athénée
, unveils a very sober yule log, returning to the classics that reflect the spirit of
Christmas
. Elongated and rounded, it recalls the curves of the
cocoa bean
, protected in its case made of
milk chocolate
and sublimated by
gold powder
. Its flavor combines
hazelnut with vanilla and yuzu
.
Price : 90€ for 6 to 8 persons
The floral creation of Park Hyatt Paris-Vendôme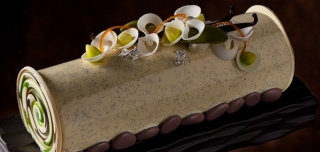 Pastry Chef
Jimmy Mornet
brings a lot of poetry to this festive dessert inspired by the famous
Orchid
, the emblematic flower of the palace that has named its gastronomic restaurant as a tribute to this monocotyledonous plant. This yule log consists of
vanilla from Tahiti
mixed with notes of mandarin and spices. Its chocolate base recalls the floral basins of the hotel.
Price: 80 € for 6 persons
"The wings of Butterfly" by Trianon Palace Versailles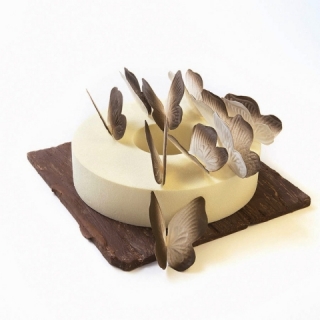 Go straight to
Versailles
to buy the delicate creation of Pastry Chef
Eddie Benghanem
in collaboration with the company
Deyrolle
. Elaborated around Deyrolle's predilection themes of art, nature and education, it is based on a dark chocolate board imitating the raw wood with a tender heart stuffed with a lightly
salted hazelnut praline
. The cake itself is made up of a duo of dark chocolate and milk chocolate mousse, a
caramel with passion fruit
, a touch of lemon, a crispy bean Cocoa, a light cream with vanilla and a sugar cookie moscovado.
Price: 75 € for 8 persons
"Igloo" at the Hotel du Collectionneur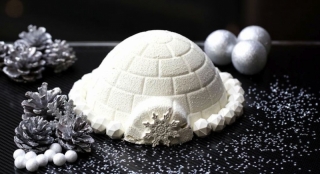 This year, Chef
Joël Veyssière
imagines an igloo with a northern and magical allure, all dressed in white, melting in the winter decor of the hotel of
Rue de Courcelles
. This creation consists of several creamy and original layers, confit of apples with truffle milk caramel and foam praliné with pecan.
Price: 80 € for 6/8 persons
The Sparkling Fir from Shangri-La Paris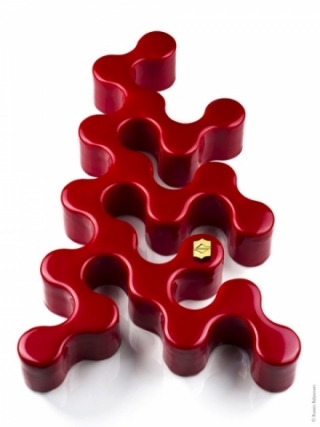 The young prodigy of the palace on the
Avenue Iéna
reveals a very graphic bright red tree with multiple reflections. Passionate about design since childhood, Chef
Michäel Bartocetti
sketched his log and then implement it on a wood turner to create his customized prototype. This very fresh log, ideal after a king meal, reveals a crunchy hazelnut and puffed rice coated with a vanilla mousse scented with
orange blossom
. Its heart contains an almond and hazelnut biscuit from
Piedmont
and a flowing caramel with hazelnuts relieved with a tip of lemon.
Price: 108 € for 8 persons
The "Cloud" of Peninsula Paris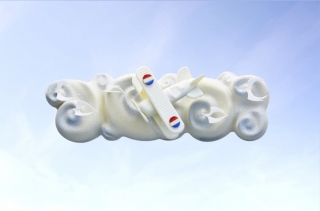 In reference to the
Oiseau Blanc
, the panoramic and gastronomic restaurant at
Peninsula Paris
, the Chef
Antony Terrone
presents his log strongly inspired by the first biplane which attempted the crossing of the
Atlantic
in 1927, under the orders of two French pilots
Nungesser and Col
i. Its heart contains a milk chocolate mousse and a soft biscuit with caramelized hazelnut and an oiled pear flavored with clementine. The creation is based on a crisp board in salted black chocolate and the plane was made of chocolate lined with a hazelnut praline.
Price: 110 € for 6/8 persons, 18 € at the Afternoon Tea
The Mandarin Oriental Christmas Ball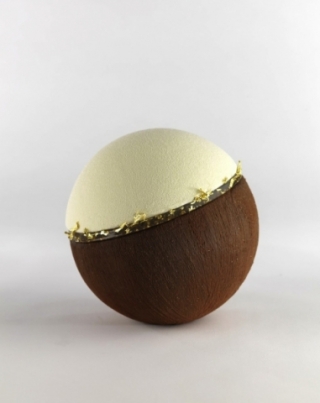 Pastry Chef
David Landriot
has created a cake in the shape of a sphere, the famous Christmas ball that we take pleasure in hanging on the family tree every year. The design is also inspired by the colors and textures of the restaurant
Camellia
and the
Cake Shop
of the palace. As for flavors, they are inspired by
Asia
with delicious black chocolate,
banana
cake, whipped cream with
coconuts
, lime jelly, creamy chocolate and the top pepper from
Vietnam
and compote in mango, banana & lime.
Price: 78 € for 6 persons
Décembre 2016
By La rédaction