Eymeric François or the ode to femininity
With his Cartesian spirit, Eymeric François is an incredible designer and Haute Couture flows in his veins. Since the launching of his own brand in 2000, he established his signature with architectural lines and sensual pieces. Meeting with Katya Pellegrino.
Can you tell us more about your passion...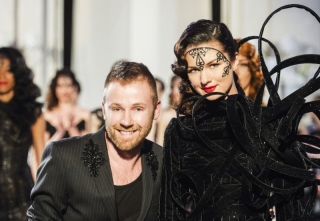 I was born in
Paris
in April 1978, my father was an electronic engineer and my mother was directing a school. Both of them were intelligent and understood quickly that, besides my good results in school, I was more into Art. They allowed me to pass an Artistic final exam without following the classical academic career. My grandmother used to be a seamstress for
Paco Rabanne
in the 50's so I had this fashion thing flowing in my blood. I could also have been an architect, who knows (laughing).
Tell us more about your first steps within the Fashion World...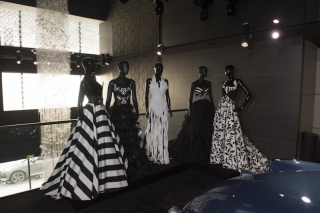 Back in 1997, I was lucky enough to be an intern for
Thierry Mugler
during a year and a half. I loved the way he was sculpting bodies and he's still my role model. That's why you can find some cinched suits and sheath dresses in most of my collections. In 1998, I worked for
Christian Lacroix
for only one collection. Finally, in 2000, I was a candidate during
Dinard Young Creators Festival
when
Lolita Lempicka
was the president. Unfortunately, 50% of the jury didn't want to give me the price as my pieces were more looking like
Haute Couture
than simple creations. As the president still wanted to give me a price, they created the
LVMH price
just for me. Thanks to it, I showcased my collection at Paris Fashion
Museum Galliera
. It was the beginning of the adventure for me.
What's the craziest dress you ever created ?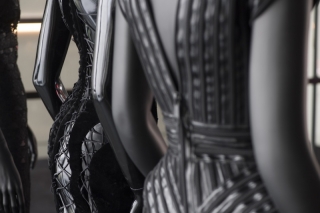 The "Ceinture" wedding dress
was the one who attracted a lot of people to my workshop but most of my dresses are really original, the "
button
" dress, the "
pin
" one, the "
zip
" one... To me, a dress is successful if people make "Waou" when seeing it !
Where can we buy your dresses ?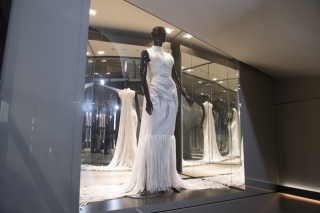 Only in my workshop in
Paris 3rd district (Marais)
. All of my pieces are unique, if a client loves one of my dresses, I will do the same for her but will never sell the original, except for museums.
How much a dress costs ?
There's no limit but it starts at
10 000€
.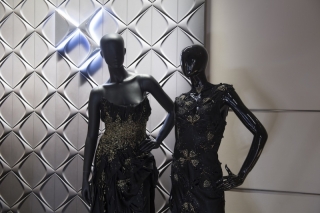 Octobre 2016
By Katya PELLEGRINO