Autumn Holidays in Colorado
Who would dare to say no to Autumn's call in Colorado, when leaves turn from green to orange and nature offers a Thousand of surprises to its visitors... Just for you, we made a selection of inescapable activities for a perfect Fall in The Centennial State.
Zip-lines ride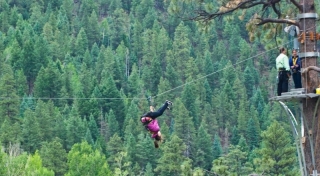 Enjoy some amazing landscapes and take some adrenaline shots by booking a getaway to
Soaring Tree Top Adventures
, an hilltop park located in
San Juan
forest, between
Silverton
and
Durango
. After a short trip (in first class) onto an historical train, you will enjoy a gourmet lunch before facing
27 zip-lines
, including a 420 meters in length's one. Hang in there !
Helicopter getaway to admire the unusual landscapes...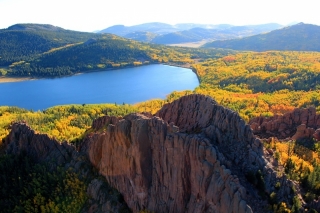 One of the most amazing and unforgettable experiences that can't be missed. Thanks to the
Royal Gorge Helicopter Tour
, fly over majestic canyons but also above the highest bridge of the USA, Colorado lakes, from
Big Horn Sheep
to
Cripple Creek
passing by
Pike's Peak
. Extraordinary.
The inescapable Road trip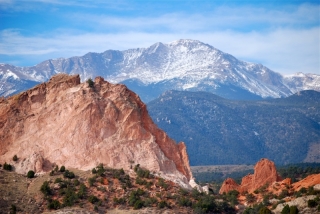 Why won't you rent a beautiful convertible
Mustang
to explore Colorado's roads to admire canyons, gorges, mountains and sunsets... Don't hesitate to park your car to enjoy some pedestrian excursions, perfect to contemplate autumn's landscapes, between conifers and orange's foliages. Some of the most beautiful landscapes are located in
South Park National Heritage Area
which mountains are reaching 4 200 meters, where you will probably see some wapiti's families...
Septembre 2016
By La rédaction