Centenario, new roadster by Lamborghini
We were patiently waiting for it, Lamborghini finally unveiled its most powerful supercar ever, the Centenario roadster, only available in twenty limited models and... already sold out.
A futuristic and powerful supercar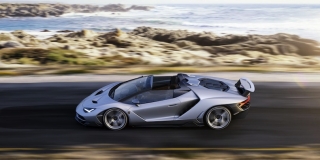 Paying tribute to Lamborghini's founder and his values, this new convertible supercar is as powerful as beautiful. Both trendy and sophisticated, its monohull structure is made of
carbon fibers.
For this special model, a new color has been created, the "
Argento Centenario
", a new kind of silver with matte finish. On the aerodynamic side, it features a rotary and extensible rear wing for even more speed. The Centenario roadster also goes with
LED lights
, shining by day and by night.
If you're an adrenaline addict, the car has more than enough power under its hood thanks to a
V12 engine with 770 horsepower
that can goes from 0 to 100 km/h in only 2,9 seconds, and that can exceed
350 km/h
. Of course, you can customize the interior's design with your favorite colors and materials. The racing car is also equipped with a 10,1 inch touchscreen, compatible with
Apple CarPlay,
allowing you to surf on the internet, read your emails, go on social networks and of course, check any map you would need. The first deliveries are due to 2017 and, some owners already paid more than
2 millions of euros
for the car of their dreams...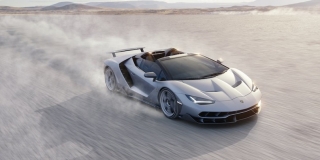 Septembre 2016
By La rédaction