Rotisserie Georgette in New York
After 17 years spent with Daniel Boulud as Director of Communication, Georgette Fakras finally launched her first solo project, a wonderful address in the Upper East Side, close to famous Pierre Hotel.
An "Old France" spirit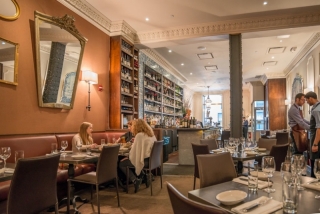 Here, the restaurant's room design mixes modern style with classic French sophistication. This old building from 1903 welcomes a salon of 90 places, with different atmospheres depending on the corner. Some large aisles bring you to the Bar, really dynamic during the "
Happy Hours
" times and, the restaurant part mixes Old France spirit with leather benches, canopies on the walls and
Blue Portuguese tiles
. A brilliant decoration work by
Charles Joufroy.
The rotisserie, centerpiece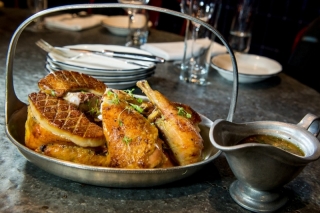 How not to fall in love with the delicious smell of roasted meat and chicken floating in the air !
Georgette
, the owner, will warmly welcome you in her restaurant, really sophisticated but not ostentatious at all. You will feel just like home in a perfect atmosphere to savor some wonderful
melting chicken pieces
but also
Rib of beef
and guinea fowls. Good news, the quality is as good as the quantity. Even if you are not hungry anymore after your meal, you must taste the signature's dessert, the
Apple Pie
, with a really light texture and some both juicy and caramelized apple bites. A great memory.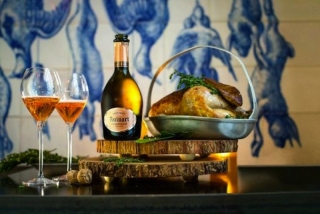 Juin 2016
By Katya PELLEGRINO