Panoramic view at The View restaurant in New York City !
If you want to enjoy a cocktail while looking at the sunset on Manhattan, go straight to the New York City Marriott Marquis Hotel, perfectly located at Times Square.
A breathtaking view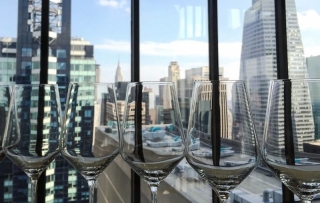 After having taken few elevators, you're at
The View
, a restaurant located on the 48th floor of
Marriott Marquis Hotel
. Here, you will enjoy a breathtaking view, different by day and by night. Be careful, you will shortly notice that the
restaurant is turning on itself
so, wherever you are sitting, you can enjoy different landscapes of New York City and
Manhattan
! You can choose between some meals on the menu or a buffet formula.
A surprising Chef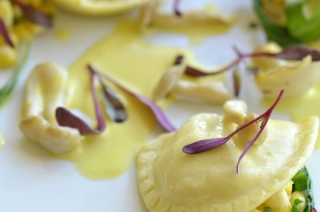 Here, the
Chef Charlie Ansjii
offers a 3 courses menu where you can choose what you want to eat on the meals' list. We are in love with the
Crab Cake
, straight from East and West Coasts, with its range of seven different mustards. We also love the
beetroot/ricotta ravioli
and the fresh salad made of lettuce and crunchy vegetables (carrots, radish, yellow and red peppers...).
Savor and quality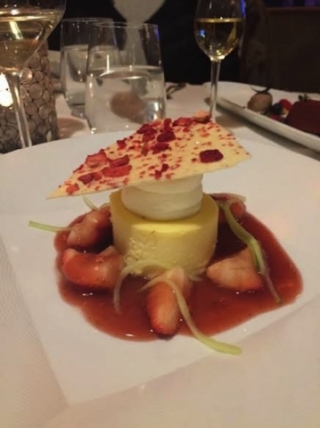 The Chef really takes care of you with his fresh products' selection and great creativity. Fall in love with the melting
Maine's Lobster
and its butter-sauce or with the
mash made of truffles
. Desserts are also excellent, starting with the Rose/Rhubarb Ice cream, the cheesecake and the
Caramel/Chocolate cake
. While eating, you will enjoy the view on
Empire State Building
, The Met, Hudson,
Rockefeller Center
and more...
Avril 2016
By Katya PELLEGRINO