Marrakesh Buddha-Bar
After Paris, Saint Petersburg, Mykonos, London, Caracas, Monte-Carlo, Budapest, Manila, Kiev, Dubai, Prague, Tbilisi and Baku, Buddha-Bar just opened its doors in Marrakesh for a timeless trip between East and West.
A stunning setting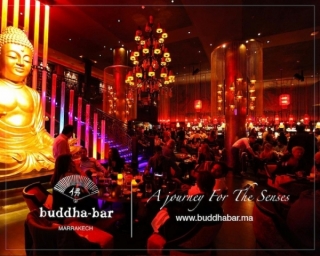 When arriving at Marrakesh Buddha-Bar, you enter an enchanting atmosphere where a giant
sculpture of Buddha
, Made in
India
, sits imposingly. Spacious, the bar/restaurant spreads on two floors with different atmospheres, full of allusions to several Eastern and Western cultures. Each sens is involved between beautiful setting, filtered lights and melting-pot of tempting smells. With friends or with your beloved, tables and private salons are a true call to sharing, for a casual dinner or a party night at the
Lounge Bar.
A hundred and one savors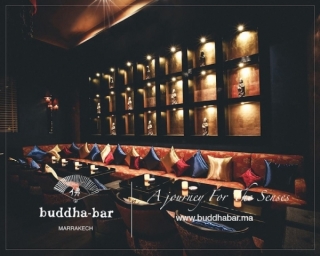 Embark for a gastronomic trip between
Asia
and
Pacific
countries thanks to a menu with Neo-Asian influences. Some meals inspired by the
Pacific Rim
culture, highlighting fresh products and playing with styles of cooking. Each meal is highlighted by some clever mixes of spices and, the tasting occurs in a friendly atmosphere where sharing and abundance are the key words. Congratulations to Chef
Ashish Purty
!
Original cocktails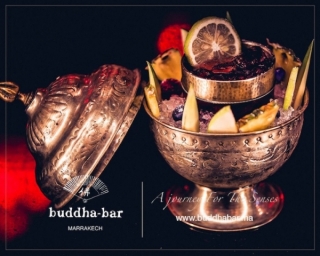 To sip around a tapas plate, cocktails by Barman in Chief
Matthias Giroud
are unique and exotic blends, adapting to everyone taste, created from products coming from all around the world. You should try the cocktail served in a
Tagine
container, in allusion to Marrakesh. You don't like alcohol ? It's okay, alcohol-free cocktails with fresh fruit juices and organic waters will bring some freshness to your evening. The wine-list also is awesome with a great selection of local wines and famous vintages.
Music !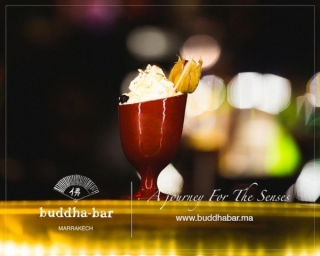 Of course, the "Buddha-Bar" sound is part of the adventure, this unique mix between
Lounge, World Music and tribal electronic music
which compilations are being sold out at every new record. Difficult not to love the different Djs, really talented, who will enchant you until the dawn.
For you and only you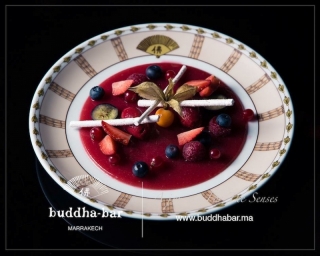 The Buddha-Bar can be made private for your
private parties
, products launches, fashions shows and any other event. Between luncheon-cocktails, buffets and special menus, you can entrust the team to organize your on-demand event. The must ? Offer some live music or
cocktails workshops
to your guests.
Mars 2016
By La rédaction