La Kasbah Tamadot
Purchased in 1998 by Sir Richard Branson after one of his famous hot air balloon expeditions, the Kasbah Tamadot is located at the foot of the Atlas at an hour's drive from Marrakech. The Kasbah Tamadot is part of Virgin Limited Edition, committed to instruct local villagers to work in the hotel business putting forward authentic crafts and Moroccan lifestyle in this luxury hotel.
Accommodation: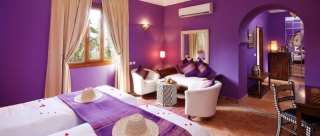 The Kasbah Tamadot offers 27 rooms and suites, including nine luxury suites in Berber tents. All decorated differently, using Moroccan traditional antiques and furniture. Each room has a Berber name that unveils more about its character. The Kasbah Tamadot offers several categories of suites, featuring a
Master suite
composed of three rooms, located at the end of the impressive overflow swimming pool (but with own private swimming pool), ideal for families traveling together. All suites dispose of a terrace or a balcony. The nine suites in
Berber tents
have their
own terrace with swimming pool
offering magnificent views of the Atlas mountains.
Restaurant: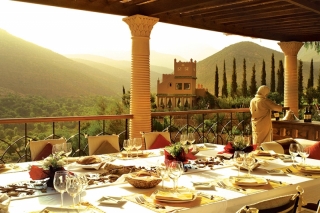 With its intimate bar and stunning views from its terrace, the impressive
restaurant Kanoun
has a refined Moroccan and international cuisine. The name "Kanoun" is the Berber word for the Moroccan traditional brasero, coal-fueled, manufactured of sun-dried clay. On the menu,
Moroccan and international dishes
with aromatic herbs and vegetables freshly picked from the Kasbah Tamadots' own gardens. With spectacular outdoor dinners around the swimming pool illuminated by candles, under the stars on the roof top terrace, or in a private place, make your choice!
Spa: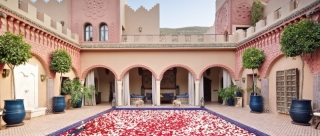 The Asounfou
, spa which means "relax" in Berber, offers a variety of beauty treatments for women and men using exclusive products selected for their purity and quality. The hammam of the hotel is a must to enjoy the total Moroccan experience.
Activities: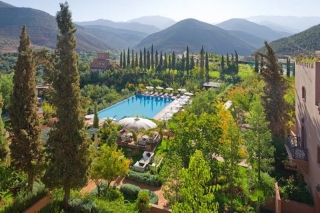 Fitness room, two tennis courts, access to an impressive library and a big screen to watch movies, treks in the Atlas (information at hotel desk). A multitude of activities is also available for children: horse riding, face painting, carting, donkey rides, dromedary rides …
Février 2016