Russian gastronomy in Paris
Just in front of famous "Café de Flore", Russian Café Pouchkine is now installed in Paris Saint-Germain-des-Près neighborhood. The perfect occasion to savor the best of Russian gastronomy in a both classical and extravagant setting.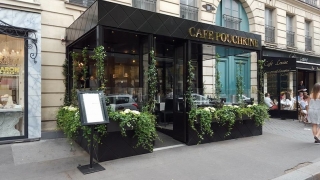 Russian sweet interlude
Behind a quite discreet facade on
Boulevard Saint-Germain
, Café Pouchkine is ready to welcome you in its
tea-room or terrace
, for you to enjoy a delicious
homemade ice tea,
hot chocolate or pastries facing
Saint-Germain-des-Prés church
. Once inside, a little space of only 35 seats is waiting for you with its giant pastries window introducing wonderful cakes,
pirojkis
and macaroons. Colors are quite pure and sophisticated while the furnitures are more extravagant: white marble,
Andrey Dellos chandelier
, wall made of bricks from the 15th Century, giant
Venetian mirrors
, woodwork, traditional
samovars
and tailor made
Louis XV
chairs.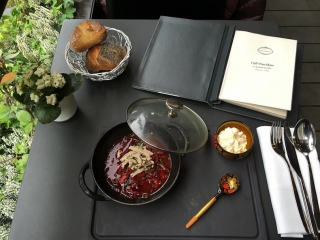 On the gastronomy side, we are in love with the pirojkis, litte hot specialities stuffed with beef, duck, mushrooms and Foie Gras. Russian food addicts will also recognize the delicious
Bortsch
(beet soup with sour cream), boeuf
Stroganoff
, blinis, salmon and
Kamtchatka crab
.
Sugar lovers will be thrilled to savor a whole lot of pastries as the
Vladivostok
, a shortbread made of green tea and the
Medovick
, our favorite cake, a biscuit made of honey, milk cream and Dulche de leche. Wonderful.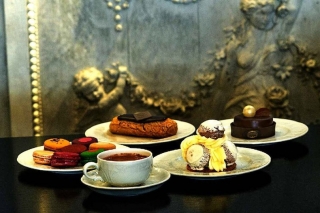 Février 2016
By La rédaction