5 Most Luxurious Spain Beaches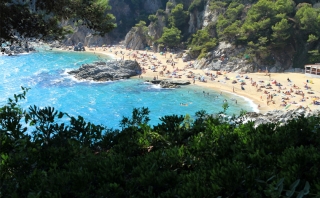 As per a 2023 YouGov survey on luxury travel, it was revealed that most premium travellers are opting for trips that espouse the beauty of nature. In line with this, beach holidays are currently all the rage with premium travellers, as beach resorts across Europe strive to cater towards the finer indulgences in life. Characteristics of luxury beach destinations extend beyond privacy and picturesque views, as most offer unparalleled services and outstanding experiences that would make any traveller want to extend their stay. Currently, Spain is a top destination for beach holidays, and the 
European Travel Commission cited
it as a favourite destination among European holidaymakers.


As a matter of fact, around 8% of Europeans intend to visit Spain, which is unsurprising given the country's geographic and cultural diversity. After all, 
booking a holiday to Spain
 provides a huge amount of variety, as the country allows you to experience world-renowned dining, historic landmarks, and a bustling nightlife scene in most big cities. Even the shopping opportunities in Spain warrant a visit, as there are plenty of options for indulging in a bit of upscale retail therapy. Perhaps most fitting given the demand for trips among nature, the country is most recognised for its beaches that boast white sand and brilliantly deep blue waters along the coastline. Thus, if you're looking to have a beach getaway in Spain, here are a few of the most luxurious beaches you can visit:


Playa de Santa Eulalia
The island of Ibiza is a popular destination in Spain. 
Discover France & Spain emphasised
 this Balearic island's historical roots, from Roman to Moorish influences mixing in with contemporary cultures that give Ibiza a unique blend of experiences. While known for its nightlife and club scene, Ibiza is also home to a few beaches that boast beautiful waters and luxury accommodations. Playa de Santa Eulalia is recognised as one of the poshest places on the island, with its upscale restaurants, art galleries, and deluxe boutique options for shopping. Most establishments close at midnight, and the pace is slower than what is commonly associated with Ibiza — this makes this beach an ideal place for travellers looking to relax and get away from the bustle of city life.


Playa Ancha
Nestled in the southern coast of Spain, Bahia de Casares is a hidden gem that is waiting to be discovered. The town is known for its stunning beaches, which are perfect for swimming, sunbathing, and water sports. Playa Ancha is one of the most popular in the area, offering crystal-clear waters and a wide range of beach bars and restaurants. There are luxury villas available for your stay, where you can enjoy the peaceful shores of the beach. The area is also home to delicious cuisine, renowned for its fusion of traditional Spanish and Andalusian dishes. It is particularly known for offering fresh seafood options, with grilled sardines, fried calamari, and seafood paella being popular dishes in the region.

Platja Gran
Located in Girona, Platja Gran is home to an impressive selection of attractions and experiences, making it well worth a visit. Similar to other parts of the country, the area boasts rich historical attractions and a mediaeval fortification wall also borders the beach. However, the area is recognised for its luxury hotels that offer scenic views of the nearby beaches. Additionally, guests can indulge in the flavours of the region, featuring locally sourced produce and wines, which you can book for wine-tasting sessions. This makes Platja Gran the perfect destination for those looking to stay in an idyllic coastal area while staying at luxury accommodation to get the best of what the region has to offer.

Playa de Bolonia
Trips to Seville
 are often a part of the itinerary when taking a holiday to Spain. The city has an old-world charm that comes with its Gothic architecture and sprawling churches. While the city is known for its heritage attractions, the region of Seville is also situated near beaches that deserve recognition. Playa de Bolonia is one of the best beaches within the region, with a beautiful coastline that is perfect for sunbathing or swimming. Since it is farther from the main city, the beach is essentially an untouched paradise that is perfect for those looking for a quiet getaway. Alternatively, there is also La Fontelina, which can get more crowded due to its popularity. La Fontelina is ideal for those looking to mingle with other people and lounge around along the beach bars or in a small yacht, which can be used in the nearby waters.


Playa de s'Oratori
Playa de s'Oratori is located on the west coast of Mallorca within the bay of Palma between the urban centres of Portals Nous and Bendinat in the municipality of Calvià. The beach has clear and calm waters, which many use to sail along the coast. The beach bar in the area also stands out, as it is located right in the middle of the beach and within proximity to the Port of Portals Nous with its large boats, exclusive restaurants, and shopping boutiques. The nearby marina is perfect for yacht activities and is within close range of luxurious residential and commercial places for your stay.


Septembre 2023
By Luxe Magazine