Ralph's, an American in Paris
Ralph's restaurant, rustic but warm, elegant and romantic, refined and relaxing, with all these qualifications nestles in an inner courtyard of a private mansion in St Germain, Paris in the 6th district. American standards from the 40s mixed with a country style reinforces the particular atmosphere of the place.
Discovery with Katya Pellegrino
A vintage and countryside decoration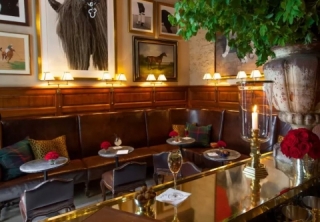 A warming place -
After passing through an inner courtyard cleverly decorated with boxwood, where a central tree dressed with LEDs, sits amidst parasols, tables and chairs, the entrance leads us to a warm and cosy place.
In the room, a nice mixture between vintage and modern fabrics, patinated teak and wrought iron, confers a charm and a warm and rustic atmosphere where one feels sheltered from the world.
Like a hunting lodge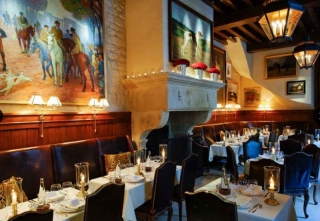 Restaurant - © RALPH'S
This feeling is reinforced by the multitude of candles and hurricane lamps which also give the place a special glow.
As a climax, the music sets the tone, contributing to a timeless atmosphere. You can throw yourself b 80 years back to the 1940s with a jazz band and discs from another era.
The large wooden benches leaning against the stone wall, accompany the white-skirted tables and echo the wooden beams on the ceiling and the huge old stone fireplace that sits proudly in the room.
Hunting pictures all over the place reinforce the feeling of being in a manor.
Let's talk about the gourmet food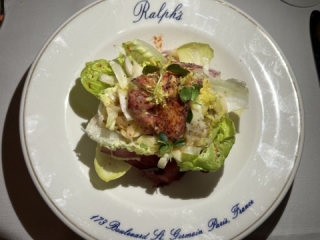 Salad - © LUXE MAGAZINE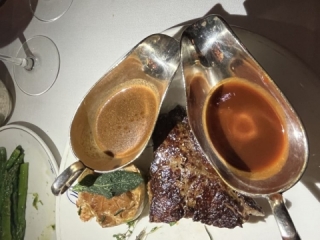 New York Strip steack - © LUXE MAGAZINE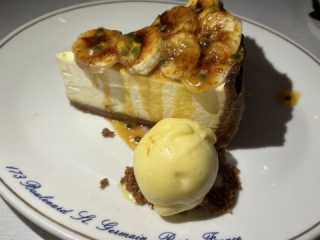 Cheese cake - © LUXE MAGAZINE
Of course, we are here in the American cave of Ralph Lauren, who has personally chosen a selection of local products that pay tribute to the country and its various states.
If you like meat, you'll get the best here, thanks to Ralph Lauren's ranch, which exports meat directly from there. Indulge in tasty beef filets or New York Strip steak, cooked according to to your taste or Black Angus beef.
On the menu, you can also choose the fish, lobster, Maryland crabcakes or of course the unmissable tuna burgers or the classic steak burgers.
Above all, finish with the cheesecake, which is truly delicious. Believe it or not, it is a must!
Completing this delicious moment with a small St-Estèphe, let's call this evening a success!
Avril 2023
By Katya PELLEGRINO