An overview of the novelties spotted by Luxe Magazine
Some incredible news by Luxe Magazine
Muse villas: the most beautiful private villas for rent in Mauritius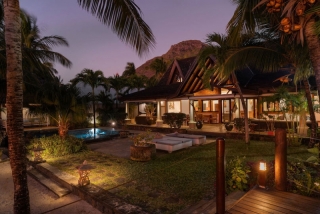 Villa Matahari -
With the idea of creating a new travel experience and tailor-made vacations, Muse Villas was launched this fall of 2022 in Mauritius. At the helm are Matthieu Appassamy and Xavier Doger de Spéville, two Mauritian friends, one an expert in seasonal rentals, the other in luxury hospitality. Their collection already includes 20 dreamy confidential villas, most of which have never been rented. Their slogan: "By hedonists, for hedonists". Rather than staying in a Palace, travelers have the option to shape their stay in complete privacy, according to their needs and desires at the moment, whether they are with a tribe, family..., with a chef and 5-star hotel services operated directly by Muse Villas. "Villa hosts" are at their disposal to meet all their expectations: book access to hotspots, visits, yoga classes, massages, boat trips, diving... Tailor-made service at your fingertips!
Doucet and Camondo Exhibition: A passion for the 18th century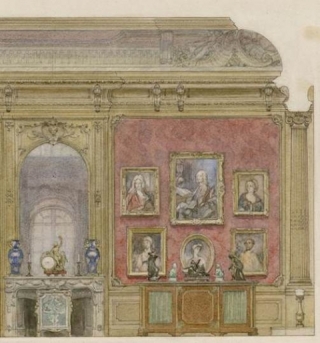 Adrien Karbowsky. Grand salon. Coupe longitudinale, 1907. Aquarelle. INHA-Exposition 'Doucet et Camondo - © Musée Nissim de Camondo
The Arts Décoratifs and the National Institute of Art History (INHA) present, at the Nissim de Camondo Museum, from March 16 to September 3, 2023, an exhibition dedicated to the rich collection of 18th century works of art assembled by Jacques Doucet. Famous couturier and great patron Jacques Doucet (1853-1929) was also one of the most important collectors of his time. A selection of drawings, photographs, and archival documents kept at the INHA traces the history of this prestigious heritage. You will discover the ephemeral decorations of the private mansion located on rue Spontini in the 16th arrondissement that Doucet specially built to house this collection of paintings, drawings, sculptures, furniture, and art objects from the 18th century. It highlights the works that belonged to Jacques Doucet, kept in particular at the Nissim de Camondo Museum, former private mansion of Moïse de Camondo, thus linking these two great collectors.
Nissim de Camondo Museum, 63 rue de Monceau, Paris 8th. Admission: €12.
The Orient Express Silenseas will set sail in 2026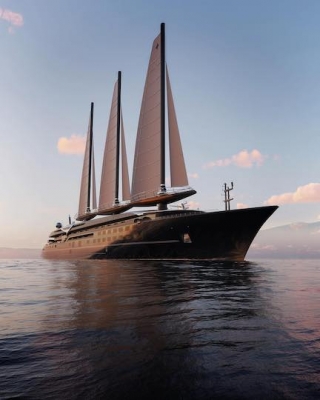 Orient Express Silenseas - © Orient Express Silenseas
140 years after the launch of its first luxury trains, the legendary Orient Express continues with this fabulous project. A futuristic sailboat born from the unique French association between Accor, the world leader in hospitality, and the Chantiers de l'Atlantique, the leader in cruise ship construction. The Nantes-based design agency, Stirling Design International, designs the exterior lines, while the architect Maxime d'Angeac designs the interior layout and decor.
Measuring 220 meters long, with three masts, it will celebrate the Art of Travel according to the Orient Express through its 54 Suites with an average area of 70m2, including its Presidential Suite of 1415m2 (530m2 of private terrace!). Its 2 pools, including a swimming lane, its two restaurants and its speakeasy bar will add to the quintessence of luxury, absolute comfort, and dreams. An amphitheater-cabaret, private recording studio, spa treatments, meditation sessions, and stops to discover cultural treasures will help disconnect from time. The first unit will be delivered in March 2026.
Fuori Marmo, the first wine aged in white Carrara marble jars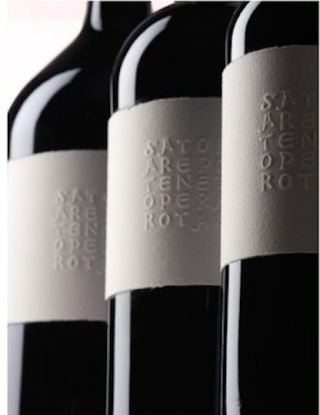 Champagne CASTELNAU avec le coffret Rosé - © Champagne CASTELNAU
It all started with a crazy idea from Yannick Alléno: to age wine for the first time in Carrara marble. A challenge taken up with Paolo Carli, CEO of Henraux quarries, and winemaker Olivier Paul-Morandini from Domaine Fuori Mondo. It took six months to shape two amphorae of 17.5 hl and two tonnes each. After two and a half years of adjustments and research, the vintage is finally unveiled: a Cabernet Sauvignon IGT Costa Toscana 2019 in hillsides from a great clay-limestone terroir, which the marble prolongs in a very beautiful complexity, with a maceration of only six days. An exceptional vintage presented to experts, who praised it, like Gianni Fabrizio (Gambero Rosso): "We witnessed the birth of an inventive and very good wine, from a particular terroir and winemaker: a small work of art."
Limited edition of 1000 bottles, 1085€.
Thomas Pheasant x Par Excellence: The exhibition not to be missed in New York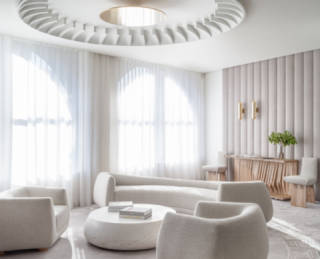 Par Excellence - © Par Excellence
Created in 2016 in New York by Charles Jouffre, CEO of Ateliers Jouffre, Par Excellence, the agency specialized in high-end interior architecture and custom-made furniture, brings together 11 of the best French craftsmen. The collective has just opened its new space at 344 Bowery in Manhattan, with a scenography signed by Thomas Pheasant, known for his chic and sleek style, who has transformed this classic New York apartment into a magical place. A dialogue of cultures between American design and exceptional French craftsmanship. 150m2 where the know-how of the Par Excellence Collective is superbly highlighted: Atelier de Ricou, Ateliers Jouffre, Ateliers Lison de Caunes, Ateliers Saint-Jacques, Auberlet and Laurent, Henri Technologies, Maison Meljac, Manufacture de tapis de Bourgogne, Ozone, and Souchet. All custom-made decor elements harmonize, respond to each other, and inspire. A project that contributes to developing French notoriety in the field of art crafts in the United States.
344 Bowery, NY, 10012 USA. Make an appointment at contact@parexcellenceny.com.
Juin 2023
By Luxe Magazine