The need for speed: the new luxury day yachts from AB yachts
With a speed of more than 50 knots, this 30-metre new luxury yacht in the AB 100 series from AB Yachts, a Next Yacht Group brand, is one of the fastest luxury yachts on the market.
Speed and Style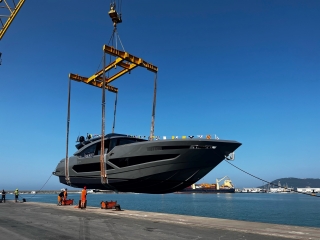 The new luxury yachts in the AB100 series -
Enjoying maximum comfort with unparalleled efficiency, the
AB100
offers its guests, almost without realising it, the pure
sensation of speed
over the sea, but also a feeling of safety even in the
most extreme manoeuvres
. More than 30 years of experience guarantee perfection,
advanced technological solutions
in the areas of propulsion, stabilisation, trim control and seakeeping, as well as attention to design and style. The modular configuration makes it possible to create a
unique and distinctive yacht
, entirely according to the needs and wishes of the owners.
This yacht offers a range of solutions that make the most of the space on board. The hidden sliding door connects the aft cockpit to the saloon,
creating one large open space
, free of obstacles and with natural light shining through the glass surfaces, offering a breathtaking
360-degree view
and constant contact with the sea. In the stern, there is a fully equipped, ready-to-use beach area, with an exclusive, innovative system specially designed to launch and retrieve tenders, jet skis and water toys. The yacht will soon be anchored for her first cruise in the Mediterranean.

A new way to experience the sea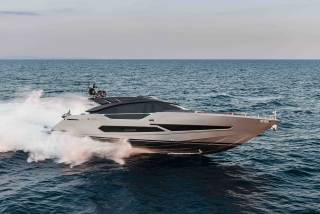 The AB80 - © AB Yachts
In addition, the
AB 80
, the entry-level model with a length of 25.40 metres, is a sporty, designer yacht with
state-of-the-art technologies
. It can glide over the water at a maximum speed of more than 55 knots, has a cruising speed of 45 knots, navigates shallow waters, is
highly manoeuvrable
, has low fuel consumption thanks to its limited water displacement and is easy to handle. Pure enjoyment when cruising with family or friends and perfect to use as a
luxury day boat
. And this yacht still falls within the category of under 24 metres.
Both the exterior and the interior have been specially
designed by the "Centro Stile"
and can be furnished according to the owner's taste and wishes.
The AB 80 is scheduled for delivery at the end of 2022, so take a peek at the
AB yachts
website and discover the powerful and fascinating new way of cruising
Mai 2022
By Marjolaine LOVES