Champagnes: 7 favourites for Sunny Days
Champagnes, vintage or not, white or rosé, to accompany the beautiful special days. Elegant and joyful vintages inviting conviviality. Happiness is better if it is shared...
Champagne Gosset Grand Millésime 2015 Brut: Lively, refined and fruity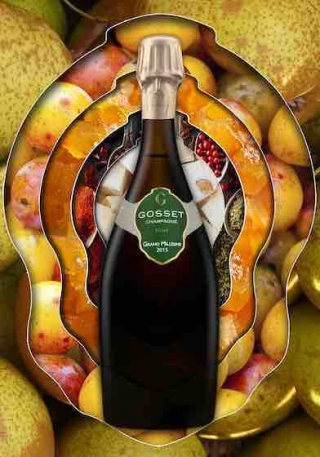 New cuvee from Maison Gosset - Grand Millésime 2015 -
A singular harvest inspired
Odilon de Varine
, Cellar Master of the
Maison Gosset, the oldest wine house in the Champagne region
, to create this 59% Pinot Noir and 41% Chardonnay cuvée. An incredibly fresh wine that brings together the best of two worlds: a Grand Vin, which can be appreciated in all simplicity. And as a Grand Vintage, it will also be the perfect ally for the most refined tables.
To the eye, a crystalline, luminous and slightly golden colour reveals an extremely fine and grouped effervescence. Its nose, fresh and acidulous, is as gourmand as it is elegant, expressing pastry notes and aromas of fresh fruit: nougat, frangipane, candied orange, mirabelle plum. A delicate touch of Passe-Crassane pear, with a dash of Williams pear liqueur. On the palate, this tonic wine develops a beautiful tension around fruity aromas: nectarine and yellow peach, with a tangy note of rhubarb. The finish is clean, frank and mineral, leaving a touch of salinity and verbena. At the table, this
Grand Millésime 2015 Brut goes wonderfully well with fruity or spicy dishes and certain desserts
, such as a rhubarb or lemon meringue pie. A beautiful effervescence, which will refresh your taste buds.
Price: 62€ in wine shops and direct sale at +33 3 26 56 99 56.
Champagne Billecart Salmon Le Clos Saint Hilaire 2006: A rare vintage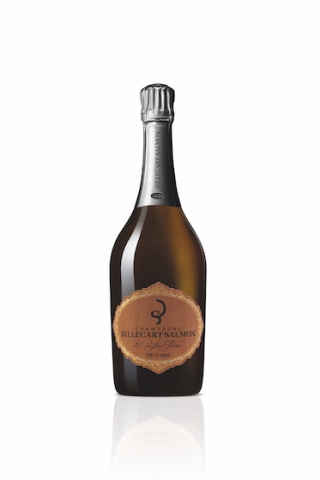 Champagne from the Clos Saint-Hilaire 2006 Billecart-Salmon - © Le Clos Saint-Hilaire
The Clos Saint-Hilaire cuvée
comes from a single plot of one hectare of
Pinot Noir vines
planted in 1964 in the heart of the village of Mareuil-sur-Aÿ, the birthplace of the
Billecart Salmon
family business. And the new 2006 vintage has the qualities of a great, deep and singular wine for ageing. With its ample and imposing texture, we find a
richness of flavours
on the palate with accents of citrus flesh and pears in syrup. Its beautiful aromatic complexity is ideal to accompany a wild Turbot with Burmese coffee for example. The packaging of the cuvée has undergone a facelift: a new label made of cherry wood, from ecologically responsible forests, gives this mono cru an incomparable authenticity. In essence, wood is distinguished by differences in grain and colour, which makes each bottle unique, just like the personality of this vintage.
Price: 390€ at the best wine shops and online at the Billecart Store.
Piper-Heidsieck Vintage 2014: A vintage bursting with freshness
Piper-Heidsieck presents the 2014 vintage - © Piper Heidsieck
Following on from the
Piper-Heidsieck
2008 and 2012 vintages, the 2014 vintage embodies this excellence and pays tribute to the winemakers who, through their careful and precise work, contribute to its radiance. The singularity of this year's climate confers particular nuances to the vintage. Made from a blend of 55% Pinot Noir and 45% Chardonnay, the majority of which comes from the
Grand Cru and Premier Cru vineyards of the Montagne de Reims
, the cuvée is enhanced by ageing on the lees for more than five years. Its singular profile is expressed by a fruity aromatic register - with typical notes of citrus and yellow fruit - enhanced by exotic notes of orange blossom, liquorice and lime zest. Flavours of brioche and toasted almonds complete the gourmet profile of this vintage, which will be a pleasure to serve with refined cuisine with strong flavours. Ready to be enjoyed now, this vintage has many years of evolution ahead of it. Lovers of long-aged champagnes will be able to keep it for up to 15 years. "It will become even more refined and exalted with time," emphasises
Emilien Boutillat
, Cellar Master at Piper-Heidsieck.
Price: €49.90 for a 75 cl bottle / Magnum €114.90 in wine shops.
Champagne Lallier Rosé: Elegance and gourmand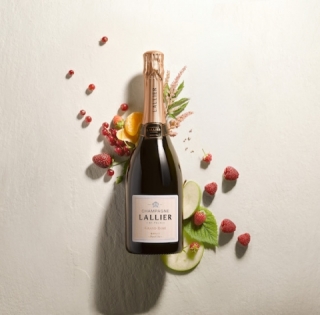 Lallier Rosé, a fresh and fruity Champagne for summer - © Champagne Lallier
The uniqueness of
Lallier Rosé
comes from the blend of 65% Pinot Noir from the Grands Crus of the Montagne de Reims. The Chardonnay berries (35%) come from the Côte des Blancs. This blend of
two jewels of the Champagne region
consolidates the fullness and intense character of Pinot Noir with the emblematic freshness of Chardonnay. Lallier Rosé is powder pink in colour, with an intense and delicate effervescence that promises an invigorating tasting. The nose reveals fragrances of fresh cherry, redcurrant and raspberry, enhanced by delicate notes of fresh apple and mandarin. An intense freshness follows, before the tasting ends with a long, salty and lively finish.
Perfect as an aperitif,
with fish and shellfish or to accompany a red fruit charlotte.
Price: 45€ in wine shops.
Champagne Lanson Le Rosé Fruit Market: Limited edition Lifestyle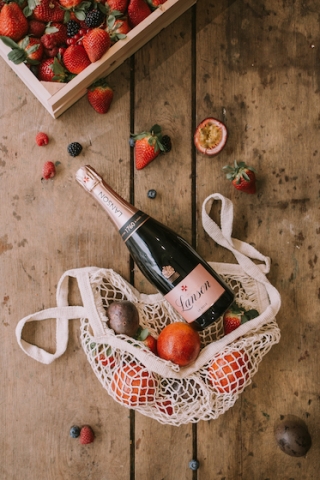 Champagne Lanson The Rosé Fruit Market : Limited edition Lifestyle - © Lanson
As happiness is best shared,
Lanson
offers a refreshing, fruity and
delicate rosé champagne
, whose fine bubbles will give rhythm to the summer. The tasting reveals notes of red fruits - strawberry, raspberry, blackberry and blueberry - balanced by notes of citrus. They recall the scents of fruit market stalls and
seduce by their elegance and gourmand notes
. A vintage of great finesse combining freshness and vitality. The
limited cuvée "Le Rosé Fruit Market"
is available in two versions: in a colourful case or in a pretty wooden crate accompanied by two flutes, delicately decorated with red fruits. Ready for a romantic stroll and a picnic?
Price: Rosé Fruit case, 42€; Rosé Fruit Market wooden box, 75€ on sale on the e-shop.
Champagne Bollinger La Grande Année 2014: Intense and Mineral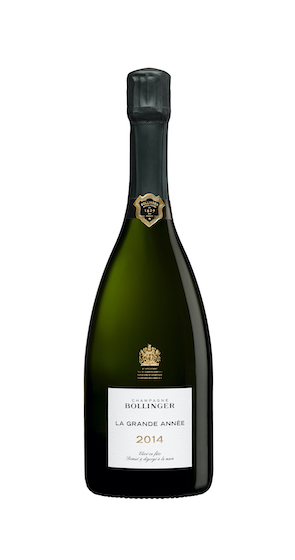 Champagne Bollinger presents La Grande Année and La Grande Année Rosé 2014 - © Champagne Bollinger
This
hand-crafted cuvée
, 61% Pinot Noir, 39% Chardonnay from 79% Grands Crus and 21% Premiers Crus, is vinified in old oak barrels. This favours the development of very fine aromas and gives the wine, thanks to micro-oxygenation, an extraordinary ageing potential. These 4,000 barrels are maintained in the
Bollinger
cooperage, the only Champagne House to have a permanent cooper. To the eye, the Grande Année 2014 has a golden hue. Its nose is fruity, precise and finely iodised. Aromas of cherry and lemon mingle with quince and bergamot. In a second phase, notes of hazelnut, almond, mirabelle plum and peach complete this aromatic palette. The palate opens with a fine and intense effervescence, followed by a beautiful vinosity and balanced by a subtle acidity. The very fine texture and saline finish of this wine give it a long finish accompanied by complex flavours of orchard fruits and citrus.
La Grande Année 2014
is a wine that unfolds gradually and then shows its full potential and intensity.
Price: 147€ at the best wine merchants.
Champagne Château de Bligny Blanc de Blancs: Spring-like and subtle

Cuvées Champagne Château de Bligny - © Château de Bligny
The only Château in the Champagne region to benefit from the
Château appellation
as a Récoltant-Manipulant. A unique property of 30 hectares (
Côte des Bar/ Aube and Bligny
) with an unprecedented historical, architectural and vinicultural heritage. This 100%
Chardonnay
has everything to seduce with a light golden colour, a fruity white seeded nose distinguished by its compotée nature. The palate is flowery and fruity, with flavours reminiscent of frangipani and white fruits. The finish, noticeably turned towards caramelised peanuts, is structured. A champagne to be enjoyed within two years, ideal as an aperitif!
Price: 79 € in wine shops
Frédérique de Granvilliers
Mai 2022
By Luxe Magazine