A Black Forest Escape in Bareiss, a charming and luxurious hotel
The kilometres are ticking away. The sun is revealing itself through the fresh green leaves of the rustling trees, joining in a slow and silent waltz. An hour from Strasbourg, in the Black Forest, in Baden-Württenberg, the Bareiss Hotel (Relais & Châteaux), nestled in the shadow of the small village Baiersbronn in Mitteltal, has managed to preserve its unique soul, distilling a luxurious but simple charm, without ostentation.

Discovery with Katya Pellegrino
An authentic world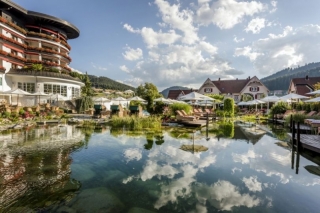 In Summer with pond and beach -
An authentic world, far from all the stereotypes, here the service and welcome have kept their freshness and spontaneity. The motto of the owner,
Hermann Bareiss
: "never say no to a customer", is omnipresent and is perpetuated by the 2nd and 3rd generations. Always on the premises, he keeps an eye on every detail and maintains the tradition of greeting his customers in person every weekend. A
true paradise for young and old,
to be discovered with the family or as a couple, and
tested by Luxe-Magazine.
The Begining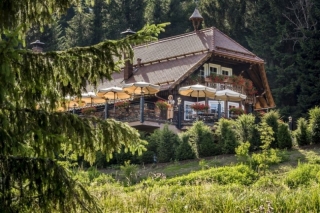 Forellen Bubach - © Bareiss
The story of Bareiss begins with Hermine, the mother, who was married in the 1930s to a forest ranger, Jacob Bareiss, from Mitteltal. When her husband died during the war,
Hermine Bareiss
decided to start baking cakes to earn a living - her speciality! In 1947, she set up a small bistro, the "Gasthaus Kranz", and in 1951, she founded the Kurhotel Mitteltal, with 25 beds and a restaurant that became famous throughout Baden Württenberg, thanks to her
excellent cooking and hospitality
. In 1966, her son Hermann joined her and in 1973 he took over the entire hotel, which today, is the
award-winning Relais & Châteaux Hotel Bareiss with 124 rooms.
Space and country spirit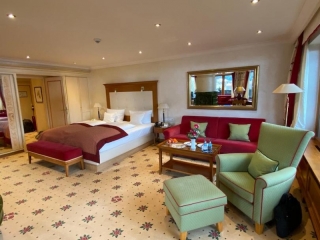 Suite - © Bareiss
The
Hotel Bareiss is set on a hectare of land at the foot of the forest
, a great place for relaxation right in the heart of a beautiful natural environment. Imagine the Black Forest as far as the eye can see, spreading out over valleys with small, clean and cheerful villages, and in the midst of this rich nature, the Hotel Bareiss, watching over the smiling valley like a benevolent sentinel. The rooms, apartments and suites offer a lot of space and comfort for families (36 m² to 120 m²). All of them have a different and warm character and are
decorated in a typical Black Forest style
. Ruching, heavy drapes and floral prints, checked cushions, tiled stoves, weathered doors and ceilings adorn the rooms, instilling a friendly and unpretentious atmosphere. The rooms are surrounded by terraces or balconies with flowers and all have a panoramic view of the forests, the Ruhe Stein or Hornis Grinde.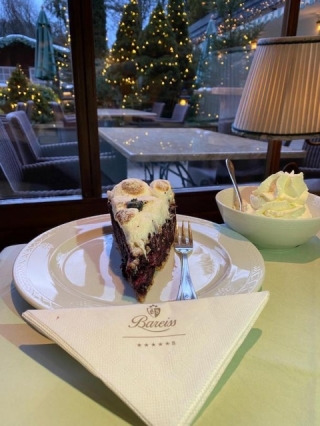 Cake, what else? - © Bareiss
After a nice walk or cross-country skiing in winter, you can curl up by the fireplace, or go down to one of the 5 nicely arranged rooms to taste one of the
delicious cakes of the house
, accompanied, of course, by the Geman unsweetened and ultra-light whipped cream "Sahne". A real treat! Apfel strudel (apple cake), Mohn kuchen (with poppies), Black Forest cake, lemon cake, ... A traditional cake festival not to be missed for gourmet taste buds like mine!
Special mention for the pantagruelian breakfast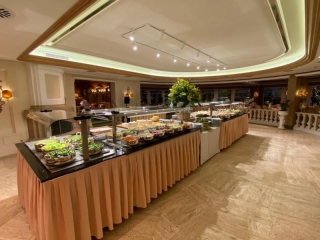 The sumptuous Breakfast Buffet - © Bareiss
Waking up in the morning and sitting at the breakfast table is a great moment. Not to be missed, especially since it is offered until 11:30 am! A special mention for this
sumptuous buffet
which brilliantly tackles the theme of
natural and local products
(cereals of all kinds, homemade breads, cheeses, cold meats, vegetables, fruits...). No wonder it has received several prizes, there is so much variety and the products are so fresh.
Inventive gastronomy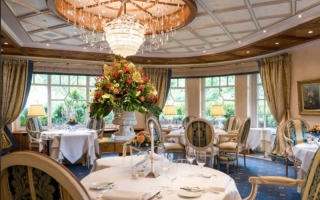 3-star dining - © Bareiss
The best is yet to come with
no less than 3 restaurants
(the 3-star Bareiss restaurant, the Dorfstube and Kaminstube) and its 5 "house" rooms with different atmospheres. Hubertusstube, Schwarzwaldstube, Hermine-Bareiss-Stube, the Biedermeierzimmer and the Wintergarten.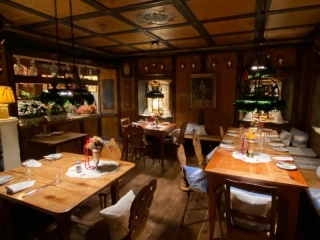 Forster Jacob Stube - © Bareiss
Whether in one or the other, guests can enjoy the many different dining experiences. In addition to the main restaurant, there are two "Dorfstuben", the "Förster-Jakob-Stube", named after Hermann Bareiss' father, and the "Uhrenstube", named after the many cuckoo clocks on the walls. Decorated with authentic 19th century Black Forest wood pieces, and you get a true Heidi feeling!
On the menu game dishes, freshly smoked Buhlbach trout, Black Forest ham
, pan-fried beef steak with onions "Swabian style" and hand-scraped spätzle, a typical local pasta, or duck from the oven. All ingredients are there for a gourmet experience.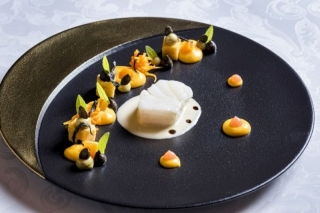 Top Gastronomy - © Bareiss
At the
Kamin Stube
, another atmosphere, another universe. A
Mediterranean spirit
blows over this small room with saffron walls hosting about fifteen tables, with a fireplace for cozy colder evenings. In the summer, you can enjoy the small terrace with a breathtaking view over the Ellbach valley. The refined and tasty à la carte cuisine has a southern flavour. Milk-fed veal cheeks with truffle juice, chateaubriand-sauce béarnaise, fillet of river pikeperch or roasted king prawns - the Kaminstube's menu
combines traditional classics with a variety of current international trends
, interpreted in a modern way and orchestrated brilliantly by
chef Nicolai BIederman
.
Gastronomy at its best!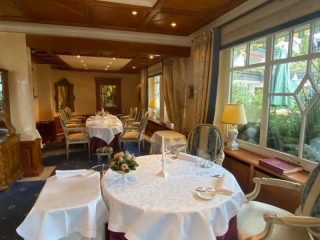 Gastronomic Restaurant - © Bareiss
The highlight of course is the
3-star restaurant at the Bareiss
, awarded by the Michelin guide and orchestrated by its
chef Claus-Peter Lumpp
, revealing a cuisine of the highest quality, accompanied by great wines in a room of only eight tables! The team of
pastry chef Stefan Leitner,
maître d'hôtel Thomas Brandt and sommelier Teoman Mezda complete this timeless moment.
And more...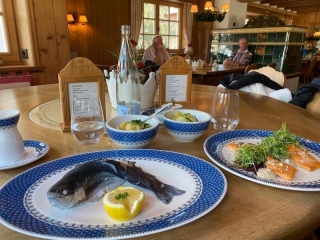 Blue Trout - © Bareiss
The Sattelei refuge: a small wooden chalet which welcomes hikers at an altitude of 700 metres for a warm and gourmet stopover, offering specialities. Finally, the Morlok farm, a family of healers, bought in 2003 by Hermann Bareiss to perpetuate and
preserve the cultural and traditional values of the region.
And since 2017, in the
Buhbach reserve
, about 7 km away in the middle of nature, you can enjoy
trout and char
(rainbow trout, salmon trout, char, brook trout and golden trout) in all their forms in this magnificent fish farm (the Fischerstühle) with its typical centuries-old inn atmosphere. The 17 ponds around this house are maintained by an experienced fish farmer
Bareiss Beauty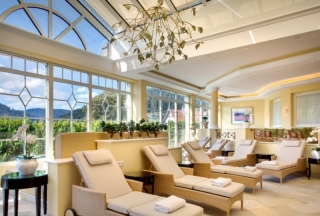 Resting Area - © Bareiss
In the evening, time for a relaxing break. Dive into one of the
5 pools
(fresh and salt water), indoor or outdoor, 2 indoor and 2 outdoor jacuzzis, a natural pond with a small beach, gentle gymnastics classes, Finnish sauna, a whole panoply to choose from. They also offer
Guerlain
treatments for the Thalgo addicts (energy from the sea),
Pino
(high quality natural cosmetics "made in Germany") and
Skin Vital Concept
(regeneration, stimulation, and cell renewal). The choice of treatments at Bareiss Beauty is vast, but always geared towards well-being rather than sophistication.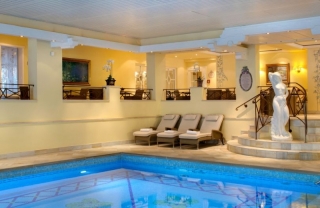 Indoor Pool - © Bareiss
A much-appreciated break before the evening party and for a last nightcap in the bar with pianist's music!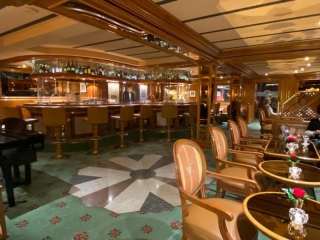 Nightcap at the Bar - © Bareiss
Marjo Loves
Mai 2022
By Katya PELLEGRINO
You will also like