La Clinique La Prairie, a luxury longevity pioneer
Clinique La Prairie, a pioneer and avant-gardist in the field of longevity since 1931 (it celebrated its 90th birthday in 2021), was known throughout the world for its cellulotherapy programme, based on fresh cells, attracting the world's elite, including pope Pius XII in 1953! It has continued to develop exclusive and innovative programmes based on its four cornerstones: medical expertise, nutrition, movement and well-being to slow down the aging process. A holistic approach based on preventive medicine, genetics, epigenetics where the seno-inflammation responsible for many ailments is targeted, in order to strengthen the immune system that guarantees us a healthy, balanced life. Detoxification, revitalisation and regeneration are therefore the key words at Clinique La Prairie. Visit with Katya Pellegrino
A little history

La Clinique La Prairie -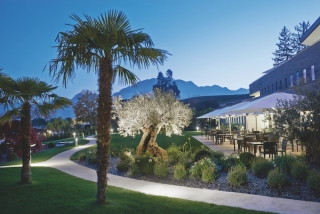 The garden - © Clinique La Prairie
In 1931, it was the incredible discovery introduced by
Professor Paul Niehans
that brought this confidential establishment in
Clarens-Montreux
, into the limelight: a therapy based on
cellulotherapy
, with exceptional promises! A concept of cellular renewal which made it possible to stimulate the immune system, to reinforce cerebral and physical acuity. A promise to slow down ageing. In a way the Holy Grail that everyone is looking for! At the time, this concept attracted the VIPs in the world of politics, business and celebrities. This is how the Clinic's emblematic "Revitalisation" programme was born, thanks to the patented technique invented by the professor. Careful and lengthy research has enabled him to demonstrate that an organism with various inflammations will have repercussions on the stem cells, which will gradually become exhausted and act on the immune system, leading to various chronic diseases or malignant or non-malignant tumours. Health, in a word, depends on our cells. This observation highlights the need to
revitalise ageing cells
through advanced treatments and preventive programmes, while integrating a
healthier lifestyle with a nutricious diet
and sustained physical activity. That's why
Clinique La Prairie's Medical Centre and Medical Spa (CLP)
has brought together more than 50 highly qualified and renowned doctors in their field, as well as 200 skilled and specialised therapists who care for patients through a comprehensive medical check-up that allows for a diagnosis and a tailor-made programme. These treatments include
cutting-edge, high-performance formulas
using the most precious and rare ingredients that have proven their effectiveness.
A personalized programme at all times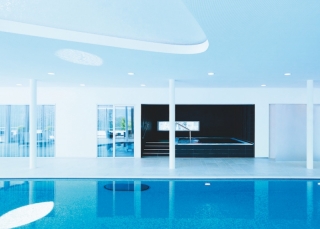 Indoor Pool - © Clinique La Prairie
Expect new experiences of
regeneration and detoxification
that will allow you to rebalance and recover a well-being that some have long forgotten! After a blood test, more or less complete depending on the programme chosen, for me it was the Detox programme, you are taken care of and you just have to let yourself be carried away. A
bubble of serenity
in this stressful world we live in today and a nice break of the hustle and bustle of everyday life.
The Detox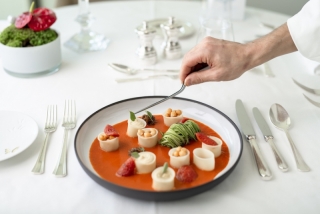 Nutricious Goodness - © Clinique la Prairie
During your week at the clinic, you first meet with Dr. Heini (director of the Medical Centre), who performs a
check of heavy metals on your tissues
and not in your blood, thanks to a machine called Oligoscan, then a 30-minute appointment with an
aesthetics doctor
for targeted advice tailored to your needs, and finally the
dietician,
Emmanuelle, who enquires about your eating habits and guides you according to the well-known precept: 25% protein (animal or vegetable), 50% vegetables (3 portions and 2 of fruit) and 25% carbohydrates (legumes, cereals, bread, pasta, potatoes ...). Of course, as you can guess, sugar is not necessarily welcome! From then on, it's up to you to
create your own food puzzle
, accompanied by Emmanuelle of course.
The dietician always at your side!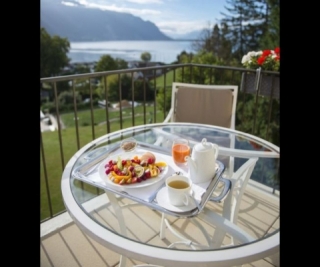 breakfast with lake view - © Clinique La Prairie
The breakfast buffet allows you to pick and choose from your "permitted" foods, and if you forget, don't worry, Emmanuelle will be there to help you. To perfect this new or not so new knowledge, a
dietetics workshop
, led by Olga, will enlighten you a little more on the foods, notably seeds, cereals, oils and vegetables that are accepted and good for your health. You will be surprised to learn that we should eat cruciferous vegetables on a daily basis (highly recommended for our health!). Your meals are then prepared and served according to your intolerances or prescriptions. I opted for a Vegan menu (for once) and I must admit that the contents of
the plates were colourful, pleasing to the eye and delicious
, which shows that you can eat vegetarian and enjoy yourself. Various coloured juices (celery, beetroot, or red fruits and carrots, ginger or spinach, cucumber ...) were waiting for me morning and noon. Bravo to the creativity of the chef!
Innovative treatments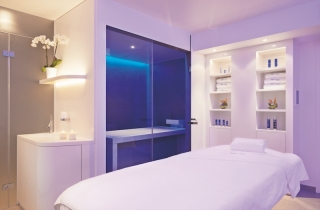 Wellness Suite - © Clinique La Prairie
Then the
cryotherapy treatments
(mixing hot and cold in a machine that can go down to -180°) alternating with sauna, supervised by Hicham the therapist, expert in his field, he knows perfectly the mechanics of the body and guides you with kindness while explaining the effects. It was the first time I tested this type of machine, without danger, you are given socks and woolen slippers to protect your extremities and your head remains outside as well as your hands. This allowed Hicham to keep an eye on me, to check the temperature that was displayed (I went down to minus 145° I think) while chattering my teeth and shaking, but it doesn't last more than 5 minutes and if you can't take it anymore, Hicham stops the machine. The cold comes slowly and at the beginning you don't feel much, which allows you to acclimatise a little! The sauna at the end is much appreciated!
Chromotherapy
is a natural energetic method which aims at
physical and psychological harmonisation
, thanks to the power of colours, using coloured lights projected on the body. Natural and gentle medicine.
The analysis of your body mass with the Tanita test, which allows you to know in the blink of an eye (you just have to step on a sort of scale with bare feet) what your
metabolic age
is ..., the index of your body mass, liquid, fat and to be able to target what you have to work on. All this is orchestrated by Joanna, a coach like no other. She has an in-depth knowledge of the body, its muscles and skeleton and guides you through targeted and
appropriate gymnastics or exercise sessions
. Tailor-made is the key word here!
The
analysis of your skin's age
with the Visea machine. It diagnoses the condition and age of your skin, its moisture level, pores, spots, blackheads, wrinkles, etc. Finally, experts in holistic and alternative medicine accompany you throughout your stay.
Targeted Massages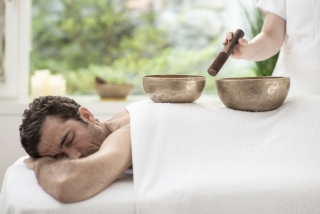 Time to unwind - © Clinique La Prairie
You will be treated to a
detox massage
, which stimulates the venous circuit, the energy meridians and unblocks the lymph nodes. Because over the years, the lymph becomes increasingly lazy and stores waste, which can lead to chronic fatigue, stress, a greyish mood and a dull complexion. The idea is therefore to free the organism, or more particularly the emunctory organs known as "exit doors", of the body from toxins - liver, kidneys, intestines, lungs and skin. I tested it again with Hicham and I can assure you that I slept like a baby thanks to the right and beneficial manipulations for my body. The
viscera massage
is to stimulate the intestines and the intestinal transit. This also releases negative emotions which, as you may know, are hidden in our second brain. You come out lighter and your bowels are ready to function. Followed by
foot reflexology
, with benefits so numerous that it is hard to list them all.
Activities galore!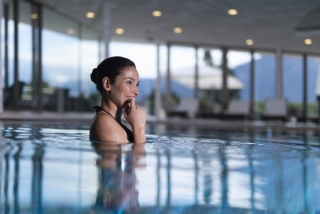 The spa and its pool - © Clinique la Prairie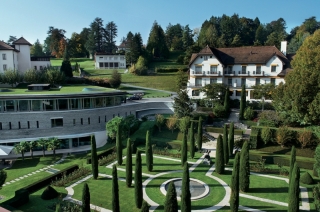 Bucolic setting - © Clinique La Prairie
Of course, there are daily activities in the form of a
walk around the lake, yoga or Pilates classes, snowshoeing, a biocircuit by Technogym,
composed of different machines that guide you and adapt in terms of strength, load, seat height. You can monitor your time of effort thanks to a connected watch that is put at your disposal during your stay. You enter some data about yourself, what you want to work on, your objectives and a personalised programme is then proposed. Activities in the pool or outdoors, in short everything you need to get your body moving and feel fit. All this in a highly stimulating environment under the guidance of a friendly coach. Not forgetting the famous
Kneipp therapy
(alternating hot and cold to stimulate blood circulation) or immuno-reinforcing infusions. Of course you can add a
Thai massage,
divine with a Thai woman, who knows how to decipher your body and relax it there where it hurts, or a relaxant massage to sleep like a baby! She was able to find my knots and tensions in my shoulders and arms and reduced them considerably. Here at the
La Prairie Clinic
the curative and preventive approach is hollistic.
A 1600 m² Spa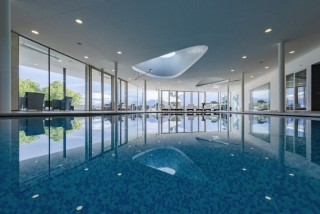 pool with a view - © Clinique La Prairie
In the
1600 m² Swiss Perfection Spa,
large volumes, optimised comfort and contemporary design are the key words, as well as a superb swimming pool that invites you to dive in. Atmospheric ambiances, sensory and innovative experiences are at the heart of the programmes. Although white seems to be dominant at the
Clinique La Prairie
, the lobby, the spa and the aesthetic centre feature different tones to accompany the customer's journey and experience. The combination of materials and transparency, intelligent lighting, bluish lights, all contribute to this well-being, giving it a
luxurious and warm atmosphere
at the same time. A timeless cocoon where you feel safe and relaxed to receive your treatments. The cold, hot, ice water and steam areas are also arranged in different atmospheres, contributing to a harmonius and a soothing effect. I liked the cabins which, like secret bubbles, have wave-shaped walls, evoking the traces of wind on the sand. Escape guaranteed! As for the windows, they open onto an enclosed space where stone walls and vegetation enhance this timeless moment. So don't wait any longer, let yourself be tempted, enter the
world of well-being and better living
!
Mars 2022
By Katya PELLEGRINO
You will also like