Villa Igiea
Palermo, a city with a turbulent past, has been known to leave a lasting imprint on its visitors. Within this city, not far from the historic center, a 19th century palace, the Villa Igiea, has regained its former splendor, thanks to the magic wand of the Rocco Forte group, featuring a Moorish-style architecture, in a typical "riviera" environment.

Discovery with Katya Pellegrino
An urban and seaside sanctuary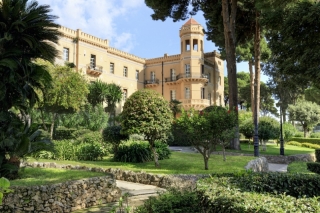 This seaside sanctuary, anchored in the bay of the port of Acquasante, at the foot of Mount Pellegrino and the Gulf of Palermo, was for more than a century the jewel of the
Sicilian family, the Florio family.
Headed by Franca, a woman with good taste and a keen sense of hospitality who knew exactly how to bring back the sparkle this palace deserved. Theater of incredible festivities, it welcomed many
Hollywood personalities,
dignitaries and crowned heads including, among others, King Juan Carlos from Spain.
Belle Epoque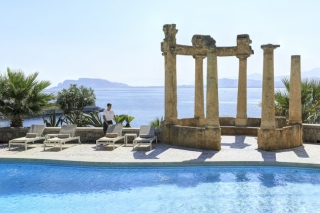 This palace, created by the
architect Ernesto Basile
at the request of the Florio family, remains a marvelous gem, a masterpiece of the Liberty style. It has been carefully restored by
Olga Polizzi, - vice-president and design director of the Rocco Forte group
-, with the support of
architects Paolo Moschino and Philip Vergeylen,
exhaling its Belle Epoque style and charm. Between its magnificent carved wooden staircase, a memory of this bygone era, and the Basil room, a pure example of Art-Nouveau, with its
l'oeil frescoes
, its carved wooden panels on the ceiling, opaque glass walls, saffron ocher facade and crenellated top, it's an invitation to escape and live in a dream.
Lush Garden of Eden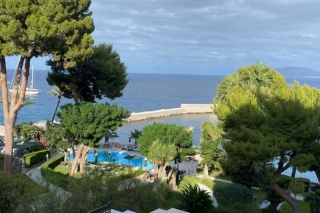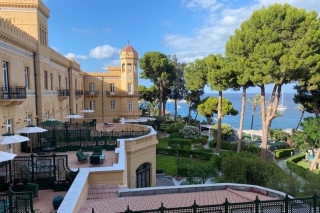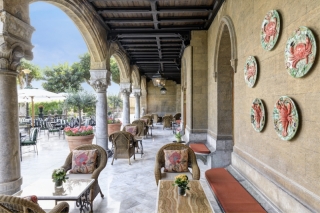 As for the garden, with its symphony of scents, its flowering shrubs, oleander, lemon trees, yucca, palm trees and other species, it offers a
breath of pureness,
with in the background the
Tyrrhenian Sea
, seducing you with its shades of blue. Stone paths take you from the gardens of Villa Igiea to the port, a romantic stroll, under the stars, adding even more charm to the place.
Florio restaurant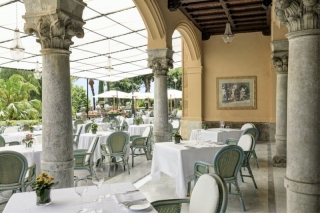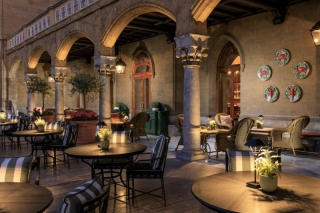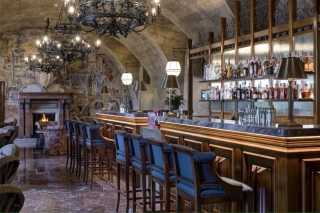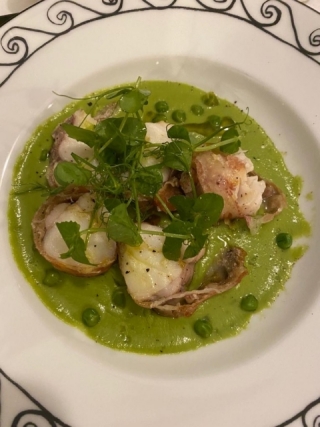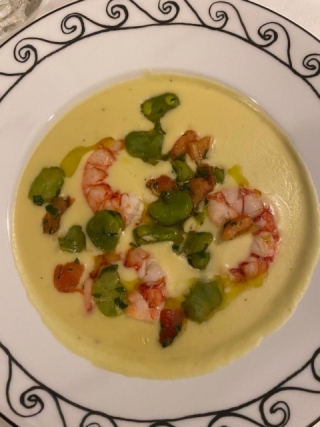 At dinner time, the
Florio restaurant,
named after the former owners of
Villa Igiea
, welcomes its guests onto the spacious terrace, with on one side a bar with stone arches and frescoes by Eugène Morici, telling the story of Sicily and on the other, the restaurant, serving the delicious lovingly concocted dishes by
Italian chef Fulvio Pierangelini
. Life is good when you relax at the bar, enjoying the view of the setting sun while sipping a
Sicilian Spritz
(with fresh orange juice), followed by dinner at Florio. On the gourmet menu, sea bass cooked in coarse salt, lobster pasta, a caramelized soy and ginger sole or baked prawns. You will be spoilt for choice!
Tranquility is key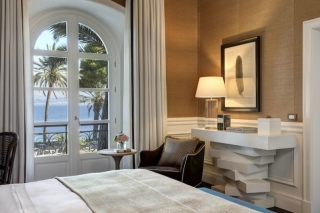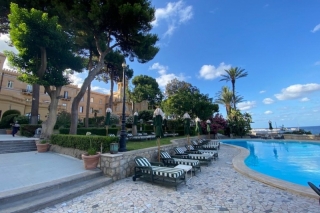 The dreamlike view of the garden with its subdued lights filtering through trees, surrounded by a lush vegetation, is the
pefect sanctuary for stressed city dwellers
. It offers pure relaxation in an elegant and refined decor. Then, when the night is enveloping you in its dark ink color, you will find the perfect refuge in your
tastfully decorated room
, with, a true highlight, a breathtaking view. It will take you back in time to the era of unparalleled festivities.
Octobre 2021
By Katya PELLEGRINO
You will also like