Jaeger-LeCoultre Reverso one Cordonnet: sparkling elegance
When Jaeger-LeCoultre revealed the Reverso in 1931, the feminine appeal of its elegant Art Deco lines became immediately apparent and new versions of the design were soon created, especially for women. Over the decades since then, Jaeger-LeCoultre has continued to explore the Reverso's feminine side, uniting the codes of fine watchmaking with the decorative crafts.
unique watchmaking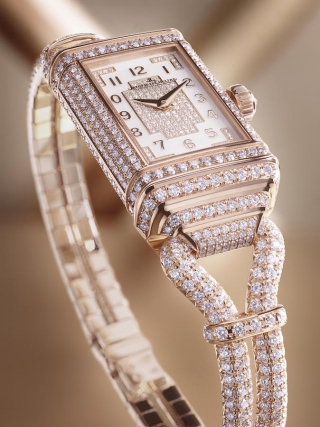 The Reverso One Cordonnet Jewellery -
As a canvas for artistic expression, the double-sided case of the Reverso is unique in watchmaking, providing an opportunity for the artisans of
Jaeger-LeCoultre's Atelier des Métiers Rares®
to unleash their skills in the decorative arts. For the
Reverso One Cordonnet Jewellery
, La Grande Maison unites the talents of its gem-setters with its mastery of watchmaking complications, bringing a new and exuberantly feminine
expression of glamour
to the Reverso collection.
One Cordonnet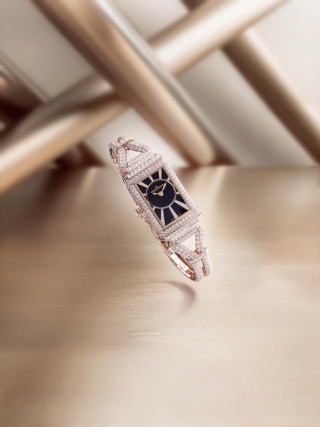 The Reverso One Cordonnet Jewellery - © Jaeger-LeCoultre
Jaeger-LeCoultre featured the cordonnet bracelet (the word means 'fine braid') on several women's watches during the 1930s. This simple black cord – the 'little black dress' of watch bracelets – epitomised the
refined elegance of the Art Deco period
. For the 2021 edition, the Reverso One Cordonnet Jewellery reinterprets this exquisite pairing in radiant style, transforming the simple cord bracelet into a supple braid of gold and diamonds and uniting it with a
fully diamond-set Duetto case
.
Double-sided Duetto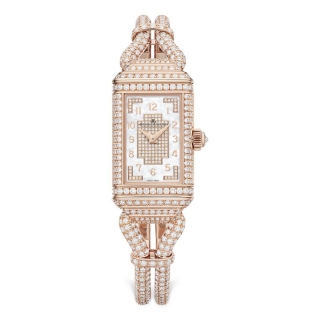 The Reverso One Cordonnet Jewellery - © Jaeger-LeCoultre
Designed especially for women, the
double-sided Duetto
offers two dials, each with a different expression of the time. The manually-wound
Jaeger-LeCoultre Calibre 844
features the ability to turn the hands simultaneously in opposite directions on each dial. The front dial of the Reverso One Cordonnet Jewellery is constructed of multiple layers: fine golden Arabic numerals are applied to a white mother-of-pearl base and framed by diamond-set brackets; in the centre, framed by a fine filet of gold, a geometric cut-out reveals a glittering
field of pavé-set diamonds.
7.84 carats of diamonds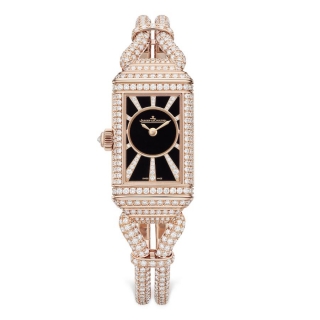 The Reverso One Cordonnet Jewellery - © Jaeger-LeCoultre
The reverse-side dial offers a rich contrast: set onto a background of onyx, diamond-set golden 'sunbeams' radiate out from the centre to form the hour markers. The entire case and bracelet attachment are fully set with diamonds, while the winding crown is adorned with a reverse-set diamond. The watch features
1,104 diamonds adding up to in total 7.84 carats
. Conceived as an ode to 21st-Century femininity, the new
Reverso One Cordonnet
is a true homage to the elegance of women.
Juillet 2021
By Marjolaine LOVES