L'Auberge Saint Siméon in Honfleur: a witness to Impressionism
In this place steeped in history, formerly the manor of "Mère Toutain" which hosted the impressionists who came to paint in Honfleur, you can now find L'Auberge Saint Siméon! A truly exceptional place!
Home to the Impressionists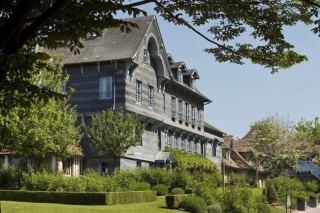 Exterior views -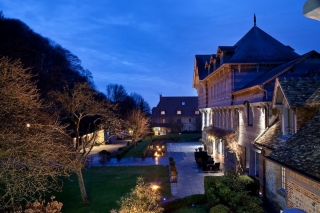 Exterior views by night - © Ferme de Saint Siméon, Honfleur
As soon as you enter this beautiful
17th century Norman mansion,
you feel transported. The charm operates straight away. That of stones and slates, the warm tones of wood and thatch, the Norman garden in green and white tones, the rose garden and its breathtaking views of the
river Seine
... An unusual place, much cherished by painters of the
School of Honfleur
, of whom some paintings adorn the walls of the large living room of the main house. With the cottage with its thatched roof
"la Chaumère"
and its
"Pressoir"
set in a private garden, this manor house is a place to calm the spirit, to feel welcomed in this discreet and welcoming setting. It almost feels like home.
Unique rooms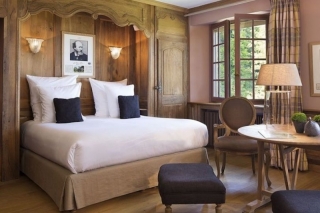 Luxury Room - © Ferme Saint Siméon, Honfleur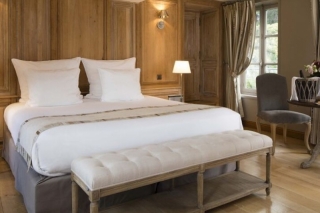 Luxury Room Monet - © Ferme Saint Siméon, Honfleur
This
Relais-Châteaux
features 34 rooms located in the main house and the Pressoir. Each room is decorated in a unique style with materials found in traditional Norman houses and old woodwork mixed with contemporary
fabrics from Pierre Frey and Manuel Canovas
. If you want to immerse yourself in the
history of Impressionism
, opt for the "Signature" room 22 (that of Claude Monet, facing the estuary, a very bright room with its 10 windows) or the 19 (that of Jean Baptiste Corot, a romantic cozy little nest with a view of the setting sun).

Top-class gastronomy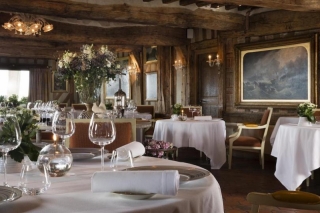 The Restaurant - © Ferme Saint Siméon Honfleur
Lounge - © Ferme Saint Siméon, Honfleur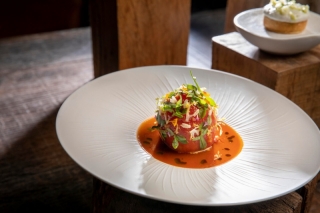 Gastronomy - © Ferme de Saint Siméon, Honfleur
We love the living room of the main house with its beams, its stately fireplace, its paintings. it breathes yesteryear. Have a tea and a pastry in front of the fireplace and put the world to rights, an absolute must! On the kitchen side:
chef Matthieu Pouleur
puts fish in the spotlight, with his specialties such as
Sole Dieppoise, Saint Pierre, oysters and local fish
. The "Terroir" cuisine is presented with Pigeon and porcini mushrooms ... and exceptional beef dishes! On a sweet note, a
Ginger Chocolate delight or an Apple Aloe Vera dessert
... the menu is full of finesse and daring combinations of a French cuisine revisited by a grand chef!
For a more Norman menu,
"La Boucane"
in the Chaumière, with its mix of contemporary and old style decoration, offers a
"Norman bistro" style menu
: Bouchot mussels, local Hakefish and many other
regional specialties
revisited again with an explosion of taste. You can enjoy your meals in the cozy comfort of your room or suite and in the hotel's two restaurants which will soon re-open.
A discreet and rejuvenating Spa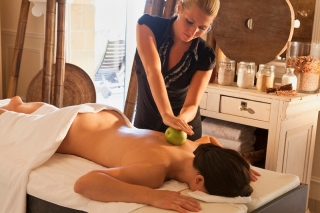 The Spa "Ferme du bien être" - © Ferme de Saint Siméon, Honfleur
The
"Ferme de Bien Etre" Spa,
located between the heated swimming pool, the hammam, the solarium and the jacuzzis, is a relaxing break. The
organic treatments
of the brand
"La Clé des Champs"
are based on traditional energy medicine with fruit, flower or seasonal vegetables, like poppy, walnut and raspberry ... and cherry on the cake, the
"Signature" organic Norman apple-based treatment exclusively created for the Ferme Saint Siméon
.
Even a short getaway can make you feel rejuvenated and seems to last an eternity in this exceptional place which was once home to the greatest of impressionist artists ...
Mai 2021
By Katya PELLEGRINO