Discover the soul of Leonardo da Vinci at Château du Clos Lucé
The Château du Clos Lucé in Amboise, where Leonard de Vinci lived from 1516-1519, is opening its new galleries featuring a mesmerizing immersive experience with the art works of Leonardo da Vinci, thanks to digital technologies. Dispersed in museums around the world, the Master's paintings are shown together at Château du Clos Lucé in their real dimensions. A great way to discover the world of this Renaissance genius.
Château du Clos Lucé -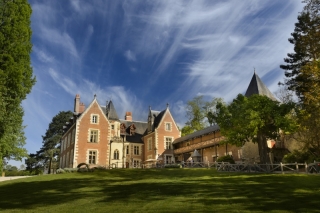 Parc Leonardo da Vinci - © Léonard de Serres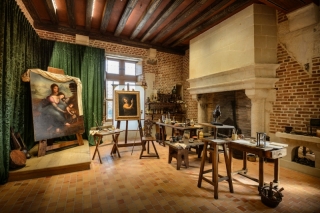 Leonardo da VInci's workplace - © Léonard de Serres
When entering the sober brick
Château of Clos Lucé
you can already sense the spirit of
Leonardo da Vinci
. The visit starts in the high gallery around Leonardo, the architect, and continues with an immersive show of his art work. The thematic sequences offer unprecedented confrontations and dive deep into the details and the preparatory drawings of the artist: the visitor is thus called upon to decode the
enigmatic looks
and smiles which are juxtaposed and echo from one work to another. This visit also offers the unique opportunity to contemplate the drawings of the
Convent of Santa Maria delle Grazie in Florence
(with at the heart the famous representation of The Last Supper) and The Adoration of the Magi in which we can analyze the perspective and the composition of the characters. The series of the Deluge lets us discover the extraordinary variation of colors and their special bluish tones ... A whirlwind of sketches which seem to follow one another in a fascinating dance!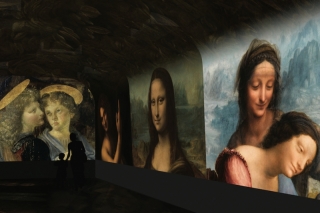 Immersive show - © Léonard de Serres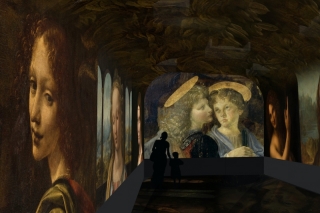 Immersive show - © Léonard de Serres
The New
Leonardo da Vinci Galleries
, a space of 500m2, invite you to a real initiatory journey through the creative process of the
Renaissance Master
thanks to the immersive projection of his art works. Video mapping technology allows bridges from one work to another, overlays between preparatory drawings and final work, and thematic focus on portraits, landscapes and the
Last Supper
...
The
scenography by the Arc-en-Scène Group
introduces us to the multiple facets of the master: how does Leonardo use his mathematical and geometric knowledge to better understand perspective? How is his urban vision revealed in the Ideal City project? What links are emerging between civil, military or religious architecture? Along the way, studies, drawings, models and 3D films bear witness to the
innovative spirit of Leonardo the architect
, and to top off this grand tour an impressive immersive show plunges us as never before right into the soul of Leonard the painter. A true "must see" for art lovers!
Mai 2021
By Katya PELLEGRINO