Didier Guillon (President Maison Valmont), aesthete between the Arts and Cosmetics
An unusual history and a passion for Art and cosmetics led Didier Guillon to become the head of the Maisoin Valmont. This company, bought in 1991, on the advice of his father (founder of Lait Mustela -1953- and great art lover), has become a family success story thanks to, on the one hand, Didier's creative genius and passion for art, but on the other hand, to his wife and general manager Sophie. She is the driving force behind Valmont's beauty products range, combining luxurious ingredients and the most advanced technology in cosmetics. As for Didier Guillon, his childhood universe was turned towards art, exhibitions and art galleries, where his taste for the rare and the beautiful was instilled by his family - his father, a great art lover like his maternal great-great-grandfather Charles Sedelmeyer, a renown art dealer of the Parisian scene end 19th century, beginning 20th century and artist, sculptor Stanilas Lami, the paternal great-grandfather.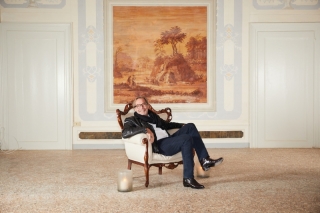 Didier Guillon in his palace -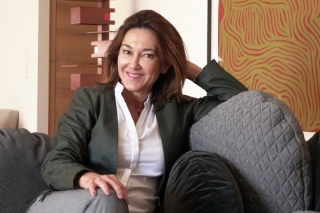 Sophie Guillon - © Valmont Foundation
Drawing inspiraton from this artistic environment, he was able to successfully combine his passion for art with the Valmont brand, creating new ways of communication and introducing new marketing tools with limited collections and ephemeral exhibitions ... His creative genius and artistic zest lead him to develop product sponsorships, organise pop-up exhibitions and auctions for humanitarian purposes ... In short, Didier Guillon is constantly reinventing himself and this passion was passed on to his three children, Capucine, Maxence and Valentine.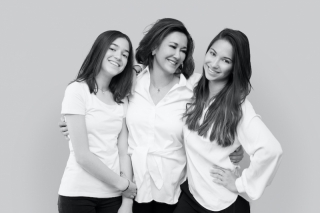 Sophie Guillon and het daughters: Valerie and Capucine - © Valmont Foundation
In 2015 he created the Valmont Foundation in Venice, allowing him to organise and present exhibitions, discover bold talents who are close to his heart and bring together a life of collecting paintings around a single watchword: "Philanthropy". Finally, with the aquisition in 2019 of the Bonvicini Palace in Venice these exhibitions will come to life. Focus on Didier Guillon with Katya Pellegrino.
You were always immersed in art because of your father, a passionate art collector, the father of your great-grandmother, Charles Sedelmeyer, a renowned Parisian art dealer, as well as, your great-grandfather, the artist and sculptor Stanislas Lami. Why not a career as an art dealer or gallery owner right from the start?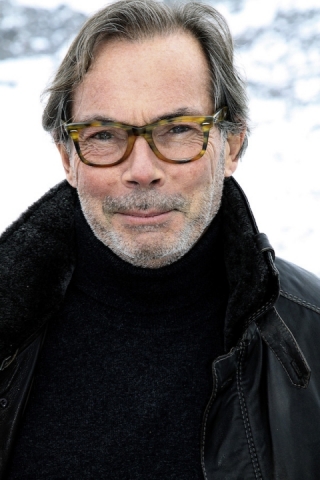 Didier Guillon - © Valmont Foundation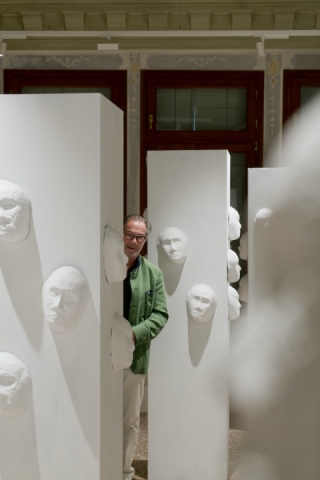 Didier Guillon, White Mirror
Venice 2019 - © Valmont Foundation
It is true that I was immersed daily in this artistic universe between exhibitions and galleries. But at that time, most parents wanted their offspring to have a stable and secure job. In these bourgeois families, the child has little decision-making space and I was led to think that one day I might take over the management from my father at the Mustela Group, but that was just an illusion of course (smile)! However, I did work together with my father's business partner for a while. During this time the only thing that amused me was to create a box called "Happy Birth" (I was 28/29 years old), intended for pregnant women. We sold the interior space of this box to companies like Nestlé, Proctor & Gamble and of course Mustela, and filled it with various and varied baby products. Then I moved on, because for me life is like passing trains, you have to jump aboard when the time is right. I was fortunate to have mentors in my life who guided me and allowed me grow.
What motivates or excites you?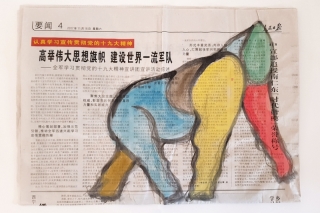 The elegant symmetry of the gorilla
Didier Guillon, 50X40 cm, 2018, watercolour - © Valmont Foundation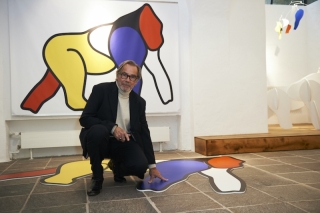 Didier Guillon at Maison Valmont, Munich - © Valmont Foundation
What I love most is discovering young talents and guide them in the exploration of their field of expression. For me the emotional value is important. This is why I created my Foundation in 2015. I seek simplicity and purity, perhaps in reaction to my childhood's universe where we lived in a jumble of paintings and furniture that had a suffocating effect on me. I also paint for example in my small studio only on New York Times paper. I love their photos, which are incredible mediums, where I sketch my gorillas and recently also nudes. I will soon be moving to Venice and take the opportunity to learn Italian, learn to cook (compulsory in Italy - smile-) and get involved in a host of activities … and maybe finish as Joyce's Ulysses ... I look forward to this new life filled with things I haven't done yet (smile).
You bought Valmont in 1991 in Switzerland, considering it an interesting investment. In the beginning, did this new role stand in the way of the development of your artistic fiber or did Valmont allow you to find a new direction, enabling you to reconcile your two passions?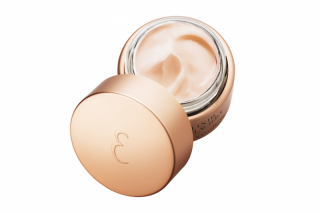 L'Elixer des Glaciers - crème merveilleuse - © Valmont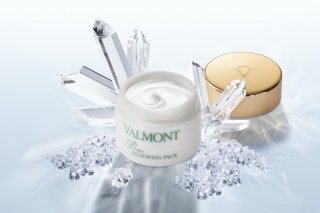 Prime Renewing Pack - © Valmont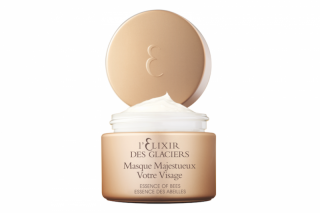 L'Elixer des glaciers - masque majestueux - © Valmont
After this purchase, I wanted to communicate differently, especially in a more innovative way compared to my competitors. Maybe that was the moment where what I had inside me since childhood came to light. This creativity, this artistic instinct, this DNA, for me the Valmont brand and its products were like a new medium, a vector to communicate differently. Six years ago, I designed a little book called "When Art Meets Beauty" with sketches geared towards the product but already pointing a new way of communication based on art. The marketing department then took over my sketches to promote Valmont products. Then in 2015, when we celebrated the 30th birthday of the brand, hotels and spas requested us to find a different axis of communication. Following up on this, I asked 9 artists to create 9 small art works that were exhibited in an ephemeral collection in hotels (reception, spa, hall ...). As a result of this event, we realized that we had a playground, allowing us not only to present art but also to mix business and promote events in another way when sharing it with the public. We thought, why not go a step further and integrate art within the Valmont Group through a foundation. This was the starting point for the Foundation which was created in Venice in 2015.
A passion for Venice?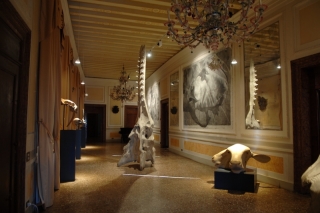 Cachalora, wood and ceramics
Quentin Garel 2015 - © Quentin Garel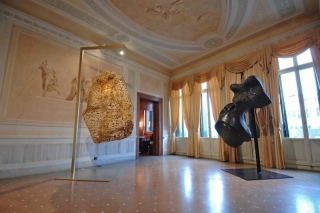 Salotto - Gorilla Mask - polychrome wood
Quentin Garel & Monumental Hive, 2008 - © Quentin Garel & Monumental Hive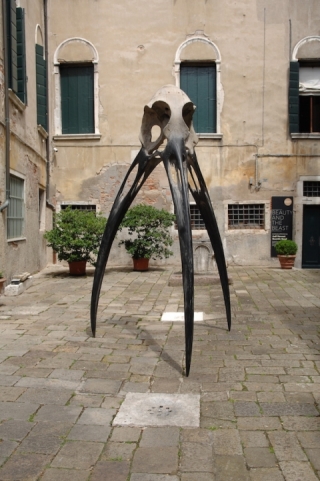 Monzygote, polychrome wood
Quentin Garel, 2017 - © Quentin Garel
Yes! Passionate about Venice, I participated in all the biennials and met the Countess Passy in San Tomas, not far from the Rialto, who offered me to rent part of her 16th century palace, the Palazzo Tiepolo Passi, where we first exhibited on the theme of "Matter" (ceramics and glass) represented by Isao, a talented Catalan artist with beautiful ceramics. His grandfather was Miro's ceramist and the well known Spanish artist had such respect for his ceramist that he allowed him to sign Miro & Artigas. The second exhibition was themed "Beauty and the Beast", inspired by the eponymous tale and it featured the works of Jude Harvest as well as Quentin Garel in a narrative framework, evoking the fate of humanity in 2017. This is how the idea came to me to buy our own exhibition space and I set my sights on Palazzo Bonvicini where we now have 3 floors with a sublime view.
And what about your the Storie Veneziane collection?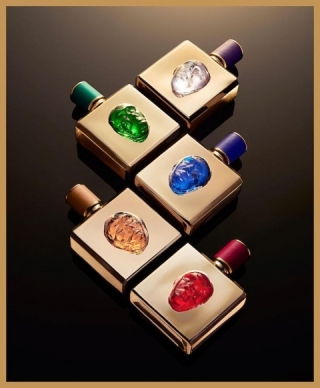 Storie Veneziane perfumes - © La maison Valmont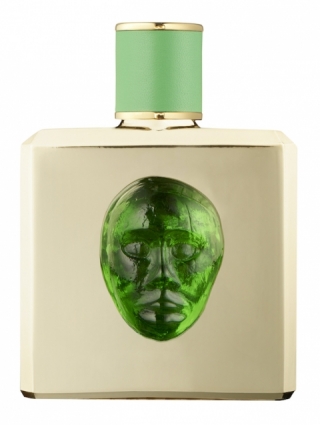 Storie Veneziane - Verde Erba - © Maison Valmont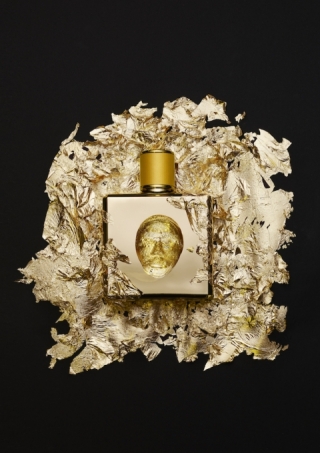 Storie veneziane - Mica d"Oro - © La Maison Valmont
It was around this time that Sophie wanted to create our own perfume collection from scratch. Her creativity for the liquid and mine for the bottle, a true score for four hands. We thus created a series of six perfume bottles, representing the 6 districts of Venice. Conceived as works of art, in golden bottles, decorated with a glass mask, topped with a leather cap, (an ode to the crafstmanship of Venice), they reveal the multiple facets of this enchanting city, seductive and enigmatic, legendary and perpetually reinvented. When we had to find a name for this collection it was obvious to me. It all started in Venice, so the Storie Veneziane was launched in 2018.
In 2015, you created the Valmont Foundation, dedicated to contemporary art. In 2019 you bought the Palazzo Bonvicini. A tailor-made decor to present your own collections and those from artists close to your heart in the future?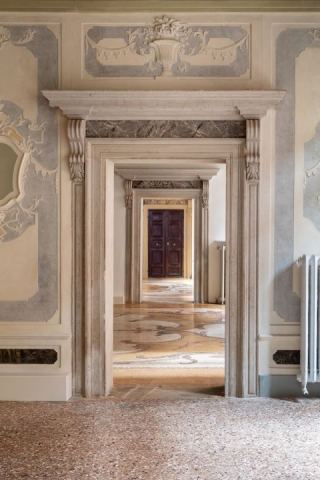 Palazzo Bonvicini - © Valmont Foundation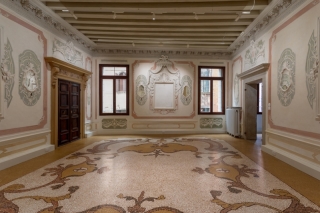 Palazzo Bonvicini - © Valmont Foudation
The starting point of all this is indeed Venice. We have acquired a very beautiful space at Palazzo Bonvicini to present exhibitions during the next Biennial of Contemporary Art and Architecture, humbly trying to make a place for ourselves in this city with such a rich cultural program, and bringing together artists from all over the world. These exhibitions are always collective, I am never alone to exhibit. What I really like, is this idea of a collective workshop, bringing artists together on the island of Hydra in Greece in a somewhat Montparnasse spirit.
And your Scarface perfume, why the name?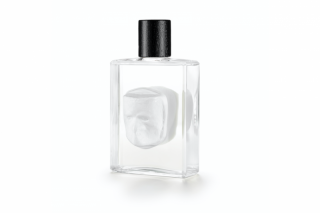 Scarface - the Artist's Perfume - © Maison Valmont
Because I love this movie (smile)! I wanted to create a different, unisex fragrance targeted at a new generation, in a beautiful Murano glass bottle, originating from a small drawing by me and a mask that I created with Fimo. And now we find this mask everywhere (smile)! It has become as iconic to me as the cage or the gorilla. They inspire me and I play with them. For example the gorilla gets dressed every two years depending on my travels (Morocco, Cape Town, Tanzania). Scarface is a limited edition of just 100 numbered pieces and will be presented, not sold over the counter, in a different way.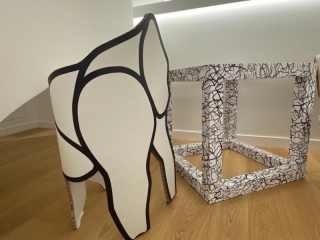 The Gorilla and the Cage - © Luxe-Magazine
What movements or artists inspire and challenge you?
I am very drawn to minimalism, the clean look as a result of having been almost suffocated during my childhood by all these paintings that invaded our interior space. I love the 1950s era, abstract expressionists like Jackson Pollock, de Kooning, but these works are inaccessible to me. So I turned to American minimalism, with artists like Carl André. It helps me to simplify the gesture. I am looking for purity, the essence of the message. For example, we will soon revisit the Swiss Cross and try to capture its essence in the design.
Is there always a message behind your exhibitions?
Contemporary Art Biennials are always conceptual exhibitions. They are ephemeral. And yes, you always need a message.
What commitment do you have to all these exhibitions? Is it the philanthropist speaking?
In my eyes, it is obvious and even essential to reinvest what you earn and art allows to connect people. Philanthropy is an essential part of the mission of the entrepreneur. It is important to be able to redistribute some of what we earn in art. We like to support talented and young artists, like the Publicolor association, an initiative for young artists in the Bronx.
How do you buy? Impulsive?
No, because it is not structural. I'm rather looking at how an artist can fit into our program and into a group. I exclusively buy works from artists with whom I have a personal relationship, which enables me to better understand the work and allowing me to expand my own horizons and practice.
What's your definition of art?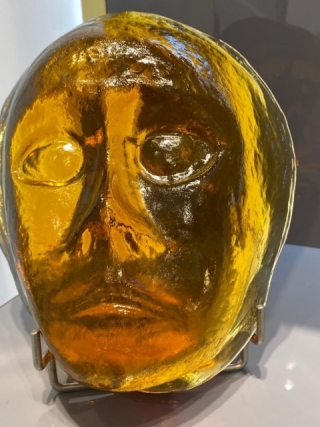 Mask in Murano Glass - © Luxe-Magazine
A place where you can find harmony, the calming effect of disconnection and serenity. We're not in an aesthetic approach. For my part, I cannot say for example what is beautiful or what is not. Seeing is an art in itself.
Tell me about Maxence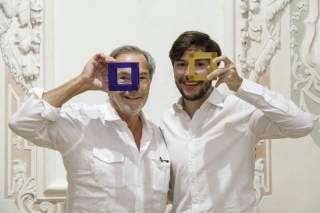 Didier Guillon and Maxence Guillon - © Valmont Foundation
Maxence is my 23-year-old son, who studied law and helps me with the choice of artists and paintings for the Valmont Foundation. I need his view, his youth, his vision. I want to create a new medium where image, sound, music and video will come together ... He is joining me in the Foundation and will take over the presidency next year. This will allow me to have more time for myself, to lead a different life and to discover another Venice, as a resident!
To your opinion, can luxury be combined with art? or is it contradictory?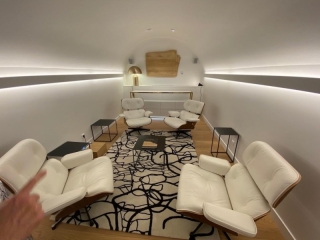 Relaxation Area at the Meurice Hotel, Paris - © Luxe-Magazine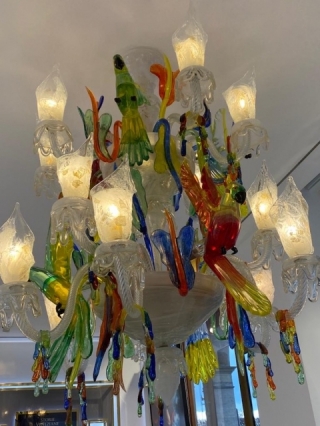 Murano Glass Chandelier - © Luxe-Magazine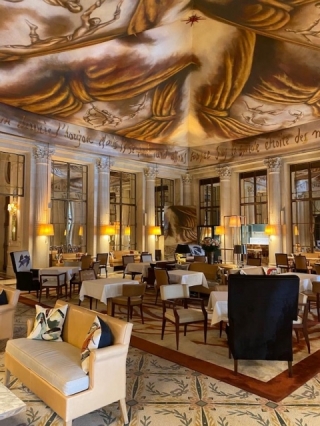 Maison Valmont at the Meurice Hotel, Paris - © Maison Valmont
Art can be a luxury, which has a material dimension to it. Art also has an intellectual dimension. Sitting in a museum, looking at art, having a dialogue, rediscovering sensations and rhythm. Art has this external capacity if you know how to analyze it, to look at it. It even allows you to meditate.
What are your next projects?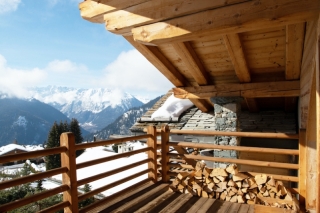 Residence in Verbier - © Maison Valmont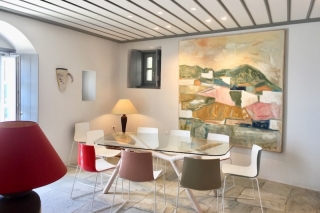 Residence on Hydra - © Valmont Maison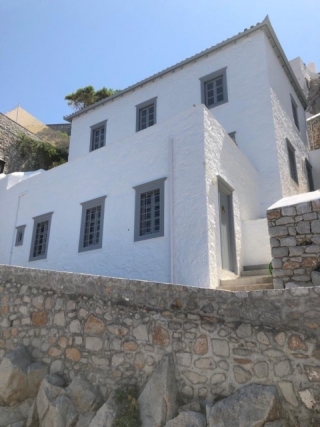 Residence on Hydra - © Maison Valmont
We already have two residences in Verbier and on the island of Hydra in Greece, and we will be launching 2 more, one in Venice in 2022 and one in Barcelona in 2023. These residences represent the last stage of Maison Valmont, bringing together the Valmont world of art and cosmetics. Unique retreats where you can sleep, of course, have a private butler and catering where they cook whatever you want. Full service luxury!
What is Luxury for you?
The ability to slow down, to be in the moment, to return to your true self. All this while keeping an eye for beautiful materials, beautiful places, everything that touches the senses. I need this to nourish myself and understand.
Avril 2021
By Katya PELLEGRINO