Take her to Sea: New projects from Mangusta Yachts and Heesen Yachts
Sunny days ahead, so about high time to let the sea breeze take you in style to the most enchanting ports and enjoy breathtaking views from the waterfront. And with 'in style' we mean, really in style! Two new ultra-luxury
yachts
definitely fit this picture. Let's take a tour onboard the Oceano from Mangusta and the Altea from Heesen Yachts, two projects that will revolutionise the concept of yachting!
Mangusta Oceano 39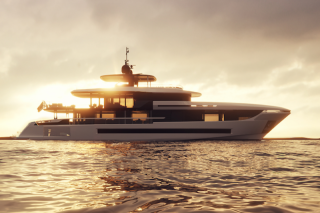 Mangusta Oceano 39 -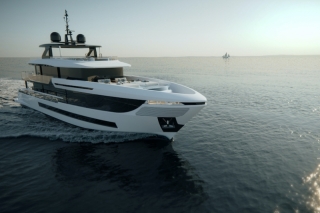 Mangusta Oceano 39 - © Mangusta Yachts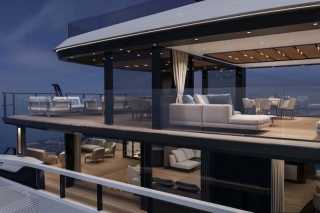 Mangusta Oceano 39 - © Mangusta Yachts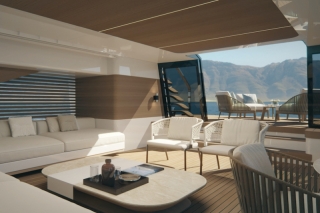 Mangusta Oceano 39 - © Mangusta Yachts
The new
Mangusta Oceano 39
, boasts 39 metres of innovation, expertise and elegance with a
tri-deck
and a brand-new concept of open spaces and direct contact with the sea thanks to a minimal structure and the extensive use of glass. The foldable terraces ensure freedom of movement and a constant interaction between all decks and ceiling-high sliding glass doors mean that no breathtaking view will ever be missed. This yacht truly features unbelievable volumes, thanks to Mangusta's know-how and its synergy with
designer Alberto Mancini
, who pencilled the interiors. The
Two infinity pools
, one where the partially see- through bottom lets natural light flood the owner's stateroom, and another one on the sundeck allow the guests to take a dip, yet at the same time, take in the boundless views. The exteriors feature
distinctive and stylish design
elements, sophisticated lighting and teak wood covering all external decks. Every deck has been thought out to enable the owner to arrange space at his own convenience, thanks to modular furniture and areas that can easily be customised. Gladly, style and innovation do not go to the detriment of performances, quite on the contrary. The dual propulsion can take the Mangusta to two different maximum speeds - 16 knots in the displacement version; 21 knots in the fast displacement one, both
impressively noiselessness
so you can still enjoy the sound of the waves and the seagulls above in the sky.
Heesen Yachts: YN 19550 Project Altea
YN 19550, Project Altea - © Heesen Yachts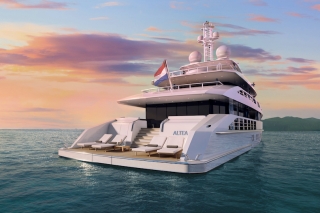 YN 19550, Project Altea - © Heesen Yachts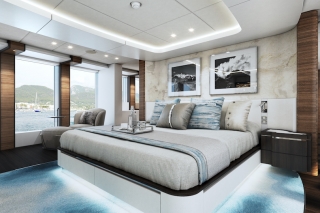 YN 19550, Project Altea - © Heesen Yachts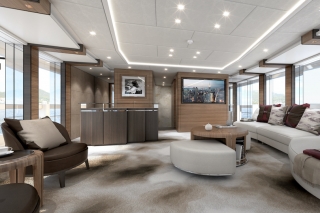 YN 19550, Project Altea - © Heesen Yachts
Altea
is the second yacht built on the
Nova Plus Design
and engineering platform. The 50-metre all-aluminium, sports a fast displacement hull form and comes in at just under the 500GT threshold.
Frank Laupman of Omega Architects
penned her contemporary exterior profile, with its long waterline, floor-to-ceiling windows and a purposeful profile, characterised by a gently reversed stem and chunky spray rails. Altea boasts a
top speed of 19.5 knots
and a cruising range of 3,750 nautical miles at 12 knots, making it one of the
fastest and most economical motor yachts in her class
. Six elegant staterooms will accommodate up to twelve guests, who will enjoy a total of almost
350 square metres of interior space
, while five cabins are provided for a crew complement of nine.
Cristiano Gatto
has created a tranquil and
warm interior design
, which will allow the new owners to select refined and contemporary design pieces to create a rich and sophisticated atmosphere that suits their lifestyle and taste. Dutch pedigree, short delivery time, and high-end interior design, all came together to make
Altea the perfect yacht
for those clients who want to sail away in style on time for the summer season. Altea is available for delivery in June 2021
Whether you want to savour your dinner at
anchor in Capri or Saint Tropez
or conquer the oceans for a long haul trip, these two yachts are indisputably a new milestone in their range where it seems like the limit is only in one's imagination.
Avril 2021
By Marjolaine LOVES