Weekend and Dinners: Sweets, Delecacies and cocooning!
A romantic or cocooning getaway, a dinner for two in your room or at home. Treat your taste buds, awaken your senses and enjoy!
Le Meurice: the excellence of Palace gastronomy at home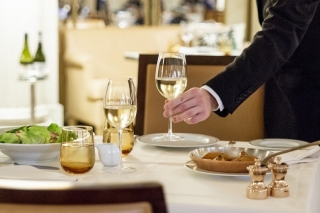 Meurice at Home -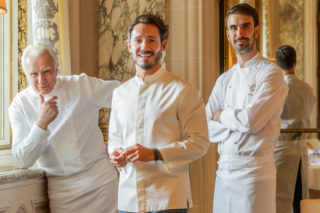 Chefs Alain Ducasse, Amaury Bouhours, Cédric Grolet - © Meurice
What could be better than a menu concocted by the two great chefs of the
Meurice
at home!
Amaury Bouhours and Cédric Grolet
have come up with exceptional creations, inspired by the sea. All accompanied by the Imperial champagne from Moët et Chandon. Marinated scallops, seasoned with a hint of cardamom for an appetizer, sea bream and Saint Pierre fillet served with butternut squash. And meat lovers will be seduced by the silk grain veal. Excellence in simplicity.
A night in the legendary Lutetia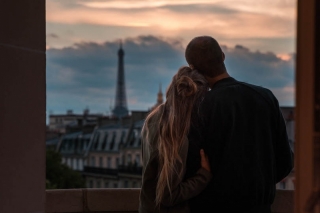 St. Valentin Hotel Lutetia Paris - © ourkindlife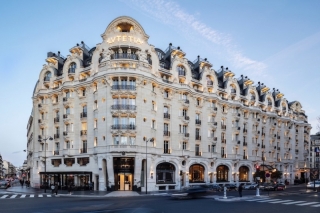 Facade Hotel Lutetia - © Lutetia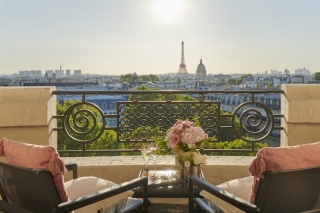 Chambre d'Amour - © Lutetia
Immerse yourself in
Art Deco style
for an unforgettable night in this elegant and legendary Parisian palace. You will be greeted in your room with rose petals, and you can relax in the Spa and its swimming pool, bathed in light. Continue your idyllic parenthesis with a dinner accompanied by a
Veuve Clicquot rosé champagne
. When you wake up, after a sweet night's sleep, you will be awakened by the smells of pastries and a typical Parisian breakfast!
Maison Albar Hotels le Pont Neuf: an intimate romantic setting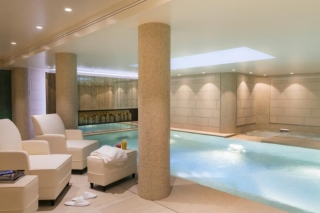 Spa Pont-Neuf Cinq Mondes - © Maison Albar Hotel
Near the Pont Neuf,
La Maison Albar Hotels le Pont Neuf
combines intimacy and romanticism. A haven of softness that immediately charms. For the evening, restaurant Odette, by
Rostang Father & Daughters and its chef Rémi Hénaux
, has planned to surprise the senses with a combination of sea flavors (marinated salmon and turbot accompanied by seasonal mushrooms and celery) and earthy flavors with truffled gnocchi. And to finish in style: a crunchy Millefeuille with the delicate aroma of lychee rose. Sweet perfection!
Impressionist getaway at Domaine de la Corniche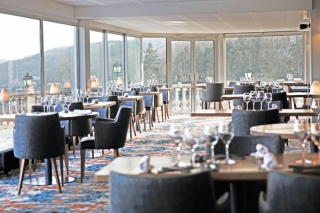 Restaurant le Panoramique - © Domaine de la Corniche
A stone's throw from Giverny, the
Domaine de la Corniche
is a romantic getaway in a setting worthy of an impressionist painting. This old 19th century bourgeois house and its Temple of Love, a century-old belvedere, offer an exceptional and bucolic view of the Seine and its meanders. This softness is extended by a moment of well-being at the Spa with a signature Cinq Mondes duo treatment. And when, on top of this, the
Michelin starred chef Gaëtan Pérulli
concocts an exquisite menu at
Le Panoramique restaurant,
we gladly indulge!
Casalino: a night by candlelight in a Cantal refuge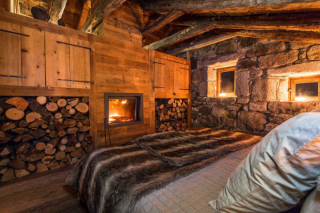 Cosy Room - © Casalino
Take a break in the heart of the region of the
Auvergne volcanoes
, and spend a romantic weekend in a
100m² stone refuge
, curled up by the fireplace in your room. An evening entirely by candlelight because only the light of the fire and the candles will illuminate you. No electricity, but a guaranteed unique experience in a
cozy and serene atmosphere
.
Relais & Châteaux La Bouitte: three starred dinner and cocooning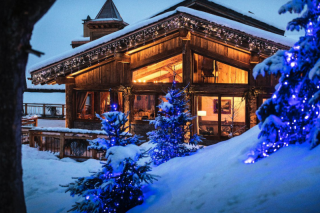 Romantic Stay - © Relais & Château La Bouitte
The privilege of combining the art of living in a family home and the
magical landscapes of Vanoise in the Savoy
region. In this warm, refined setting, there is nothing better than a private moment at the
La Bèla Vya Spa
for a duo massage. In your room, start the aperitif with a bottle of Brut Alpin, offered upon your arrival, while waiting for the three Michelin stars and personalized menu "Carte Blanche" in 4 surprise courses.
Février 2021
By Luxe Magazine