Thank you Valmont for pampering our skin!
Our skin suffering from the winter cold, starts feeling tight, dehydrated and oh horror, is also beginning to show signs of aging with some fine lines. Time to take this seriously! Valmont, an expert in finding solutions to all sorts of skin problems, has concocted two miracle products for us to oxygenate and rehydrate our precious faces!
The Valmont DETO2X PACK mask: a breath of fresh air for the skin!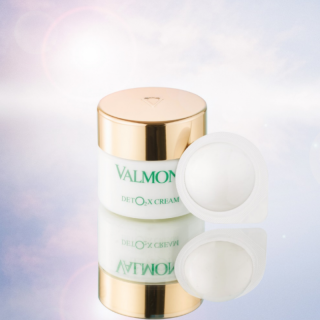 HYDRA3 EYE -
Just one capsule and the skin sparkles with beauty! With this new effervescent mask that turns into a creamy foam, each single-dose capsule is full of powerful active ingredients to
detoxify, oxygenate
the skin and give it a fresh-faced complextion. The secret?
DETO2X PACK
incorporates a liposome of stem cells from the Swiss apple Uttwiler Spätlauber and young watercress shoots that activate the cell's detoxification system and stimulate cell renewal. A young and
luminous complexion
, a smooth and firm grain: it is THE shot of freshness that your skin needs!
Price: 150 €, 6 single-dose capsules of 10 ml
HYDRA3 EYE: the new chrono hydration for the eye contour from Valmont
Valmont DETO2X PACK mask - © Valmont
It is THE treatment to erase dark circles and fine lines and regain the
radiance of the eyes
. In the form of a gel emulsion,
Hydar3 Eye
contains the DNA PolyMatrix, a concentrate of 4 ultra moisturizing agents: DNA Triple and Silanol to maintain water in the cells, Hyaluronic acid to sculpt the look, and a peptide to act as a concealer for dark circles. And that's not all! This treatment features chrono hydration in 3 layers: in a hydrating surface splash, in a deep drip under the skin, ultimately forming a reservoir. The +: With its relaxing freshness and hydration throughout the day, Hydra3 Eye is the "must have" for reconciling hydration and anti-aging.
Price: 120 €, 15 ml pump bottle
Février 2021
You will also like