The new Rolls-Royce Ghost
Go for an autumnal ride with Ghost, the all-new bespoke Rolls-Royce. Inspired by the 2009 Goodwood Ghost, this new wonder on wheels has been developed over the past 6 years by a team of multi-talented luxury specialists, designers, engineers and craftsmen. The style and power of this high-flying work make the Rolls-Royce Ghost the most successful car in the brand's portfolio at the moment. A peek into everything that makes her the star of the moment.
Maximum performance
While its predecessors were already pearls of innovation and technology, the Ghost is the most advanced of them all. All four wheels are both drive and steer, giving the driver
unprecedented balance and dynamism
, which are enhanced by the world's first Planar suspension system, for even greater agility and smoothness in the ride. The
iconic 6.7-liter V12 twin-turbo engine
sits behind the front axle for an ideal weight distribution. Finally, the electric doors top it off by offering the comfort of assisted opening and closing.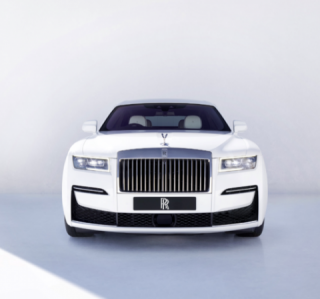 New Ghost -
A design between tradition and innovation
Minimalism is the guideline for the new edition. This new operating mode adopted by the British manufacturer is called "Post Opulence". The tone is set, the
lines are of an efficient and delicate simplicity
, reduced to a timeless design that rejects the superfluous demonstration of wealth. However, the luxury automobile doesn't lose in style with the Pantheon Grill, illuminated from the interior, showcasing Rolls-Royce's iconic appearance as well as the illuminated Fascia featuring the
Ghost
name surrounded by more than
850 stars
.
Novembre 2020
By Sean Cloud