Van Cleef & Arpels exhibits its exclusive jewels
Van Cleef & Arpels recently unveiled three pieces of Haute Joaillerie highlighting the emerald, ruby and diamond. These three precious stones pay tribute to iconic pieces of jewelry worn by exceptional women. For more than 114 years now, Van Cleef & Arpels has showcased exceptional stones through its unique know-how, and the house continues its mission at Place Vendôme.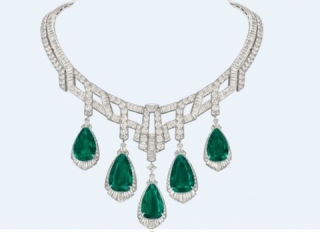 Merveille d'Emeraude -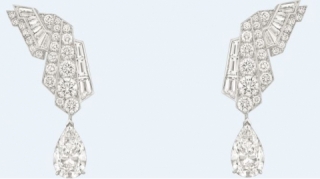 Merveille d'Emeraudes - © Van Cleef & Arpels
The tour begins with the
Merveille d'emeraudes
necklace and earrings, inspired by the 1929 collaret that belonged to Princess Faiza of Egypt. The necklace is made up of 5 pear emeralds that add up to 70.40 carats as well as 3 diamonds, one of 5.81 carats and the other two 7.18 carats. This precious piece with the detachable buckles, is mounted on white gold. With its 10 emeralds set with diamonds, this piece joined the collection of the jewelry house in 2014.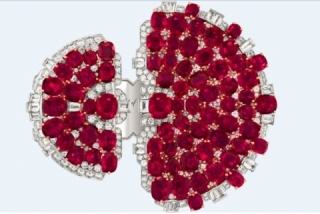 Rubis en Scène - © Van Cleef & Arpels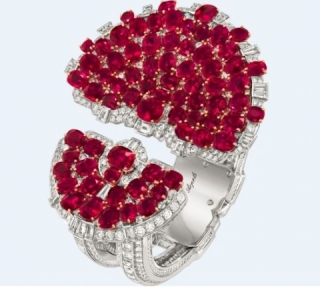 Rubis en Scène - © Van Cleef & Arpels
The second treasure of the collection is the
Rubis en Scène
bracelet. As the name suggests, flamboyant rubies are featured on a white gold cuff. In love with detail, the 72 cushion-cut rubies that weigh 84.74 carats are set are in rose gold. This breathtaking piece is a tribute to the illustrious
Marlene Dietrich
. Inspiration? Her outsized Jarretière bracelet that Van Cleef & Arpels created in 1937 and with which Marlene Dietrich has been seen on numerous occasions. This piece is
bold and audacious
and will leave no one indifferent, a true architectural masterpiece of craftsmanship.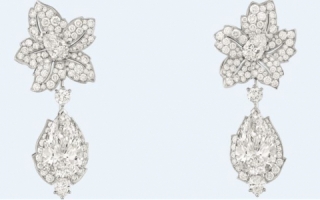 Tendresse Etincelante - © Van Cleef & Arpels
Finally, the timeless diamond is featured on a pair of
Tendresse Etincelante
earrings. In white gold, the buckles with detachable pendant each hold a 10.15-carat pear diamond, surrounded by a flower-shaped corolla, as well as a second 20.21-carat pear diamond. These
Flawless clarity diamonds
are all made from the same rock and capture the eye by their unity. These pendants slightly differ from the original version: the floral earrings set with diamonds and rubies on gilded gold that were offered to
Jacqueline Kennedy-Onassis
by Aristotle Onassis in 1968 as a wedding gift. Despite the artistic freedom taken by the jewelry house on this model, the new version does not disappoint, quite on the contrary, like its peers, they are a real work of art.
Novembre 2020
By Katya PELLEGRINO