Encounter with Stefan Leser, Chief Executive Officer at Langham Hospitality Group
The Langham Hotels and Resorts started in 1865 with The Langham London, Europe's first "Grand Hotel". The hotel was named after Sir James Langham, whose mansion was on the original site in the centre of London. The Langham has always been at the forefront of innovative hospitality and the company continues to flourish today, with the delivery of excellence in service and products in key cities of the world. The Langham Nymphenburg Residence Munich is the latest opening steeped in royal Bavarian History. Discovery with Stefan Leser!
After spending 6 years at Swissair, 10 years at Kuoni, not to mention your experiences with Burj Al Arab and Jumeirah, what was your reason(s) for joining the Langham Hospitality Group?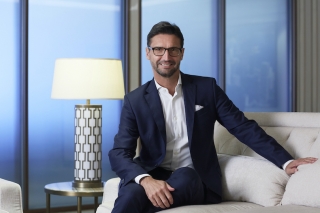 Portrait of Stefan Leser, Langham Hospitalty Group's CEO
I was given the opportunity to lead the Hong Kong based Langham Hospitality Group two and a half years ago and was intrigued by the potential of the group's luxury hospitality brands, The Langham Hotels & Resorts and Cordis Hotels & Resorts. Built on a strong foundation, the company is focused and agile with one of the best and most passionate teams I have ever worked with in the industry. As CEO of the Langham Hospitality Group, I am very honoured to have the opportunity to make people happy which gives me a lot of energy and positive influence on people's lives, be they clients, guests, or colleagues. We now have 24 properties under The Langham and Cordis brands, with 16 The Langham properties spread throughout four continents in key cities. Currently they are in the U.S. (Boston, NY, Chicago, LA,) the U.K. (London,) Europe (Munich), China (Shanghai, Shenzhen, Guangzhou, Xiamen, Ningbo, Haining, Hefei, and Haikou), Hong Kong and Australia (Sydney and Melbourne). The Cordis Hotels & Resorts are located in Auckland, Hong Kong, Shanghai, Beijing and Ningbo.
How can your experience at Kuoni or Jumeirah shed some additional light on Langham?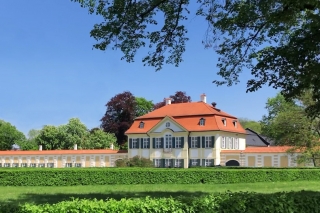 The Langham, Nymphenburg Residence, Munich
I believe that every job experience you have in life will contribute to your next job, regardless of what you do. My experience at Kuoni, a tourism company, provided me with the whole spectrum of working and connecting with the different operators in the travel industry in a high technology environment. I know the importance of planning a full travel experience, be it business or leisure, from start to the end (from the destination, flights, accommodation, itineraries on where to visit and eat to transfers), customizing it according to the guests' needs and preferences. On the other hand, with Jumeirah, it was my debut in luxury hospitality. With luxury hotels in destinations across Europe, the Middle East & Asia regions, my time in Jumeirah gave me insights and a more in depth understanding of the luxury hospitality market.
The Langham Group is known and reputed for its refined and glamorous hotels including the first one, Langham London (1865). The Langham Nymphenburg Residence, Munich is the first private residence project by this group. Does this launch mean that it is the prelude to other private residences?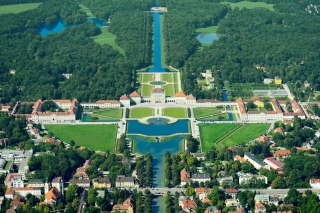 Aerial View of The Langham, Nymphenburg Residence, Munich
We are definitely looking at increasing our footprint in Europe and are steadily growing. The Langham, Nymphenburg Residence, Munich is our first private residence and we are open to introducing more of these exclusive private residences. We do see a growing interest in these unique accommodations that are not only beautiful but have a story to tell – from the architecture, interior design, artwork, location to the destination. Because of the pandemic, people are traveling with private jets and charters and these private residences fit this lifestyle perfectly, providing more space and privacy. They are also very suitable for smaller incentive trips and events (weddings).
If so, do you already have other projects in Europe and why not in France?
We will be making more announcements soon and we are also looking at France, Italy and other cities in Germany.
Many hotel groups are launching the construction of private residences that correspond better to the expectations of the current market. In your opinion, what can differentiate your residences from competing groups, apart from service, which in fact, given the name "luxury" can only be excellent? What is your added value?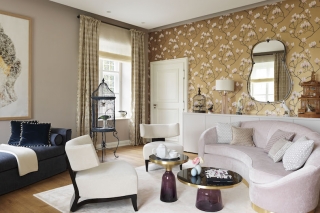 The Langham, Nymphenburg Residence, Munich
The exclusive private residences like The Langham Nymphenburg, Munich will provide the services and amenities of a luxury hotel stay with the personalised touches of a private home. Our guests will have ample space, privacy and exclusivity, alongside the full complement of The Langham signature services in a beautiful regal setting. And unlike a generic construction of residences, our private residences are unique and have a story to tell. Steeped in royal Bavarian history and set on the grounds of the world-renowned Porzellan Manufaktur Nymphenburg, The Langham Nymphenburg, Munich is a 18th century manor and was meticulously restored and revived as a bespoke private residence for guests. The residence has an unrivalled location featuring a direct view on the majestic 490-acre imperial estate of Nymphenburg Palace, unique handcrafted artworks in every room from sculptures by Damien Hirst to a Lindsey Adelman chandelier of brushed gold combined with the finest Nymphenburg porcelain.
What for you is synonymous with luxury? Luxury has changed a lot these days, expectations are no longer the same. In your opinion, what must a hotel or a residence offer to obtain this luxury "label"?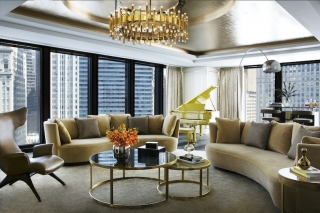 The Langham, Chicago
Luxury is not about sameness of service, ostentation or wealth – it's about consistency of excellent service. Take The Langham for example, service is the DNA of our brand, the core of who we are. So the backbone of The Langham has been and always will be about personalized service. Yes, there are beautiful, massive and luxurious hotels in all the markets we operate in; however, if you look at our hotels in terms of design, service, and our core values system, you will see that we are evolving towards our guests' needs, always striving to be relevant. Our quest for excellence perfectly illustrates that, even though The Langham will continue to deliver quality products and design features, it always comes back to the warm and unobtrusive service we provide on a daily basis. It is a deceptively simple concept which requires relentless adherence to high standards and ongoing efforts: simply put, our Langham guests want service that exceeds their expectations, and they want it to be consistent, personalized and genuine.
What are, in your opinion, the criteria for luxury that the hotel industry must put forward?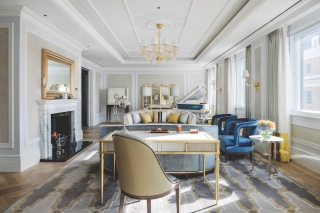 The Langham, London
Luxury is beyond just the product. It is about the personalized service and creating unforgettable memories and happy stories for every guest.
How do you see luxury evolving over the next 10 years, particularly in the hotel industry?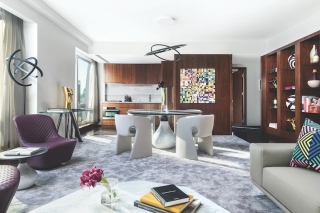 The Langham, New York
The hospitality industry needs to evolve. We must be able to surprise and create a memorable experience for the guest right from the start – so mapping our guest's journey and ensuring we know their preferences and getting it right, ensuring that they can anticipate their travel experience and stay at the hotel before they arrive. We also need to look at implementing luxury sustainably as it's now more important than ever to show that we care for the environment we live in and protect the communities we are operating in.
In the current context, what exceptional measures are you putting in place for your customers safety?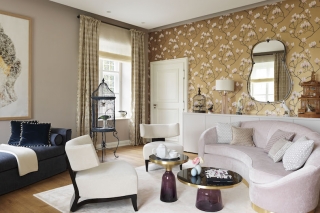 The Langham, Nymphenburg Residence, Munich
As luxury hotels, we already have a stringent hygiene routine in place but we have increased the frequency of sanitization and have put in place additional precautionary measures (eg. Thermos sensors, hand sanitizers, masks, air purifiers) to protect our guests and colleagues. We are also working on contactless check-ins, apps for in-room dining and apps for guests to communicate with the hotel concierge and staff.
Your definition of luxury and luxury you can't do without?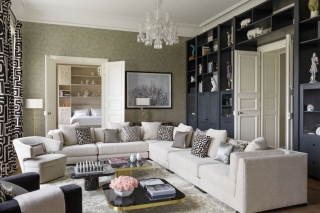 The Langham, Nymphenburg Residence, Munich
Luxury is when the level of service and comfort makes me feel special – and this may differ individually. Take for example, to have fresh elegant flowers in the room may not be a luxury to me but might well define a luxurious environment for another person. Luxury also means that I can be myself and 'put my feet up' without feeling uncomfortable.
Octobre 2020
By Katya PELLEGRINO