Corfu, a private property of the Ultima Collection, "For your eyes only!"
Luxe-Magazine immediately fell in love with this very first private property by the Ultima Collection on the legendary island of Corfu. An island so fabulous that was often used as setting for many cinema masterpieces. So, "for your eyes only", a sneak peak of this dream place, which opened its doors in June!
VIP hideaway and total revitalization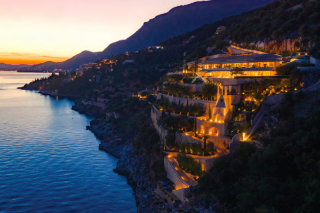 Ultima Corfou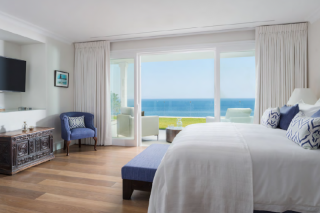 Ultima Corfou
Imagine yourself: right at the edge of the
Adriatic Sea
, admiring the landscape from your sumptuous villa overhanging the Adriatic Sea with breathtaking views of the Greek and Albanian coasts. The interior: 1000 m2 signature design and luxury comfort proper to the
Ultima Collection
and, of course, all this comes with
five-star luxury services
.! This is the perfect destination for your next sundrenched getaway, with guaranteed immersion in
Greek culture and atmosphere
. In this villa, every detail has been designed for ultimate comfort and space. There are no less than
two infinity pools
connected by a waterfall, a spa, a cinema, and "last but not least", a
private boat
, moored at the villa's pontoon. Enough to ensure a healthy break and plenty of possibilities to refuel in all serenity!
Covid-19 measures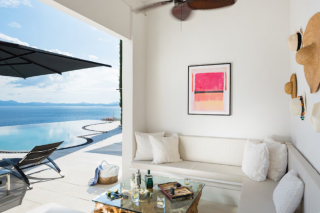 Ultima Corfou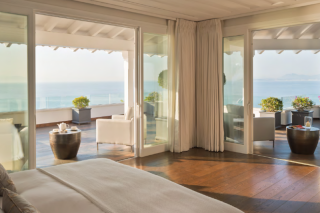 Ultima Corfou
This luxury private villa is now
open for reservations
, especially for guests seeking to isolate themselves during the pandemic. For clients wishing to use this residence for confinement, taking into account all
health and safety precautions
, a tailor-made offer has specially been put into place, to limit the services offered as well as any human contact if desired. The Ultima Collection is closely monitoring developments to ensure the health,
well-being and safety
of its employees and customers. Consequently, it rigorously applies all health recommendations and measures imposed by the local authorities. Whether it's the cleaning teams that will completely disinfect the villa before and during (several times) the stay,or the sampling tests and biological analyzes that are carried out with the help of an independent laboratory, in order to detect any type of pathogen on the surfaces before the new guests arrive. In addition to this, upon request, it's also possible to have the staff tested and have the
whole villa, air and surfaces
, completely disinfected to ensure a relaxing and carefree stay in these turbulent times. High time to book a trip to the lovely Greek island of Corfu!
Septembre 2020
By Luxe Magazine