Chef's take: Gastronomy in times of Corona
No introduction needed for Chef Guy Martin, one of the most renown personalities in French gastronomy, and since 2011, owner and conductor of the mystical Parisian restaurant, le Grand Véfour, where he has been director for the Taittinger family since 1991. Impossible to count all the national and international rewards since then (he was even rewarded as chef of the 21st century in Japan and is ranked amidst the seven best chefs in the world). Given the current Corona outbreak, researchers have come up with alarming figures that 25 to 40% of the restaurants will probably not survive the crisis. Katya Pellegrino wanted to interview the famous chef to talk about his take on this worldwide disaster and its impact on gastronomy.
With the probable deconfinement of bars, restaurants and hotels between June and July, how do you see the return to business?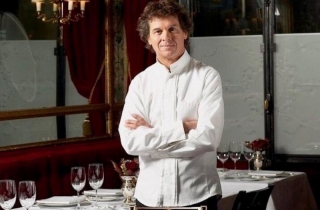 Guy Martin
Going back to business won't be easy in the beginning, because we can only open our doors for the
Parisian clientele
, since foreigners and provincials will still be
bound
to travel restrictions for a while. As a result, our budgets will be tight, and we can only hope that with the new measures we can welcome at least half of our clientele! But it will remain
complicated to attract customers
, even if we apply all the necessary sanitary measures.
How will you reinvent yourself and in what way?
Difficult to
reinvent yourself
when your cuisine is based on fresh produce directly form the market and being responsible for a large team of staff without knowing the kind of guests we will have and if they will come!
What will be most difficult for you?
Waiting for customers who may or may not show up at the restaurant. It will be very
hard to anticipate
.
What impact did the crisis have on your restaurant?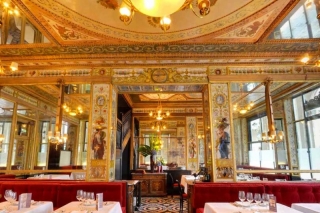 Grand Vefour Salle
Overnight all our turnover vanished and we did not have any time to prepare the closing of the restaurant, so we were left with the entire stock. We distributed a lot of the products to associations and the personnel but unfortunately we also
had to throw away
part of these products.
What advice would you give to the government to help you as quickly and effectively as possible?
First,
lower the VAT
on catering to a percentage of 3 or 3.5% and for alcoholic beverages to 10%, for a period of
six months to a year
. And if the situation does not substantially improve in this period of time then renew these measures for the same period. It is also desirable to continue to support companies with regulations for partial unemployment, which fortunately is the case at the moment. But beyond these measures, taxes have to drop in general, for individuals and for companies so that our customers who have gone abroad will come back. That is to say, the French state must
become competitive again
compared to our European neighbors, among others. It's better to be
world champion
in football and not with taxes.
Do you also think about, as other restaurateurs do, setting up a catering / delivery service for gourmet dishes?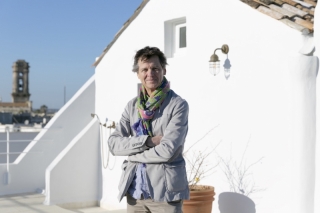 Palazzo Marita e Muci
Yes of course, I would be open to the idea of offering a
catering service
but probably only when the restaurant has reopened because the salary costs, purchases etc. are too high and we are not sure if we will generate enough turnover if the restaurant is closed.
With the recent flight restrictions, only allowing EU citizens to travel within the EU zone, how will the absence of American and Chinese customers, fond of 3-star restaurants like yours, affect the business?
Unfortunately, if the situation doesn't improve and the State doesn't come up with a plan to help us, I will have to let go of some of my staff and that would be
heartbreaking
after everything we've built up together over the years.
What definite changes need to be made?
For our profession, reducing the charges, VAT,
more loan support
and help for young people to create good career starting conditions.
Can we already speak of a new consumer trend?
Part of the world has already become aware of
certain priorities and values
, but the question is: is it enough? We have not been able to anticipate to this crisis, and let's be realistic, admit our mistakes and give ourselves the means to move forward while protecting the weakest and being
fully aware of the challenges
that lie ahead and that the worst may also still be ahead of us.
A final word?
Beware of
miscommunication
, the State has also shown us its weaknesses in this area. First of all,
take your time
, analyze, and be certain when speaking out that what you're saying is accurate and then lost confidence will return!
Mai 2020
By Luxe Magazine