Giorgio Armani designs a one-off electric Fiat 500 model
Giorgio Armani officially released the Fiat 500 Giorgio Armani model, with Giorgio Armani's exclusive logo printed on the body. It is worth mentioning that the official said that the new car will be sold in the form of a charity auction, and all proceeds will be donated to the environmental protection organization of Leonardo DiCaprio.
Special design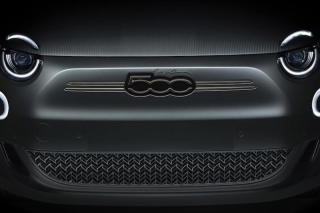 FIAT 500 Armani -
As a special edition model, the overall shape of the new car is based on the design of the Fiat 500 pure electric version, but it has been optimized in details. The biggest feature is that the new car has a proprietary gray-green paint and uses laser technology. The car body surface is shaped by V-shaped engraving to make the body look like a knitted material, creating a silk-like visual effect. In addition, the new car also uses amber windows, which further improves the vehicle's refinement. The new car is also printed with exclusive logos in many places, with Giorgio Armani's signature designed to highlight its unique identity. In addition, the classic "GA" logo is also quoted on the roof of the new car, which can also be customized as a soft top material.
Luxury interior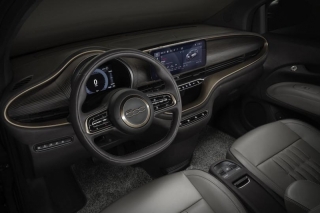 FIAT 500 Armani - © GIORGIO ARMANI
The design of the interior is even more luxurious, with dark brown and gold as a whole, showing a mature and restrained temperament. The center console panel uses wood cross-grain material to enhance the overall texture of the car. The new car also designed some small details that were surprising, such as the addition of a seemingly hidden metallic 500 logo after the floating display. Officials say the interior design is inspired by the elegance and modernity of Armani's Casa products. The uniqueness of the seat is even more prominent, using advanced gray as the color matching the overall color tone of the interior. The seat material is made of natural leather for a more luxurious touch. The "GA" logo is printed on the headrest of the seat, which uses wool material to create a strong sense of luxury.
Powered equipment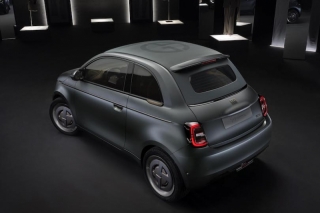 FIAT 500 Armani - © GIORGIO ARMANI
In terms of power, the new car is the same as the standard version released at the same time. The car will be equipped with a 120 hp drive motor with a power battery capacity of 42 kWh. At the same time, the cruising range under WLTP conditions is 199 miles (320 kilometers). In order to optimize the charging time, the Fiat 500 is also equipped with an 85 kW fast charger system. You can drive for 50 kilometers in 5 minutes. The fast charger can also charge the battery to 80% in 35 minutes.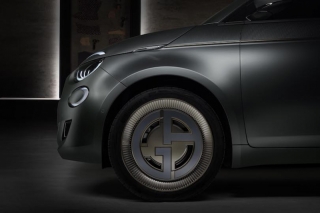 FIAT 500 Armani - © GIORGIO ARMANI
The new car will be unveiled in front of Milan's Duomo Cathedral on March 4, and it will be a strong positive signal to Milan, that Milan is currently going through a difficult period.
Juillet 2020
By Luxe Magazine