Mini Convertible Sidewalk Edition: a recognizable Mini among all
A lagoon blue body paint is now available for a Mini Sidewalk.
A new metallic "Deep Laguna" livery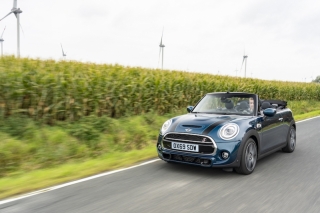 Mini Convertible Sidewalk -
Like a taste of summer ... The new
Mini Convertible Sidewalk Edition
has a metallic "
Deep Laguna
" livery, a deep blue with green accents, which is reminiscent of the
Mediterranean Sea
on a bright sunny day in August. This is the first time that this body color has been offered for this model, and it has everything to seduce! But fans of gray and black will find their happiness with the colors "Midnight Black", "White Silver", "Enigmatic Black", "Moonwalk Gray" and "Thunder Gray", all metallic. Whatever the color chosen, the hood is adorned with exclusive
bonnet stripes
, with contours of contrasting colors for a sporty look, dear to the brand.
A Bluetooth System on board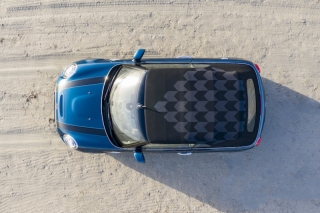 Mini Convertible Sidewalk - © Mini
The hood of this elegant convertible displays a
graphic design
, showing arrows characteristic of the
Sidewalk finish
when deployed - which takes place in just 18 seconds, all in silence. The canvas, woven according to the quality requirements of Mini Yours, is adorned to shelter passengers from a baking sun as from severe weather. The two-tone touch brought by the 17-inch light-alloy rims elegantly and daringly signifies the personality of the
Mini Convertible Sidewalk Edition
. Last but not least, it is equipped with a Bluetooth level 2 system with induction search of the smartphone, and velvet floor mats. As practical as it is pleasant!
Three engines are available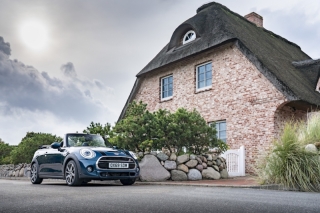 Mini Convertible Sidewalk - © Mini
This new model will be marketed from next March. This gives you time to choose between the three available petrol engines, all equipped with Mini TwinPower Turbo technology. The wisest will opt for the One model, whose 3-liter 1.5-liter engine develops a power of 75 kW / 102 horsepower. But if you are not afraid of sporty driving, the Cooper S model is made for you: its 4-cylinder engine (192 hp) will give you sensations, while respecting the environment since it produces only 123 to 147 grams of greenhouse gases per kilometer.
Juin 2020
By Luxe Magazine