Ohana & Co "Beauty & Wellness,Pleiade
Investment bank Ohana & Co hosted a private Breakfast at their Paris office on October 2nd to discuss about "Beauty and Wellness" through the intervention of entrepreneurs representing Innovative Brands.
Ohana & Co "Beauty & Wellness" breakfast on October 2nd
Investment bank Ohana & Co hosted a private Breakfast at their Paris office about "Beauty and Wellness"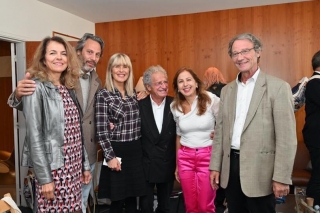 Katya Pellegrino Francois Pourcher Sophie Allouche KosParis, Laurent Dassault, Karine Ohana , Jean Michel Renck, Regenlife.
Sophie Allouche
, founder of
KOS
Paris, presented her company as a high-end line of cosmetics, which combine the powerful natural assets of the plant world and an enduring respect for the environment. In fact, most of KOS Paris's products highlight organic botanical oils from all over the world
(Amazonia, Japan, Maghreb, Australia, ...)
and ingredients from organic agriculture but also focus on quality of active ingredients. Karine Ohana, Managing Partner of Ohana & Co, added at this occasion that Beauty industry is going to a huge transformation and that retailers have already put in place sustainability chart in order to select the new brands to be displayed on the shelves or platforms. The new generation consumers as well as the traditional ones are directing the industry by being more selective, using apptools such as Yuka or supporting organism like MadeSafe. The Investment bank Ohana & Co is fully invested in this transformation of the industry through Sustainability Board Member, Susan Rockefeller and a person in charge of sustainability at their offices.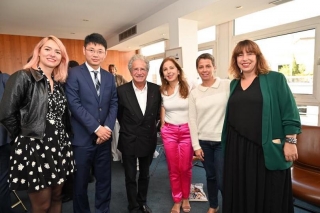 Laure Bouguen HoKaran, Marshall Chen , Huijiaui, Laurent Dassault, Karine Ohana, Claire Goudet Groupe Rocher, Sarah Oliviero Packback
Jean-Michel Renck
, investor for
Pleiade Investissement
, who is also a shareholder of KOS Paris, shared RegenLife ambition to provide a technology able to alter the progression of neurodegenerative diseases, in order to improve the health and quality of life to promote a healthy aging process. The pre-clinical results seem very encouraging and they should publish clinical trials result of 64 patients in the 1st semester of 2020.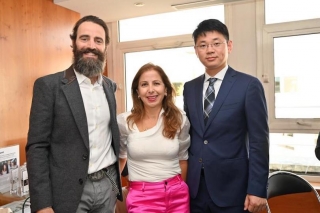 John Molloy co founder with his wife Clara of Memo, Floraiku and Hermetica. Karine Ohana , Marshall Chen, Huijiaui.
John Molloy
, co-founder of
Memo Paris
,
Hermetica Paris
and
Floraïku
, has discussed about sustainability and the reasons why he created those niche fragrance houses. He talked about his quest to do something better for the perfumes business. With a presence in US, UK, France and more, the objective is to propose a greener way in the fragrance business, using no alcohol and rechargeable perfumes.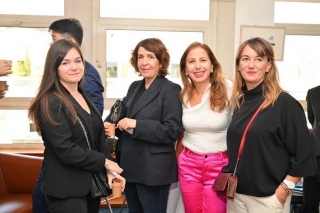 Victorine Chazeau and Celine Turchet Feelunique France, Karine Ohana, Chiara Sormari founder of Face D
Among the guests,
Laurent Dassault, Laurent Schmitt (President of L'Oréal's BOLD fund), Claire Goudet (Deputy CEO of Rocher Participations), Feelunique, leading Chinese beauty ecommerce group Yujiahui
, and more came for discussion in a friendly reception where several innovative brands were represented (Face D, founded by Chiara Sormani, Ho-Karan, founded by Laure Bouguen, Sarrieri, …). Corinne Lacoste from the Lacoste family who presented Chic des Plantes has developed one of her delicious and natural tisanes in collaboration with her sister Sophie Lacoste for Fusalp brand. With Sustainability and Wellness in mind,
Karine Ohana
succeeded to honor those companies focusing on health and wellness implications.
Octobre 2019
By Luxe Magazine