The masterpieces of the Kunsthalle Bremen to be seen at the Guggenheim, Bilbao
This wonderful exhibition allows visitors to see the evolution of European art in the 19th and 20th centuries, and at the same time delve into the aesthetics of two important creative centers: Germany—represented by such important figures as Caspar David Friedrich, Modersohn-Becker, Dix, Kirchner, Beckmann and Nolde—and France—with artists such as Cézanne, Van Gogh, Monet, Delacroix and Picasso.
About The Kunsthalle Bremen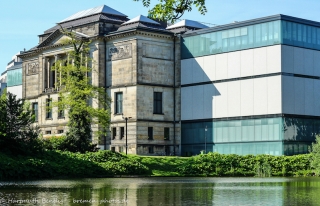 Kunsthalle Bremen
The Kunsthalle Bremen is one of Germany's most celebrated museums for its
pioneering role in modern art collecting
. Its fascinating collecting history began in 1823, when a group of art lovers from the city of Bremen joined together to create this institution, then known as the Kunstverein. The Kunsthalle Bremen was
founded in 1849
, as a continuation. Fifty years later, in 1899, the society appointed its first scientific director,
art historian Gustav Pauli
, whose scholarly approach refined and boosted the profile of a collection that had been assembled from the private donations of its members under the aegis of non-expert leaders. Pauli based his acquisition policy on
a dynamic dialogue between French and German art
.
From Delacroix to Beckmann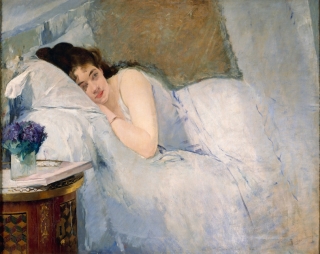 Eva Gonzalès - Le Réveill [Erwachendes Mädchen], 1877/78 - Kunsthalle Bremen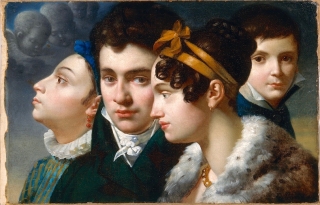 Merry-Joseph Blondel - Portrait de famille [Familienbildnis], 1813
Huile sur toile - Kunsthalle Bremen
The exhibition is also the unique history and artistic discourse of this museum in a survey that starts with
Romanticism
and then dips into
Impressionism
,
Post-Impressionism
, the artists' colony of
Worpswede
, and
German Expressionism
.
In the
Gallery 305
, literary themes and the exploration of extreme moods burst forth from French Romanticism, in contrast to the quiet observation of nature, the reflection on mortality, and the admiration of the classical Mediterranean ideal, the hallmarks of the German artists.
From Classicism to Romanticism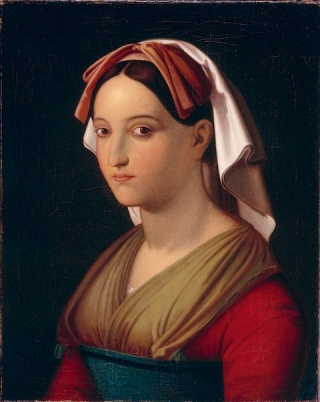 Theodor Rehbenitz - Portrait de Vittoria Caldoni [Bildnis der Vittoria Caldoni], 1821, Huile sur toile - Kunsthalle Bremen
The city of
Rome
has always exerted enormous appeal on artists. In 1809, a number of German artists banded together to form the
Brotherhood of Saint Luke
, and one year later they moved to Rome to live and work there communally. They aspired to follow not the ideal of classical Rome but the biblical episodes
in the style of Raphael
. Their goal was to restore the classical style and use their works to appeal to the masses. Living in Sant'Isidoro monastery, they began to wear loose clothing and long hair, just like Jesus of Nazareth, the source of their nicknames the
"Nazarenes."
The beauty of Italian women fascinated those northern artists. The Nazarenes primarily appreciated the figures that represented Raphael's ideal, and the most celebrated example is Portrait of
Vittoria Caldoni by Theodor Rehbenitz
. Likewise, the defined shapes, delicate lines, and painstaking study of the surfaces define Young Woman (Melancholia), which Théodore Chassériau painted around 1833–35 following the principles of Classicism. In this work, more than depicting a specific person, the artist is representing a young woman who embodies a common theme in that era, the
"sweet melancholy" of the French tradition
.
Romanticism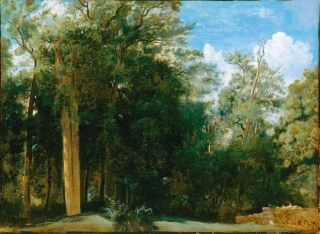 Barbizon : Camille Corot - Clairière à la forêt de Fontainebleau avec petit mur, Huile sur papier sur toile - Kunsthalle Bremen -
In the 1830s and 1840s, many French artists were
seeking inspiration in nature
, and after 1820 they began to visit the village of
Barbizon
. Located near Fontainebleau forest, it is associated with the plein air painting movement, which came to be known as the "Barbizon School." In the 1860s, a new generation of painters came to the village, like young Impressionists Pierre-Auguste
Renoir,
Claude
Monet
, and Camille
Pissarro
, who created their own art
based on light
and drew inspiration from the
plein air painting
of the first generation.
In reaction to the rationalism of the Enlightenment, Romanticism spread throughout all of Europe as an artistic movement which focused on the most obscure side of the soul. Its innovative use of color and the distinction between valeur (light and shadow) and teinte (color) distinguish it from previous styles, yet it took on distinct forms in Germany and France.
Eugène Delacroix
, a key figure in the French Romantic School, is well represented in the collection of the Kunsthalle Bremen.
In around 1800, his German counterparts, including Carl
Gustav Carus
, Johan Christian Clausen Dahl,
Caspar David Friedrich
, and Friedrich Nerly, developed a fascinating
interaction between landscape painting and science
. Science, art, and aesthetics are all intimately intertwined as shown in Johann Wolfgang von Goethe's texts on geology and the letters and annotations on landscape painting of Carus, a scholar from Dresden. Unlike Friedrich, who never visited Italy,
Carus
travelled to that country three times, where he soaked up its beautiful coastal landscapes, such as the one he captured in his Evening at the Sea (ca. 1820–25), perhaps inspired by the rugged coast of the Gulf of Naples or the Isle of Capri. This artist, who cultivated a
particular interest in geology
, was fascinated by these immense rocky formations, which he found to be a subject of study as well as a mirror into prehistory. Following the Romantic symbolic code, Evening at the Sea reveals Carus's predilection to represent both the earthly and the afterlife, turning painting into a way of showing the artist's emotions or feelings more than a mere copy of nature.
Subjective emotion is a basic premise in German Romanticism, the sine qua non for creating a truly meaningful work of art. Viewers cannot comprehend the work until they
immerse themselves in it and feel it in the depths of their being
.
Gallery 306: Impressionism, artists' colonies, and collectives: The Pont-Aven School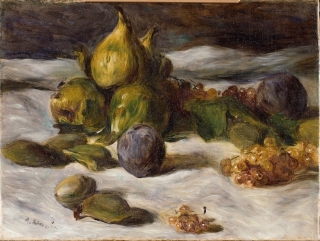 Pierre Auguste Renoir - Nature morte aux fruits (figues et groseilles), Huile sur toile -
Kunsthalle Bremen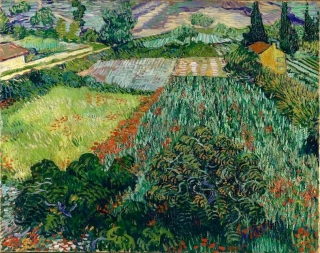 Vincent van Gogh - Champ de coquelicots [Mohnfeld], 1889, Huile sur toile -
Kunsthalle Bremen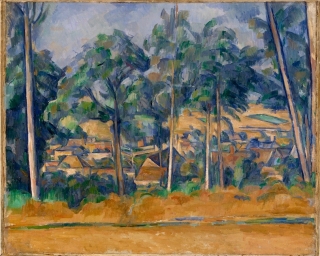 Paul Cézanne - Village derrière les arbres (Marines), Huile sur toile - Kunsthalle Bremen
The dialogue between French and German painting in this exhibition continues in this gallery with works by
Paul Cézanne
, Edgar
Degas
, Eva Gonzalès, Claude Monet, Pierre-Auguste Renoir, and Auguste
Rodin
, which are juxtaposed with works by the representatives of German Impressionism, such as
Lovis Corinth
,
Max Liebermann
, and Max Slevogt.
One of the highlights of this exhibition is the 1889
Van Gogh
work
Field with Poppies
, which attests to Pauli's acquisition policy and his pioneering defense of modern art. In his day, the purchase of this Van Gogh painting divided German critics and artists into two factions: while some believed that spotlighting the French avant-garde was an attack on the German national artistic identity, others considered the national issue secondary given that they believed that art transcends borders. Similarly, despite the controversy, in 1918 Pauli's successor, Emil Waldmann, acquired the painting
Village behind Trees
by French artist Paul
Cézanne
.
Even though plein air painting and the interest in the effects of light and color in nature were also predominant concerns in German Impressionism, it differs with its French counterpart in several fundamental ways: the works are characterized by a
precise drawing
and the
use of faint
,
dull colors
blended with
gray and brown tones
.
Another outstanding work in this gallery is Lovis Corinth's Lying Nude, which is modelled after Francisco de Goya's The Naked Maja and embodies the unique features of German Impressionism.
In 1886, Paul
Gauguin
and Émile
Bernard
met in the small port city of
Pont-Aven
on the Brittany coast, and the Pont-Aven School sprang from this relationship. In 1890, Maurice Denis stated: "Remember that before being a battle horse, a nude woman, or any other motif, a painting is essentially
a flat surface covered in colors laid out in a certain order
," thus anticipating the emergence of abstract art in the 20th century.
Gallery 307: Artists' Colonies and Collectives. Worpswede and Die Brücke, Expressionism and Surrealism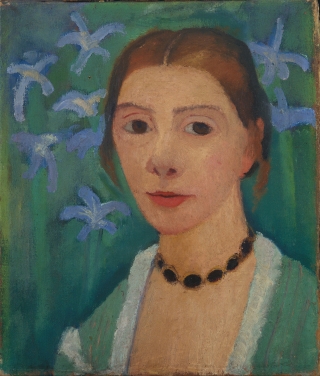 Paula Modersohn-Becker - Autoportrait sur fond vert avec des iris bleus, 1900/07 Huile sur toile - Kunsthalle Bremen
In this gallery,
Paula Modersohn-Becker's unique style
can be appreciated as an early manifestation of Expressionism, which would go on to influence the subsequent evolution of French and German art in the first half of the 20th century. The works displayed here show the evolution of Expressionism, particularly from the group of artists called
Die Brücke
to Max Beckmann, as well as the development of
Surrealism
, from André Masson to Richard Oelze.
The painters in the artists' colony of
Worpswede
, located near Bremen, concentrated on the marshy moors and arid heather fields in this region, as well as the toil of the local peasants. In 1900, these artists organized a
trip to visit the Universal Exhibition in Paris
, where they studied the landscapes of Camille
Corot
, Jean-François
Millet
, and Théodore
Rousseau
, members of the Barbizon artists' colony who served as their model.
This gallery features several works by Paula Modersohn-Becker, an artist who created more than
30 self-portraits
during her brief career, which are among her most important works. The second wife of Otto Modersohn, one of the founding members of Worpswede, Paula Modersohn-Becker forged a
unique connection between Bremen
, the city where she was raised,
and Paris
, where she travelled several times. Despite the fact that the Parisian artists of her era exerted a strong of influence on her, she remained faithful to the themes of Worpswede: the
local folk and landscapes
. However, the ideas she collected during her sojourns in Paris are captured in her still lifes—an unusual genre for the painters at the colony—and in landscapes depicting moors which are so abstract that they distanced her from her colleagues.
In Self-Portrait in front of a Green Background with Blue Iris, Modersohn-Becker immortalizes her own likeness with extraordinarily simple features; her face looks flat because she refused to depict any details, a characteristic she inherited from the group of artists called
the Nabis
. Using this resource, coupled with opaque impasto, she creates a
mask-like effect
which is only broken by the introspective look in her dark eyes and the slight blush of her skin. Her self-portrait hovers between an individual presence and a self-absorbedness, which have close ties with the portraits of
Egyptian mummies
which she admired and had fascinated her in the Louvre by 1903. The Frankfurter Allgemeine Zeitung enthusiastically reported on an event about her under the title
"The German Picasso is a woman"
. Based on this show, Modersohn-Becker began to gain fame internationally as a
pioneer of modernism
.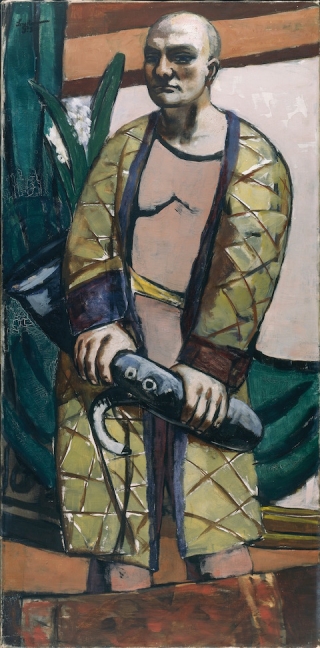 Max Beckmann - Selbstbildnis mit Saxophon, 1930 Huile sur toile - Kunsthalle Bremen
Among the most important pieces in the collection of the Kunsthalle Bremen is the group of works by
Max Beckmann
, a unique individual within the history of modern art. Whereas the Expressionists of Die Brücke were reacting against the "conventional, pre-established currents" in 1906, Beckmann was deliberately
seeking to connect with the traditions of art history
. In
Self-Portrait with Saxophone
, one of the more than 40 self-portraits Beckmann painted over the course of his career as an exploration of his own self, we discover the painter as a theater performer. In the 1930s, the
world of cabaret
,
vaudeville
, and
circus
were fashionable and attracted the attention of countless artists, including Beckmann, who depicted them several times. In this painting, the artist portrays himself ambiguously: he is wearing a smock over a pink acrobat's leotard and is holding a saxophone, a jazz instrument which evokes contemporary life and independent art. Near the instrument is the horn of a gramophone, so Beckmann was apparently depicting himself as a listener, yet also a passive musician. The instrument, which is not being played, as well as his shaved head, suggest his
premonition of the political situation in Germany
. Furthermore, this symbolism is joined by the
dissonant colors
and undefined spaces of the scene, which reinforce the prevailing mood. The arrival of Nazism in Germany disrupted the painter's career, and Beckmann left the country in 1937, after the opening of the exhibition of "degenerate art."
Otto Dix's paintings
span a wide variety of styles, although he is primarily known for his images of war. Dix was profoundly
affected by World Wars I and II
, and his art, which was highly critical of his time, expresses the horror of these conflicts. One could say that he is the painter of the ugly and never hesitated to show it in his portraits. One example is his portrait of painter Franz Schulze, created in 1921 in Dresden, where Dix founded the
Dresdener Secession Gruppe
in 1919, a radical group of Expressionist and Dada painters and writers who were critical of society. Dix cultivated portraiture as his second most important theme after war scenes. In his portraits, he distorts reality to stress the anti-aesthetic; his raw, provocative art is tinged with satire.
The works of
Richard Oelze
stand out within German Surrealism. After having been a
student of Paul Klee
at the Bauhaus and Otto Dix at the Dresden Fine Arts Academy, Oelze
discovered Parisian Surrealism
in the mid-1930s and began to develop his own extraordinarily personal Surreal works characterized by profound psychological introspection.
Oelze was interested in depicting existential relationships and transformations in painting. In his works, which were usually painted with extreme precision, beings that seem like hybrids between animals and humans blend with objects and spaces; his dreamlike visions always find
new ways to depict fears and desires
. His works Outside and Inside are among the most important paintings of his series entitled Interior Landscapes.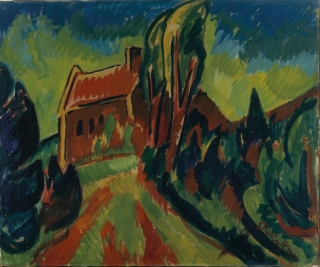 Karl Schmidt-Rottluff - Das rote Haus, 1913, Huile sur toile - Kunsthalle Bremen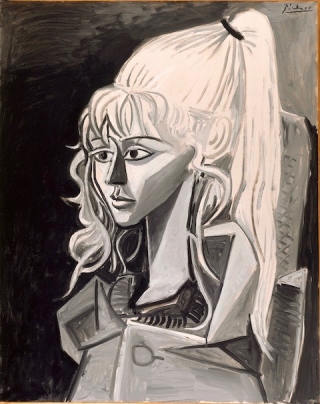 Pablo Picasso - Sylvette, 1954, Huile sur toile - Kunsthalle Bremen
In 1905,
Karl Schmidt-Rottluff
, Erich Heckel, Ernst Ludwig Kirchner, and Fritz Bleyl founded
Die Brücke
, an artists' group whose quest for new forms of expression shook up conventions and revolutionized art in Germany. Its ideological slogan was
"youth, subjectivity, and liberation"
, and they applied it enthusiastically in their paintings, in what amounted to an
aesthetic rebellion
. While the group existed, Die Brücke only occasionally managed to see their works exhibited in the Kunsthalle Bremen, and at those times, they were greeted by the public with skepticism. After World War I, Pauli's successor in the museum, Emil Waldmann, interceded in their favor to share them with the citizens of Bremen. These paintings contrast to the work
After the Execution
, at the beginning of André Masson's second Surrealist period, which was
characterized by monstrous figures influenced by Picasso and Dalí
.
Bremen, the Kunsthalle, and modern French art have close ties, and their strongest common thread is the Bremen-based art dealer,
Michael Hertz
. A good friend and ideological companion of his fellow dealer, Daniel-Henry Kahnweiler, Hertz was the
exclusive dealer of Pablo Picasso's graphic works in Germany
. The majority of German museums and collections bought their Picassos from Hertz, resulting in the Kunsthalle Bremen's extensive collection, which has several
hundred pieces
. However, its most prominent acquisition is Sylvette, an outstanding example of the artist's late virtuoso style, which was purchased in 1955, one year after it was painted.
In May 1956, the Kunsthalle Bremen exhibited the recently-purchased piece along with all its other works by Picasso—more than 150 prints— thus becoming "the German gallery with the most extensive selection of important engravings by Picasso."
Janvier 2020
By Lilo v. HOEPFNER