The stars shine at the Palme d'Or of Martinez
The Martinez, one of the jewels of the Côte d'Azur, inaugurated in 1929, offered an unprecedented facelift last year under the leadership of Pierre-Yves Rochon. He is reborn from his ashes like a phoenix, brighter, more ethereal, in his Art-Deco style.
At the head of the Palme d'Or, an astonishing and precursor conductor, Christian Sinicropi, whose nature and seasons are the only masters in his eyes. A focus with Katya Pellegrino!
An Art Deco hotel from 1929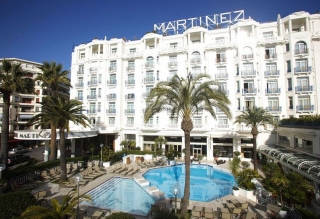 Hôtel Grand Hyatt Martinez
Legendary hotel since 1929, the Martinez taken over by a Qatari fund, and managed under the brand
Unbound Collection by Hyatt
, has found a second youth. From the entrance, the
huge lobby
sets the tone. The eye is then attracted by the key element: the
chandelier
. Spectacular, consisting of immaculate slats, its weight is
350 kg
. Then, its
majestic staircase
, an original piece of Martinez, whose wrought iron banister with monograms, was climbed by the international stars of the Cinema who made the palace their home during the festival.
Blue and white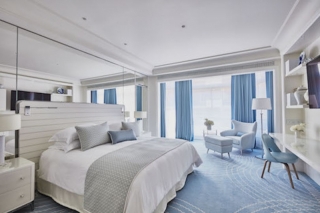 Hôtel Grand Hyatt Martinez
Blue and white colors punctuate the corridors and bedrooms. The decor is enhanced by
mirrors
reflecting the light of the Côte d'Azur. The sun enters through the
large windows
, illuminating shelves on which stand
Mediterranean vases
and sculptures of white coral. The result is a gentle warmth. But the highlight of the place is its
restaurant
: La Palme d'Or, orchestrated by its master chef, Christian Sinicropi,
2 Michelin stars
.
A committed chef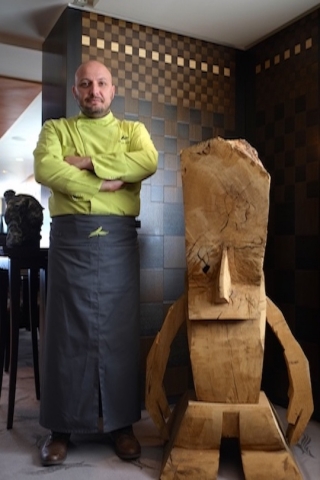 Christian Sinicropie - La Palme d'Or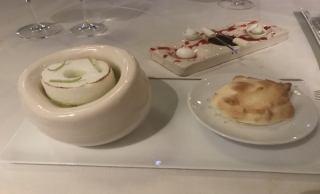 La Palme d'Or - Hôtel Grand Hyatt Martinez
Christian Sinicropi
cooks by instinct, without following trends. It is by noting that some products were sometimes missing on the map, that he decides to create his menu in the form of
cube with 8 facets
, each proposing themes of products in 3 services: the South with fish, Vegetal with vegetables, Mediterranean oysters... It restores in the plate the environment.
Always in search for
the ultimate taste
, he dissects the modes of food and the alternatives that have become indispensable to him in order
to preserve the planet
. For him, the culinary heritage must be passed on. This committed is also a man of
passion
, with unfailing creativity, which takes you in
new culinary ways
.
Novembre 2019
By Katya PELLEGRINO