Dior: A new shop on the Champs-Élysées
On the world's most beautiful avenue, the new Dior boutique stands like a majestic showcase, a surprising evocation of the founding couturier's historic hôtel particulier, the beating heart of the House, after having closed its doors during its metamorphosis. In this kingdom of dreams, a marriage of audacity, excellence, innovative experiences and architectural virtuosity, an unprecedented scenography illuminates, over three floors, the House's latest collections and various universes.
From avenue Montaigne to Champs-Élysées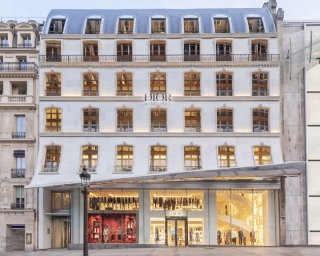 Dior - Champs-Élysées
Behind the glass door, a
staircase
unfurls like a sinuous ribbon, an ode to the curves so loved by the founding couturier. Pristine white toiles, usually guarded in the secrecy of 30 Avenue Montaigne, compose a
poetic fresco
. A testament to the savoir-faire of the petites mains in the
Dior ateliers
, they also reflect the House's constant reinvention of creativity. Like an echo of Christian Dior's first boutique, "Colifichets" – which the
decorator Victor Grandpierre
covered in
toile de Jouy
under the direction of the
artist Christian Bérard
– the walls are dressed in the same print, a classic 18th century cloth. This signature code, reinterpreted in turn by each of Monsieur Dior's successors, further highlights the simultaneously timeless and
contemporary atmosphere
of the store.
A stunning design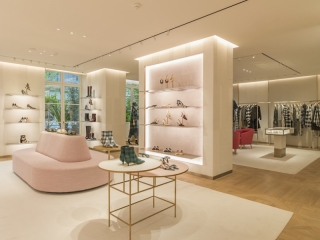 Dior - Champs-Élysées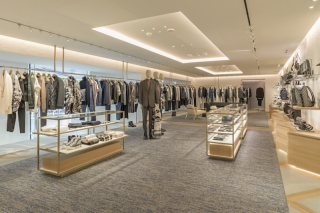 Dior - Champs-Élysées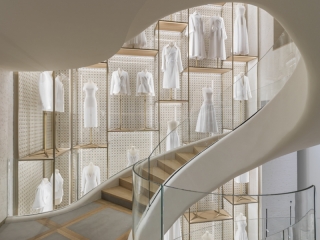 Dior - Champs-Élysées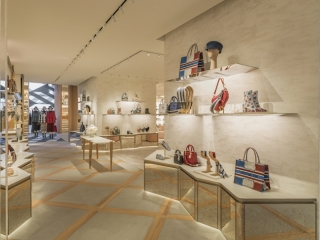 Dior - Champs-Élysées
Cannage
, another House emblem - evoking the Napoleon III-style canework chairs on which Christian Dior liked to seat guests at his shows - flourishes in delicate punctuations, including in
an oversized version on Versailles parquet
flooring reworked in polished concrete. Ultimately, the pure-lined motif rises to a
spectacular luminous dome
, a celestial horizon of monumental proportions. Following the seasons, the space will be animated with new launches and
pop-ups
, including
exclusive editions
and other surprises. The
Autumn-Winter 2019-2020 collection by Maria Grazia
Chiuri opens the ball in a hypnotic setting with
chromatic effects
.
In a preview showing
Dior - Champs-Élysées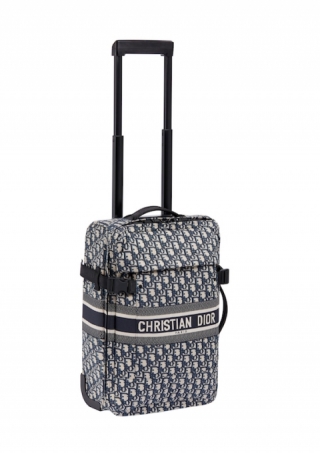 Dior - Champs-Élysées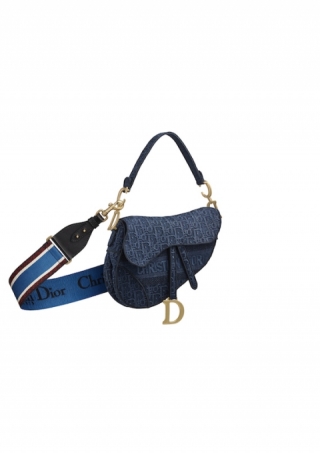 Dior - Champs-Élysées
For the opening of its new boutique on the Champs-Elysées, Dior presents an advance preview of the
Check'N'Dior collection
, the
Dior Book Tote and Saddle bags
now revisited
in denim
, and the
TravelDior luggage
in the House's original, signature Dior Oblique canvas, as well as the embroidered Saddle, seen on the runway at the 2020 Cruise show in Marrakesh. Specially designed for this Paris address are
two exclusive variations on DiorCamp
and a silk scarf in tropical
toile de Jouy
.
This laboratory of dreams also offers, as another exclusive to the site,
a unique personalization service
for Dior icons and designs such as the Dior Book Tote and Saddle bags and the TravelDior line.
Novembre 2019
By Luxe Magazine